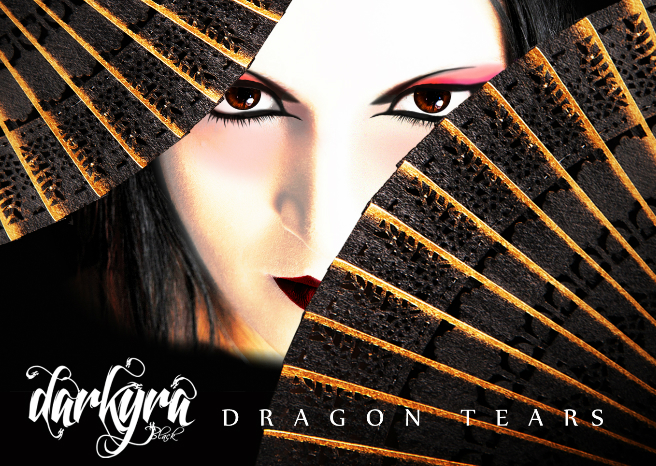 Lands of ice and snow are where we typically think female fronted symphonic gothic metal music is spawn, but it's to sunnier climes we must cast our ears for Darkyra Black's debut 'Dragon Tears'.
Darkyra herself is based in Australia, while the nucleus of her band appear to be from Greece, for after connecting with Garry King who's drummed for the likes of Jeff Beck, and Joe Lynn Turner he then brought guitarist Paul Jupe, keyboard player Fab Jablonski and bass player Betovani Dinelli in from his own power metal project Achillea. Aside from them there are featured guest guitarists, plus violin, viola and cello on a couple of the tracks.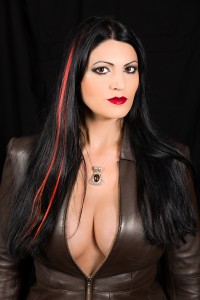 Dragon Tears is a concept album filled with songs about "love, loss, lust, betrayal and revenge". It's a tragedy about a Japanese geisha girl, but while there is an oriental feel of melancholy to much of it, the overriding sound is one of well produced symphonic metal, with sweeping epics and gothic despair that flows well from beginning to end.
As for the lady herself, it's far less operatically intended than many of the femme fatales singing in this subgenre of rock music. There is warmth, depth and range to her voice; stylistically she holds notes without overly wavering, tending towards a slow release of clear words even over speedier songs, and when delivering the sadder intended numbers adds minor backing harmonies to evoke a resigned feeling.
The band is pretty good too. Initially I was tending to think of David Sylvain and his old band Japan, a bit obvious I know; but then I realised that feeling itself stemmed from Roxy Music a little by way of Phil Manzanera's take on slow burn guitar solos but more so in the way keyboards and stringed instruments worked when Eddie Jobson was with the band, and of course since he's played in numerous progressive bands, including Curved Air with Sonja Kristina as vocalist that made perfect sense in hindsight. But they're distractions. This is a modern sounding album. I couldn't say it was forging new ground, but it does offer a pleasurable aural experience.
This despite it not being what you might term a happy story; and with song titles such as 'Lullaby of Death, Before I Wither' and 'Cold Cold Stone' that's apparent. Simply listening to it first time round, lyrically it might not be so obvious, until you reach Never Know where the context of those songs are made quite explicit when Darykra sings about the loss of a child. That song is followed by the slow gothic march of 'Tears by Candlelight', the first single to be released from the album, though that song's not as varied as others on the album.

Notable tracks include 'Japanese Frankenstein' with a gentle syncopated piano melody flowing throughout even as Darkyra's voice gets increasingly emotional and two guitars spin and weave in a macabre but strangely inviting manner towards its conclusion, and the modern progressive rock of 'Slither' that goes through a number of moods and time changes, orchestral strings effectively used during its opening section and final bars, with power metal guitars also being heard and the singer belting the number out one minute then whispering words out in either confidentially or as a curse the next.
A gypsy violin whirls in the opening to 'Kiss of the Dragon' before a frenzied guitar riff takes over, interspersed by slow beating drums and slower sensuous guitar, then the tempo picks up once more, getting ever more symphonic, with soaring harmonised vocals amid dark cackling laughter. 'Dragon Tears' itself is the most mainstream big rock type number, but even that enjoys both its bombastic and more sensuously epic moments, with some cool synthesiser lines amidst the lady's final vocal proclamations, save for 'Dragon Tears Story', a mainly spoken word haunting tale.
It's different, and in a good way. More Within Temptation than Nightwish, but different to both, and worth a listen.
7.5/10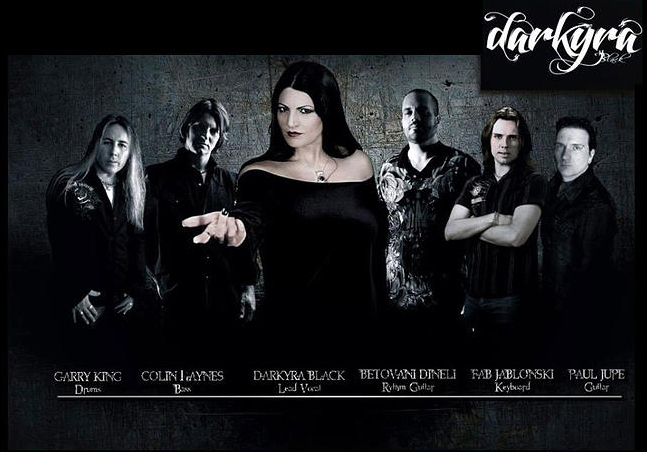 —