Celebrating German metal siren Doro Pesch's career with the Raise Your Fist 30Years Anniversary-Edition, record label Nuclear Blast have included a bonus CD of rare, new and previously unreleased material under the title 'Powerful Passionate Favorites' and much as the American misspelling of Favourites aggravates me endlessly, I find quite a few guilty pleasures to be heard on the actual record, that also appears to be available on its own for a limited period.
It opens with a remix of 'It Still Hurts', the duet Doro sang with Motorhead's Lemmy. A power ballad with gothic undertones that's works well when they chant the anguished chorus line together, less so where they sing on their own with her coming across a little too much like a Teutonic Celine Deon and he evoking the impression of a vocally-challenged Scott Walker.
The sixties get revisited with Joan Baez's 'Babe I'm Gonna Leave You', taking the version covered by Led Zeppelin on their debut album as template, it's a little too drawn out to fully work while a new version of the Genes Simmons written 'Only You is okay', but nothing special and the kind of thing Russ Ballard might've knocked out between changing guitar strings. Her own new song 'Warfare' (that's due to be featured in Anuk 2: The Path of the Warrior, where she will again appear as Meha in the Swiss sword & sorcery film) belts out in a similar vein. Whereas, the undercurrents of a nightclub vibe to the cover of Dio's 'Egypt' (The Chains Are On) wouldn't be out of place on a Grace Jones album save for the metallic guitars weaving in and out as she herself belts out the lyrics so takes it a little somewhere different and is all the better for it.
Keeping to the key template for a rendition of Metallica's 'Nothing Else Matters', simply by virtue of it being a lady's voice adds an interesting dimension to the song, even better she comes on like a metal ice queen Marlene Dietrich delivering a torch song that slowly melts in ravaged passion and anguish.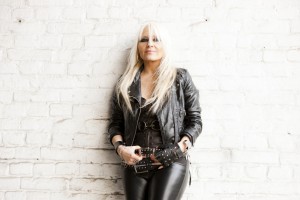 Meanwhile, one of the early delights is the stonkingly strong French single version of 'Raise Your Fist In The Air'. It's raunchy as hell, coated liberally with both a punk attitude and dirty metal guitar sound that should not only have you raising your proverbial hands in the air but doing the old pogo like a lunatic without a care too as she voices in the Gallic tongue with assured defiance. I'm also well taken with 'Nutbush City Limits', that's surprisingly more bluesy and Stax soul orientated than the Ike & Tina Turner original hit single, the synthesiser lines more subdued but the bass nudging into that proto disco sound while Doro delivers a fine rendition to my mind.
The album finishes with a recording Doro made in her own New York City apartment; a programmed keyboard has a bargain basement Thompson Twins sound whirling out a waltzy blues tune while the singer channels her inner Janis Joplin, giving it some strong raw convincing emotion. Musically it's rough and wobbly around the edges, but I like it. It's these off-kilter numbers where her voice is placed in situations away from the mainstream heavy metal scene people have associated her with since her days in Warlock that prove the most interesting to me and, outrageously to many, I dare to imagine Doro and Giorgio Moroder collaborating on a gothic soundtrack for some hard-boiled crime noir film.
DORO 'Powerful Passionate Favorites' was released 5th May 2014 via Nuclear Blast.

7/10