Brief History:
It happened in 1990/1991 in the small village of Linneryd in southern Sweden. After spending time in various metal bands, Jimmy Lundqvist and Fredde decided to start a death metal band called ENTRAILS. Shortly thereafter, Tobbe and Billy joined the band and they began to rehearse like maniacs in a converted woodshed. Their main idea was to follow the scene that Stockholm brought to light around the time with bands like Dismember, Entombed, Grave and many more that cemented the brilliant Swedish death metal sound from T. Skogsberg's Sunlight studio. Unfortunately, all attempts to record a demo at the time did not produce satisfactory results.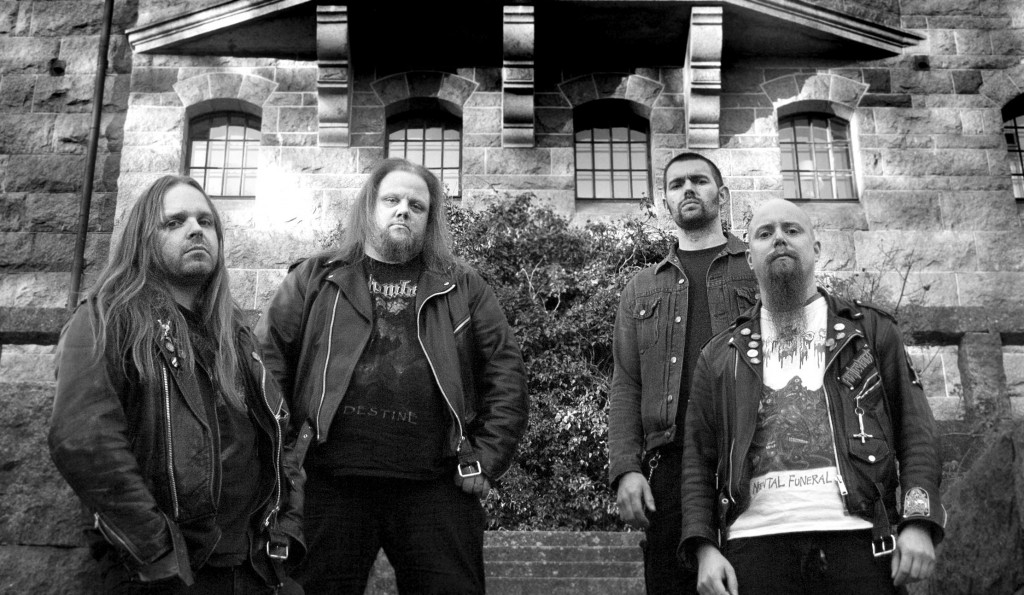 After this period filled with killer shows, the boys played one last show in 2012, which took place in the capital of death metal: Stockholm, Sweden. It was the first show ever for ENTRAILS in Stockholm. Back home, the last recordings has been completed and the material was sent to Dan Swanö for mixing and mastering. Raging Death will surely prove to be the finest ENTRAILS album to date, here is our track-by-track review:
In Pieces
Ambient and full of intrigue the little piano keys meander and occasionally linger with a sampled voice – then a mighty explosion occurs and savagely consumes you with its contemptuous rhythms and a great start to open the album. Hateful vocal onslaught enslaves and commands the listener to listen and by the time this is over – it is you who will be In Pieces! Head provoking violence is always welcomed. The guitar literally smoulders and then ignites in such a frenzy it is hard to ignore – so don't!
Carved to the Bone
A bit of radio interference then a heavy guitar emerges triumphant with some melodic chords that swagger and immediately fires up the adrenalin infused aggression and a guttural secretion of pure hated dominates with a nice forceful massacre. Constant rhythmic beats carry the track in balanced form towards your doom with waves of towering intensity. – Blistering track!
Bloodhammer
Rampant with apocalyptic emotion swathed in brutal sophistication with thrilling violation enveloping some crash and burn ferocity on guitars with caustic precision. Guttural, gnarly growls just heighten the intensity of this magnificent track that pushes the boundaries with sheer edge and aggression.
Headless Dawn
Repugnant and scathing this track is a mighty metal avalanche of sheer powerful aggression and will wash aside from its path, anything less than brutal. Compelling with the intervention of strong blast beats that will kick the life out of you and leave you wilting from sheer exhaustion. Nasty and pervading this will eat you alive.
Cadaverous Stench
As the devilish blast beats come into play you can just feel yourself drooling.  Captivating, astringent with wrung out melodies and a furnace of molten hot frenzied riffs straight from the bowels of hell which is immensely rewarding to listen to.
Descend to the Beyond
A sumptuous pot of maliciousness ushers forth in a droning metal swagger, with cagey rhythms and aggressive melody. The vocals are spewed forth with utter venom and seething. Nothing less but encapsulating in strength and vigour this is unworldly. A highly satisfying release of pent up anger was had by all and no doubt will be eagerly accepted and welcomed by every death metal fanatic around the world. Superb!!
Death League
This is certainly in a league only belonging to the raw, brutal and most savage of tracks. Splattering with utter madness of frenzied and feverish chaos it literally owns the listener with numbing intense riffs and a battering of brooding beats. The earth shattering growls can be felt in the gut from the speakers that are finding it hard to keep up with the battling frenzy of tunage coming from them and sapping their energy.
Chained and Dragged
Definitely a predatory track that stalks the listener and taunts them with mind games that will send them over the edge. That expressive growl just takes you by the throat and demonically leaves you for dead, a highly charged track that resonates pure evil numbing the mind and forces you to accept that they command your soul.
Defleshed
Ripples with stark charm and deepens their hold over you with resonating capabilities of skill and impressiveness.  The aural torrents of pure unadulterated caustic and rhythmic textures play a big part of keeping you musically satisfied.
The Cemetery Horrors
Bringing outstanding depth and quality to the fore this track blisters like acid rain to the skin, flowing seamlessly like liquid gold, unrelenting and savage another superb track that brings astonishing grandeur to the mix of molten metal. The final build-up is truly amazing!!
One mighty fine album that has no end of pleasurable moments contained within it. Totally impossible to compare it to other bands as these Swedes know just how to tempt and deliver quality metal to the aural, grabbing attention as they go! This is one such album that should be in your collection if you are a true death metal head. It doesn't have to beg to be played a million times over as it commands with sheer force that you follow with regimented precision all that it holds over you! A truly memorable listen with outstanding qualities and not a duff track anywhere on this album! Buy it!
'Raging Death' will be out on the 14th May via Metal Blade Records.
10/10