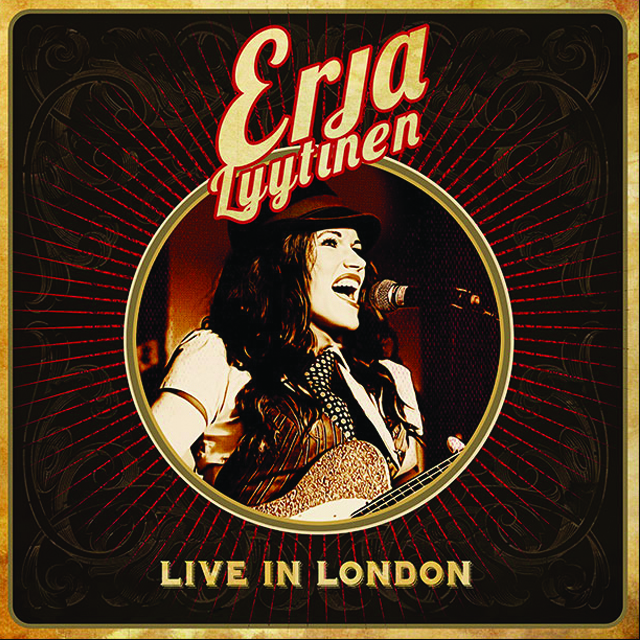 Erjya Lyytinen comes from Finland. Her 2014 release The Sky Is Crying was voted homeland's YLE Radio Best Album of the Year and found favour elsewhere for her modern approach to the slide guitar, as influenced by that instrument's original superstar, the legendary Elmore James.
October, last year, Lyytinen came to London, alongside her three-year strong live band: David Florene on guitar, Roger Inniss on bass and drummer Miri Miettinen.  There they set up shop at the similarly legendary 100 Club, where Son House had recorded Delta Blues And Spirituals back in 1970. "I didn't expect I would someday be on the same stage," she's said, but she was, and has likewise recorded her own live album there; only hers is available on CD plus bonus DVD and digitally. Things keep on changing but we still keep singing the blues…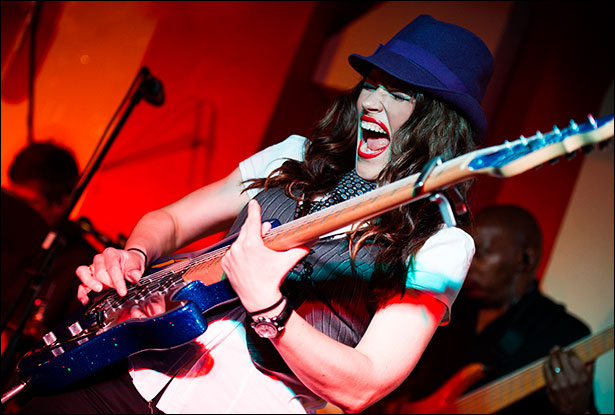 A deep moan rises from out of a blank screen before Lyytinen's face appears singing 'It's A Blessing' a cappella style. Then  brush-played drums skiffle on the beat, the rest of the band preparing themselves and Lyytinen providing large sweeping wah-wah soaked slide notes across the breadth of her guitar as they take up 'Let It Shine'- Her accent, it has to be said, has a character that needs adjusting to, English isn't everyone's first language but her diction is clear.  Music is a universal language however and as the tempo picks up the lady is kicking up a storm in full prime time Johnny Winter-mode. The DVD duplicates all the tracks on the CD but its advantage is that it's filmed entirely from the stage with some impressive close-up shot of playing, and guitarists will just eat  those scenes up.
As the songs continue there's a conversationalist storyline developing with 'Person To Person' and its jazzy busking blues being akin to comedy romance in that she can't meet up with her "baby" then 'Hand In Hand'  following suit with him now dating another girl. "Bastard" she calls out at the end sarcastically, but we'll also note there are some nice second guitar and bass riffs underpinning this one. She ditches the slide for 'Grip Of The Blues' but keeps her Cry Baby pedal on full tilt as she picks out chords and moves into a soul funk mode, while the camera pans round for some good shots of the band. The songs now more serious, reflecting on lost love, her voice comes into its own and as she lays out some cool jazzy lines on guitar I'm sucked in and have a desire to drink heavy spirits deep into the night.
With Florene picking out notes arpeggio style on the mellow almost 60s Euro pop of 'Change Of Season' this could as well be an ecologically themed number.  As the song extends Lyytinen's solo takes on a Dave Gilmore Floydian feel, moving from a slow burn to rock-echoed anthem, the close-ups of which will again be admired by many. Next is some up tempo Chicago blues that rocks it up for 'Everything's Fine' albeit that that line's prefigured by the word "Pretending". Next up is 'Hold On Together' and at times you do have to because it goes through a number of changes, not all of which gel that well together here – starting with a Muddy Waters type guitar line it bumps towards his earlier country origins, though comes across as gentle folk rock with jazzy blues lines and unsure if it wants to get a bit funky as the band begin to busk away. Florene then takes up an extended guitar solo, and is then joined in question and answer, and finally brief musical duet with Lyytinen until she calls out to the crowd to sing along, though they're not all that vocal it has to be said.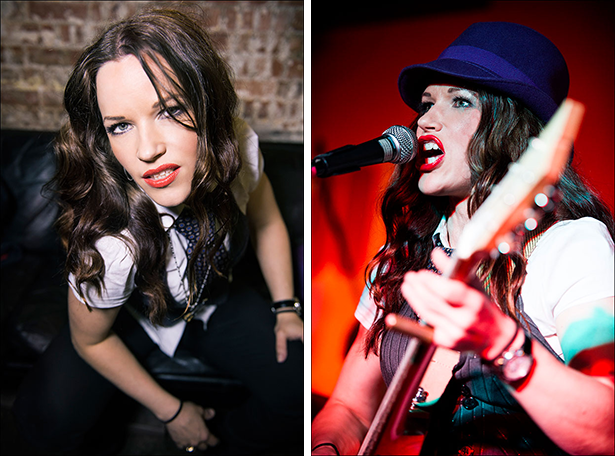 Back to business, and paying homage to Elmore James with her last three numbers she straps her slide back on for a cracking version of the much-covered 'The Sky Is Crying' with an arrangement that is sensitive with some thoughtful reading on slide guitar. 'It Hurts Me Too' is a thrusting hard blues and then the set finishes with 'Dust My Broom' – it seems everyone who picks up slide guitar learns to play this; it was supposedly an early highlight of Fleetwood Mac's set. Personally, I can't stand it. It has a great opening that all sorts of guitarists have appropriated (ie. stole) for effect in other songs but it just drones on for me as a song. Fortunately, as if forecasting my apparent poor taste in music the Erjya Lyytinen Band elected to each take a solo through the number making it diverting and impressive. Then, with a farewell greeting the album concludes, music playing as the credits roll.
So, okay, a number that gets too tricky for its own good and one I don't care for, aside from that Live In London is an entertaining package; a musical travelogue of love lost giving you the blues, and some highly impressive sounds on slide guitar screaming out in between.