Well who would have thought a band from Norway, would, or even could sound like a Southern American, whisky slugging band? Suddenly everyone wants to be a redneck, well maybe I have exaggerated a little here, but this kind of music certainly takes me back to the days of Lynryd Skynryd and the Allman Brothers rock, incorporating a southern mix of blues, but Helldorado however, paints amazing pictures with their unusual style of Rock Noir and more besides. Here is our Track-by-track review of Helldoro's new release 'Bones in the Closet'.
Gallows' Bird
Has a typical sleazy Mexican feel to it, you can almost feel the sun on your face and see the colourful sombreros, but wait! This is a band from Norway! Been a long time since I have listened to any music of this genre, but it certainly sets a hot and powerful scene.
Misery and Woe
A very thought provoking track that offers some mournful lyrics and just as the title suggests it is all about misery and woe.  But the music does have a poignant stamp and certainly makes its mark with good strong piano leanings.
Dead World
This is a good rock n roll track with loads of sleaze. It has bite in abundance and a strong vocal that in turn pushes forth and the added superb finger work on the frets are simply divine!  This has a great anthemic stance!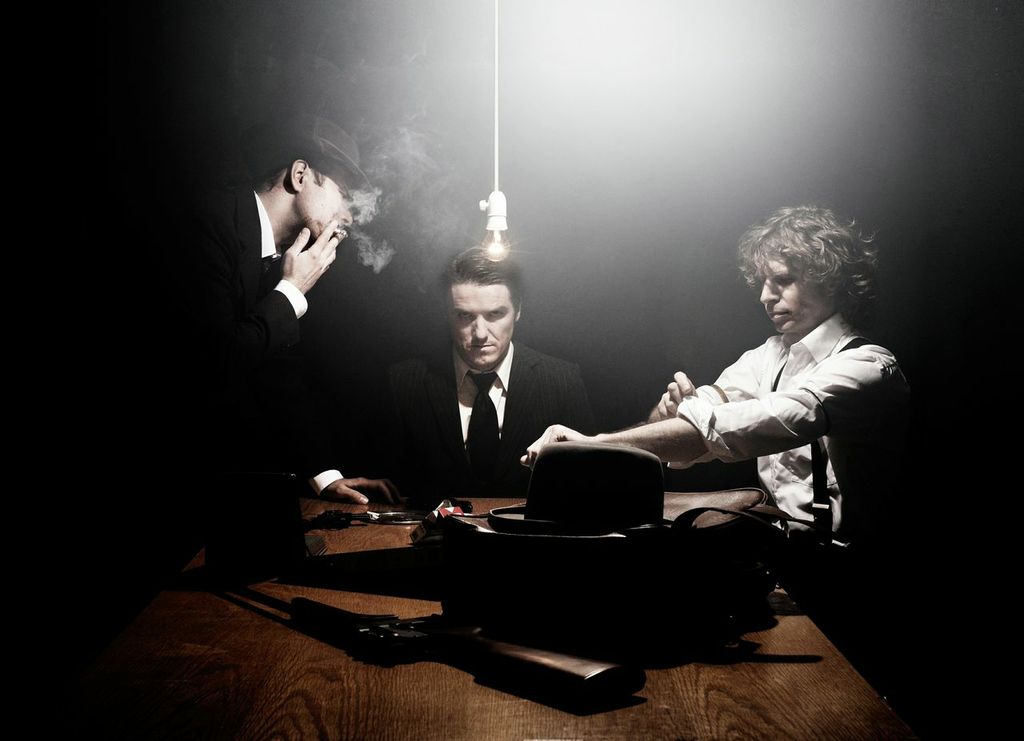 John McMiller
Great bass hook line on this track and a superb vocal holds a strong lilting tone and is reminiscent of Black Stone Cherry. Quite an impressive track as in far as it combines more than just drums, bass and guitar. The harmonics are just fantastic!
Please Come Back
Starting on a slow note it quickly builds to a wild madness, the slapping bass hooks are quite prominent in the track and the band have created the sound of urgency giving it a nice depth.
Times of Trials
The sound of ambient acoustic strings flood the speakers in a mournful but beautiful tone and a crisp vocal sounds intense and passionate. The full sound incorporates a piano and a trumpet, strong solid beats and a full on melodrama smoulders from within its shadows.
Bones in the Closet
Title track to the album and in a bluesy style holds a swagger of rhythms – it feels like you are on a stage set during a cowboy film – quite a surreal feeling really. A flash of bass and electric guitar with a peppering of understated piano carries you onto a smoky veranda on which you are sitting in a rocking chair as the sun diminishes, and now you are counting the stars and comparing them to the bones in your backyard! It is quite cleverly written and does paint some elaborate pictures it has to be said. The trumpet gives it that all Mexican theme!
Two Headed Horseman
Another bluesy track that steps high on a swagger of rhythms, and paints yet another story on this stage set with confidence and again more drama, containing a kick like a mule and is swathed in up tempo trumpet amid rolling guitar riffs and holds the emotive stance perfectly.
'69 Camard
Fiery blues track that has a lot of intensity and full on beats – makes me want to chew on a Texan Bar! This track has plenty of tease and swamped in superb rhythms that immediately ignite and house some quality harmonies – great track! Although I have never heard the track before I find I am actually singing along to it so it also has some great addictive quality attached.
Lost Highway Motel
Strange and ambient sounds from this one sets the scene and tells you about the people who once occupied the rooms within the lost highway motel. Again cleverly written with a crisp bluesy piano that conjours up some insatiable rhythm and packed full of intrigue. Although nothing like Hotel California it reminds me of the lines "You can check out any time you like, but you can never leave!"
 Johnny's Song
A softer piano is deftly played and creates the scene for the next scenario. The vocals take on a more mournful stance and inform you who Johnny is and what he had done through-out his life – coming to the rescue of a damsel in distress who cheated on her ex con of a husband and as a result, lost his life. The vocal range for this track surpasses everything on the album – quite stunning.
 Sixty Seconds to what?
A beautiful piano ushers forth and then an electric guitar takes over and sounds a lot like Hank Marvin has been let loose! Again the trumpet takes a turn to portray a crisp element to the instrumental.  This has a strong intense melody and is awash with powerful rhythms, and harmonies that add to its swirling depth.
To summaries, not in my usual line of listening but there is no denying Helldorado offers more stories than a child's book, and contained within each of their melodic, blues rock style tracks, keeps your attention span! Wonderfully varied, this album is so unusual and is 'smokin!'  I never thought I could listen to anything like this again, since the 70's, but Helldorado have offered something totally diverse and very distinctive. Add in a piano and trumpet to that guitar swell, bass hook and powerful drumming and you have a really good foundation on which to base the emotive vocals. One really absorbing album! Now where's my Stetson!
9/10