Re-wind back three years, we reviewed In This Moment's last album Ritual, giving it five stars and at one point comparing them to The Beatles for the band's constant evolution. Today, in what can only be described as a totally different world: can ITM live up to their magnum opus from the past decade?
Before we even listen to one note of this album, the title Mother carries a lot of connotations. Good and bad. A sign of female empowerment, the giver of life, a huge stage is not only a woman's life – but the entire family. It could also be used to signify a time of vulnerability and a lot of mental weight with it. In the classic sense of the word – Maria Brink and co. have always carried a feminist message with them, and I feel the title choice owes a lot to this. Not many people know this but Maria Brink is herself a mother and has been since she was 14. Her own mother had issues in the past and this really shows both sides of the name. It evokes so much emotion even before listening.
The album starts with a full-on instrumental accompanied by prose by Maria Brink. Very reminiscent of Ritual, like the baton is being passed on from album to album flowing right into the first (proper) track 'Fly Like An Eagle' which takes a lot of influences from tribal music, even the drums remind us of Sepultura or Alien Weaponry, slowly moving into Nine Inch Nails industrial territory. From the start, we know ITM has definitely not lost it. For those taking note, this is a cover of track by Steve Miller Band, which you probably couldn't tell.
Followed by another interlude, this certainly creates a 'Mother Earth' style atmosphere. Vocals again sounding more poetic, leading to a Korn-esque nu metallic sounding 'The In-Between', harking back to the feelings explained earlier about the role of the mother. A contrast to Korn singer Jonathan Davis' issues with his father.
'Legacy' although slightly departing this style, going into a more 80s-inspired sound, follows the motif of the album. Also an epic, clean solo from Chris Howorth on this. Almost like a Whitesnake track from a parallel universe. This conveniently leads into an unexpected cover of Queen's 'We Will Rock You'. Turning the whole song, which has sometimes been used as a chauvinistic sports anthem, on its head. I'm sure Freddie, Brian, Roger, and John never intended it to be used it that way – so you could say ITM, along with help from Lzzy Hale and Taylor Momsen, has repurposed it back to the original form. A hard rock anthem without any intention other than to evoke good feelings. Lyrics like "Buddy, you're a boy, make a big noise
Playing in the street, gonna be a big man someday" almost sounds like it is mocking these men who have turned it into what it was. On a side-note, Lzzy Hale's vocal sounds absolutely stunning on this track. On you will probably want to repeat.
Title track 'Mother' and following track 'As Above, So Below' both follow this electronic beat style we hear other places on the album. These are tracks, although lyrically bombastic, feel like they could fit on another ITM album. No doubt they will sound great life too.
'Born In Flames' starts with the sound of what could be an ultra-scan, going back to the overall vibe of the album, moving to synths that are somewhere between Gary Numan and Rammstein. A slower track where Maria Brink as the narrator takes the role of the 'mother' giving advice yet telling herself big changes are ahead.
'God is She' taps into the religious connotations of the 'mother' theme. Starting with an epic riff after the dust settles and explores the ideology of women in religion, particularly The Holy Bible. This carries on to 'Holy Man' which literally starts with church organs, then into a dirty groove-metal riff. Lyrically, this seems to be challenging faith basically posing the question: how can you believe in God in times like this? Sonically a great track, I just feel we are getting a little off track here.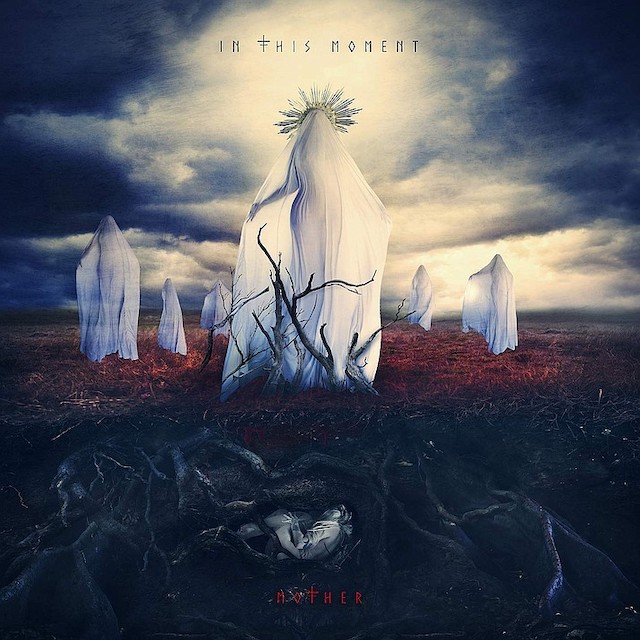 What follows is a collaboration with Joe Cotela of Ded, 'Hunting Grounds'. Although a great track, this could have easily been on any ITM album. This could have been the 'Black Wedding' of this album, but it just seems to go by with little impact. 'Lay Me Down' however feels like we are back on track, almost reminds me of DevilDriver's last album (Outlaws 'Til The End) mixing alternative metal with an outlaw country vibe.
The album ends with a cover of 'Into Dust' by Mazzy Star. To be honest I didn't realize this was a cover until I looked into it. Hence, why it's so different from the rest of the album. Yet, it ends the album quite well. Almost like the funeral song for this 'mother' character who has gone on a journey throughout this LP. There are even orchestral movements at points of the track, giving it more of an 'end credits' feel. This is one we can really appreciate Maria's vocal on. Very haunting, unique, yet poignant. Although this is a cover, it feels more in the style of the beginning of the album rather than the later tracks. It fits in well.
Although this is a stunning record my main complaint is possibly the way it almost loses direction in the last third. This could be a subtle way of telling us the main character of this album could be going down a different path, or some kind of personality crisis, or possibly these tracks were written before the album had an overall thread running through it. Either way, it's certainly worth a listen. Not just for ITM fans but if you like the weirder side of rock n roll.
Please stay safe and take care.
Mother is our now via Atlantic Records.
Review Overview
Summary : ITM seem to be on a roll here. With tracks that sound good on their own and as part of the overall album. 'Mother'. is a very strong record, even if it does lose its way towards the end.