Recorded music has come such a long way in such a relatively short time: where it ensures quality sound reproduction that's great, when it enters the marketing minefield it all becomes a lot more subjective. Once upon a time a single was a 7" piece of vinyl played on a gramophone at 45 revolutions per minute (rpm) with a song on each side, an album was 12" played at around 33rpm and gave you about five tracks a side, an EP was an extended play item pitched somewhere in between. With the advent of CDs time had less meaning if you could afford the studio costs and we ended up with albums with 12 tracks and often more, though rarely did that constitute quality. Now, with so much only available digitally time's gone out the window along with the TV thrown by your proverbial spoilt rock star. But many have cottoned on that size isn't everything, attention spans aren't what they were and we're spoilt for choice, and so the EPs are becoming increasingly popular alternatives. They also provide a good way to sample an artist's work before committing yourself to their whole back catalogue.
Canadian vocalist James LaBrie has been fronting Dream Theater since 1992;  a band who pretty much invented the prog-metal scene and are never shy about playing long epic tunes, and so too we find this to be an EP that doesn't short change you on actual songs, with a full nine numbers on offer.  The content however varies. For those who want guitars racing and raging in non-standard timings there's some of that on offer, but there are slow tunes too, and some quite off the wall stuff.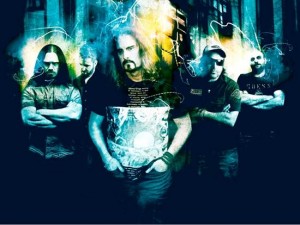 Oddly, I find the opening title track 'I Will Not Break' to be the weakest song within this collection. Hard-edged guitars stutter out riffs like they were a morse code message while a partially robotic voice sings atop, only really picking up as the chorus kicks in with harmonies. A more melodic guitar arpeggio is at the foreground for 'Unravelling' as LaBrie sings emotively with added harmonies again present that further enhance the sound – in truth if you let your average boy band get their auto-tuned voices on this they'd water it down and make it a hit.
Lizzy/Maiden style harmony guitars lead us back into prog-metal territory for 'Why', LaBrie opting for a bear growl vocal approach initially, then intermittently, but mainly delivering a catchy hookline melody. But the tune itself doesn't really stand out. What does is the next tune, an alternate mix of 'Coming Home' – Now, LaBrie and Dream Theater fans may call me all the names under the scene for not having heard any versions previously, but either way it's one of the best offered on the EP. Its haunting lyrics not about a broken romance but inferring its narrator's very life is in terminal decline. "Tell my wife, my best friend, both my children I love them," LaBrie sighs emotively over an acoustic and strings. Sad, but quite beautiful. As before, an emotive tune is followed by a stop-start metal riff-up in a demo of 'Jekyll Or Hide' with the alternative use of growl and melodic voice at least functioning as different character role, this time round but also as before the extreme metal sound not that special, save for the more interesting brief solos. Things start becoming progressively more interesting with the final batch of songs however.
Another demo, 'Just Watch Me' has the guitars intermittently chugging chords then playing precise metallic riffs in and about a keyboard based song not entirely removed from an industrialised Depeche Mode, LaBrie's double-tracked voice ranging from a mournful monotone to sugar sweet pop. Then, most unexpectedly, comes 'I Tried', and apparently an alternate re-mix version by Jason Miller – Chilled keyboards play a light melody more attuned for the Ibiza nightclub set than a rock audience, a romping guitar and hi-hat drumming set low in the mix but pushing it all along, LaBrie's voice in ghostly echo and mostly repeating the same line. The nearest equivalent that I can think of is the Max Graham remix of Yes's 'Owner Of A Lonely Heart'. I'm really taken with the track. Futuristic dominated rave sounds continue with a Mutrix re-mix of a song called 'Over The Edge', a far more uptempo track with some crazy keyboard sounds, with echo and effects on LaBrie's voice again but him also giving it some rock hollering to boot.
Concluding with 'Euphoric', this time apparently a remix by Neon Genesis, we dip our collective toes into a pool where Nine Inch Nails do a grisly imitation of Tangerine Dream before jumping out and dancing to some modern trance, all while LaBrie sings over the top.
I'll give James LaBrie this with I Will Not Break – He's not bothered about shoving his own voice down our throats but putting a song across. The prog-metal ones I may never need to hear again, but where he and his musicians get experimental they've got a really interesting vibe going on.
James LaBrie 'I Will Not Break' digital EP is out now via InsideOutMusic.
7/10
Video: JAMES LABRIE – I Will Not Break