It's kind of like an unwritten achievement to see the 'big four' thrash bands live on tour quite near to each other. Seeing as Metallica, Megadeth, and Slayer are all playing the festival circuits this year – who else can we see headline a UK venue? Anthrax of course. With their vast back catalogue and fingers in many genre pies, the thrash metal legends are guaranteed to never disappoint. The drama hall-come-student's union bar is a fairly small stage for such a big band, but no-one minds the size of the room tonight.
This is the 'For All Kings' tour, or at least a tour to wrap it up nicely as the record was released almost a full 12 months ago. In a strange turn of events all four bands of the big four – Metallica, Megadeth, Slayer and Anthrax have had an album release in past year…Ok 16 months counting Slayer. And in another unexpected turn – Anthrax's album has been received the most positively (by critics at least). Scott Ian and co still play smaller venues than their 'big four' peers – and Northumbria Uni's Student Union is the perfect place for them.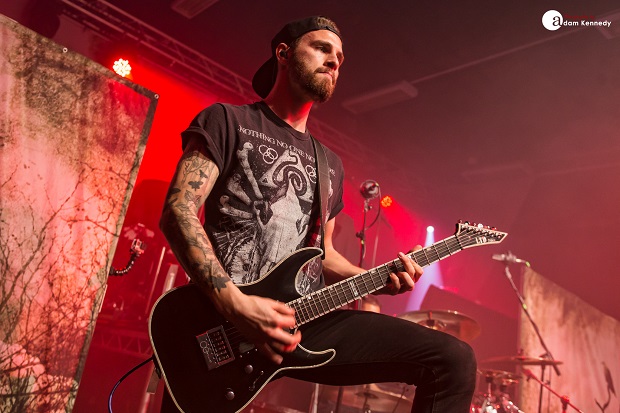 The hall is already packed out for Harlow heavy-metallers, The Raven Age, who open the night. Michael Burrough's boys have a clear understanding of the metal world – both past and present. It also helps that guitarist George Harris grew up in the same house as one of the most iconic metal performers of all time,yet this doesn't doesn't define them. Tracks like 'Salem's Fate' and 'Eye Among The Blind' really show why this band are making a name for themselves.  At this time, a huge band like Anthrax are possibly the ideal band for The Raven Age to support. And I'm sure this isn't the last time we will hear of them either! In this digital age, being an unsigned band doesn't stop anyone in the world of rock. Certainly setting the scene for tonight's (NOTE: I won't tell you who one member of The Raven Age is related to – without Googling, listen to them as their own band).
The unique thing about this tour is part of the setlist is made of requests from fans via Facebook, plus newer tracks from 'For All Kings', and then finally the classic album 'Among The Living' in full. Yes, you read that right -'Among The Living' ….IN FULL! On the 'For All Kings' tour..!Knowing this proves Anthrax, despite their many accolades, festival headline slots and lustrous connections, still understand their fans and realise what they want. With a career spanning over 30 years, yet still being very prominent in the metal genre: its a given the audience will be a mix of ages in this crowd (which is always a good thing in my book).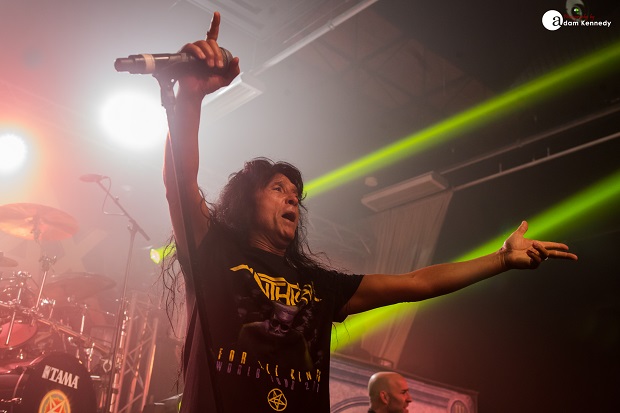 The popularity of their original material is evident by opening the show with 'A.I.R.' and the blistering 'Madhouse' – possibly a track that got slightly younger fans into Anthrax after playing Grand Theft Auto: Vice City. This immediately leads to the 'For All Kings' section. Being such a great album – it would still be a great shame to miss any by going to the bar or loo during tracks like 'Evil Twin' and 'Blood Eagle Wings'.
When most bands with careers spanning far back as Anthrax's play newer material, in full, it can be tedious. Yet, the New Yorkers make it seem like they are still playing their hits. Which strangely enough, they follow with taking  tracks from most, if not all their best loved albums. This almost feels like the end of the show, we have had so much in such a relative short time. This is a double set after all.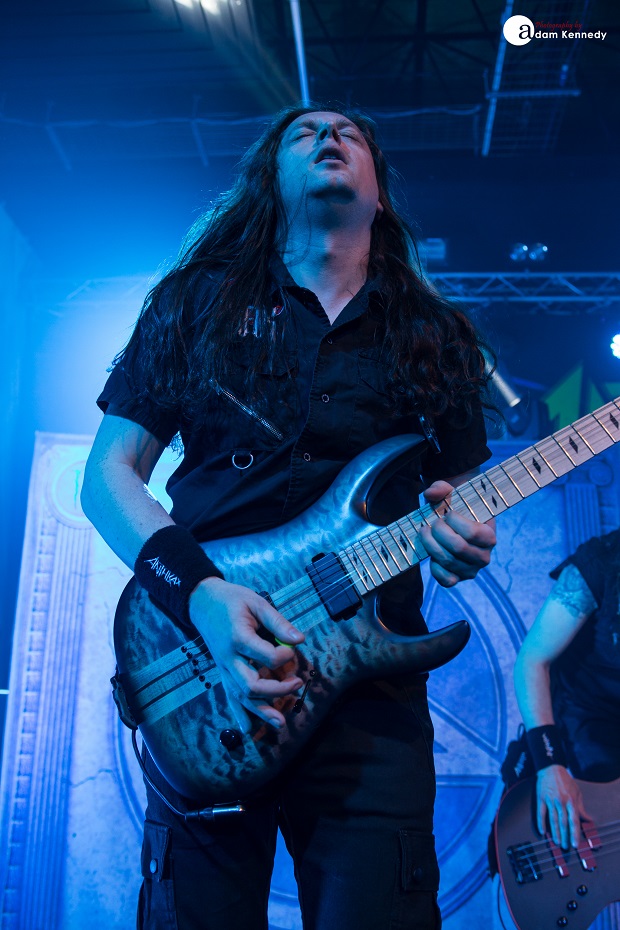 After a short break and re-introduction via a clip from Blues Brothers, set number 2 starts. The 'Among The Living' part of the show – which feels like 'new school' Anthrax are supporting 'old school' Anthrax. It's evident they really have saved the best until last. 'Caught In A Mosh' and 'I Am The Law' are testament that Scott Ian, Joey Belladonna and the boys haven't ever slipped up in their 30 years on stage (although some may question the John Bush albums).With metal, rock, hell…any band playing live in 2017 being more important than ever to fans – Anthrax are seriously worth double the ticket price.
Tracks you thought you may not hear live such as 'Efilnikufesin (N.F.L.)' and 'A skeleton In The Closet' sound just as fresh today as they would when first performed live. Ending the show with the slightly topical tracks 'Indians' and 'Imitation of Life' wrap up the main show, only to be followed  by the epic cover of  Trust's'Anti Social'. This is a gig  to remember.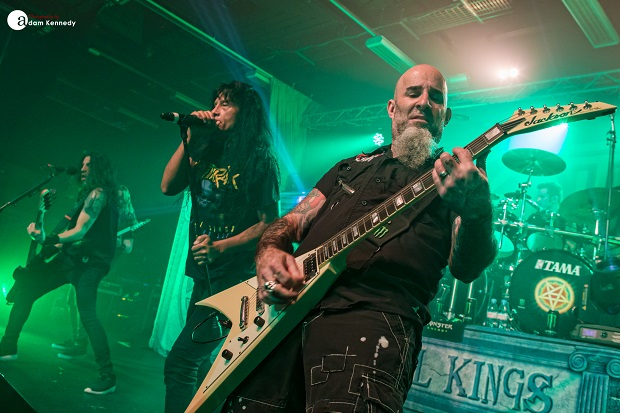 In all this is everything we wanted and more from both Anthrax and Raven Age. I'm sure Burrough and co. will be playing many more stages, possibly bigger, soon. And Anthrax will certainly continue to rock harder than ever and releasing great albums like 'For All Kings' until they no longer can rock…which is a day no-one wants to see.
All photography by Adam Kennedy. Check out his work here