Despite Nickelback being a divisive group, although a lot of people hating on their music,  some couldn't wait to attend this huge show in London.
Nickelback have finally returned to the UK as part of their world tour, including dates at Wembley and at the O2 Arena. The No Fixed Address tour commencing on the 12th of October at Motorpoint Arena Nottingham, will come to a momentous end on the 25th of October at Newcastle's Metro Radio Arena. Tonight, Wembley was packed of devoted fans of all ages and backgrounds which suggests that clearly there are still many people who do not care for critical acclaim and still give their support to the band. With 50 million albums sold, many unavoidable hit radio singles and their genuine technical talent mixed with incredible live performances, Nickelback have nothing to prove. Frontman Chad Kroeger is on top form even after having undergone major vocal cord surgery leading to last year's tour dates cancelled.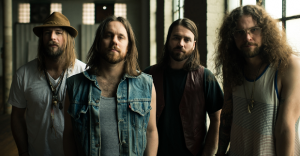 Opening act were Canadian Monster Truck who ripped into a long and strong set while in total command of the stage and the room. Music aside they gave a lesson on how to perform like stage animals. With mostly all the members of the band being bare chested , they delivered a powerful set which fully involved the whole arena from the first to the last song. Riffs, drums, keyboards and vocals were all absolutely outstanding. Forty five minutes of stoner oriented songs mixed with the more bluesier ones and the melodic choruses. If you are a fan of southern rock, these guys are definitely worth to keep an eye on.
Nickelback, with Chad Kroeger as lead vocalist, Mike Kroeger on bass, Ryan Peake on rhythm guitar and keyboards, and Daniel Adair on drums, opened with the explosive 'Edge Of A Revolution' from their last album, a stomping tune that got the crowd jumping down in the standing area, and out of their seats. There was nothing particularly memorable about this entrance but their amazing sound makes up for it. 'Something In Your Mouth' is next and also a clear crowd-pleaser, with Chad jokingly stating that they were the only band who could get away with such a title for a song.  The following 'Animals' and 'Too Bad' keep the crowd hype at a very high level.
'Far Away' opens the series of the well popular ballads which probably characterise this band, although I have always preferred the less commercial and probably more energetic rock 'n roll side of them. The gaps between songs consisted of an array of crowd-pleasing chants, talk of rock adventures and misbehaving around the world and cups filled with alcohol brought by their roadie Bradley who was repeatedly invited to perform some silly dance on stage. During 'Lullaby', Ryan plays the piano while Chad's nephew and bassist Mike's teenage son are the special guests for this song and get to play the guitar in front of the whole arena. Follows one of my all time favourite tunes, 'Figured You Out', and the well known 'If Today Was Your Last Day', both songs don't fail to bring back the energy that the fans put aside for a moment during the downbeat ballads.
At one point in the show, Kroeger and Peake moved to the front of the stage equipped with acoustic guitars to perform a cover of Big Wreck's 'Mistake', which was literally the only big mistake made throughout the whole gig as this was probably the only song that killed the atmosphere a bit because unknown by many. On the other hand, featuring Chad's only guitar solo of the night, Don Henley's cover of 'Dirty Laundry' turned out to be a smashing success. Songs like 'Someday', 'When We Stand Together' and 'Photograph' (the last played with large screens flashing photos behind them) kept the crowd singing along and entertained for the most part. Their worldwide hit 'Rockstar' was performed acoustically and had two fans plucked from the crowd to sing along which reminded the 'karaoke' scenes from the music video.
In the encore they surprisingly played 'Everlong' from Foo Fighters with Ryan as an excellent lead singer followed by 'Gotta Be Somebody' and the super famous yet incredible when heard live 'How You Remind Me'. After that, Chad doesn't seem to want to end the show so he says he's up to play one more even though they would have been fined for overrunning. Here comes 'Burn It To The Ground' that sets the fans on fire and gets everyone to jump up and down in delirium. Whether you like Nickelback or not, you can't ignore the true talent of these musicians, after playing for over two hours they don't show signs of tiredness and they seem to enjoy every second of it. They definitely know how to make the show a fun and amazing night of music for their audience. And after a night like this, surrounded by thousands of adoring fans, it would seem that Nickelback may be actually the ones having the biggest laugh.