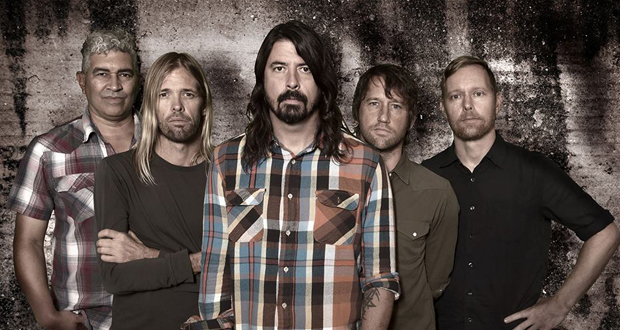 In October 1995 Dave Grohl walked into a studio in Seattle and recorded a bunch of songs on his own. The rest they say is history. Foo Fighters have become one of the biggest bands on the planet with a live show and a back catalogue of stadium filling anthems to match.
Excitement surrounded the Foo's returning to Wembley Stadium (they last played in 2008) but as fate would have it, a broken leg forced them to cancel the shows as well as a Headline slot at Glastonbury.
Fast forward 11 weeks. Foo Fighters have sold out two nights at the Milton Keynes Bowl.  The opening riff of 'Everlong' fills the Bowl, a seated Dave Grohl screams "We came back for you!" This is more than just another show for these guys. This is a party for 65,000 of the bands best friends.
They pump out anthem after anthem including 'Monkey Wrench', 'The Pretender' and 'Something From Nothing' (the later taken from the latest album 'Sonic Highways'). The pure energy of the band is something to be admired. If there were any doubters in the crowd, there isn't now. Dave Grohl has the entire bowl eating out of his hand.
Grohl took the time to slow things down to thank "Dan" part of the Foo's crew who designed the moving "Throne" that enabled them to continue the tour. The throne is a thing of beauty. Think: the Iron Throne from Game of Thrones but replace swords… with guitar necks. He dedicates a stripped down version of 'Big Me' to Dan, and instantly thousands of phones and lighters illuminated the area. The appropriately titled, 'Walk' (learning to walk again) and 'Congregation' were up next. The Foo Fighters are still getting warmed up.
Band introductions are part of every show. Chris Shifflett performed 'Eruption' by Eddie Van Halen. While not known for being a guitar shredder, he pulls this off perfectly. Nate on Bass does a cover of 'Roundabout' by Yes. Again, this is executed perfectly. Pat pulls out a song that clearly takes him back to his punk roots, 'God Save The Queen' by Sex Pistols. Taylor Hawkins on drums does his thing: drumming and singing on the lesser known Foo's song 'Cold Day In The Sun'. Quite appropriate, as the temperature in Milton Keynes had fallen below 10 degrees. But no one cares. They are here to rock!
Cue the super group! Dave brings out two special guests to help with the next song. John Paul Jones from Led Zeppelin and Roger Taylor from Queen. The audience is stunned. They stay completely stunned throughout a cover of 'Under Pressure'. Hawkins and Grohl both take vocal duty on this one.
"Let me just tell you that the Foo Fighters, right now, are living out our rock n' roll fantasy with you tonight" says Dave Grohl.
The Foo's aren't done yet. Not by a long way. They continue to power through the hits: 'Times Like These', 'All My Life', 'These Days', 'Breakout and Arlandria'.
Grohl takes a few moments to chat to a few fans in the front row asking them to pick the next song. They chose 'DOA' which the Foo's haven't played since 2012.
In true Foo's fashion they end with a singalong version on 'Best of You'. This is a fitting finale to a show that was just shy of the 3 hour mark.
The Foo Fighters have solidified themselves as one of the best live bands in the world. They have a solid rhythm section and arguably the best front man leading them. One thing is for certain, they all love rock n roll.
Recently, an artist (who will remain nameless) said "he was the greatest rock star on the planet". He obviously hasn't met Dave Grohl. We certainly did get the Best of You. Thank Foo!
Foo Fighters played: Everlong, Monkey Wrench, Learn to Fly, Something From Nothing, The Pretender, Big Me, Congregation, Walk  Eruption, Roundabout, God Save the Queen, Cold Day in the Sun, Under Pressure (With Roger Taylor and John Paul Jones), All My Life, Times Like These, These Days, White Limo, Arlandria, Breakout, Outside, This Is a Call, DOA, For All the Cows,  Aurora, Best of You.