Rhino's Revenge bounce on stage and proceed to spend the next thirty minutes or so keeping us entertained with a brand of British rock packed with lyrical innuendo, working class social commentary, and some beefy meat and potato compositions played with flair, consummate showmanship and passion; starting with the mod moves of 'Rock 'n' Roll Blues' dipping straight into the heavier 'Secretary' with such politically incorrect lines as "My benefit package is second to none," and one hell of a drum roll turnaround.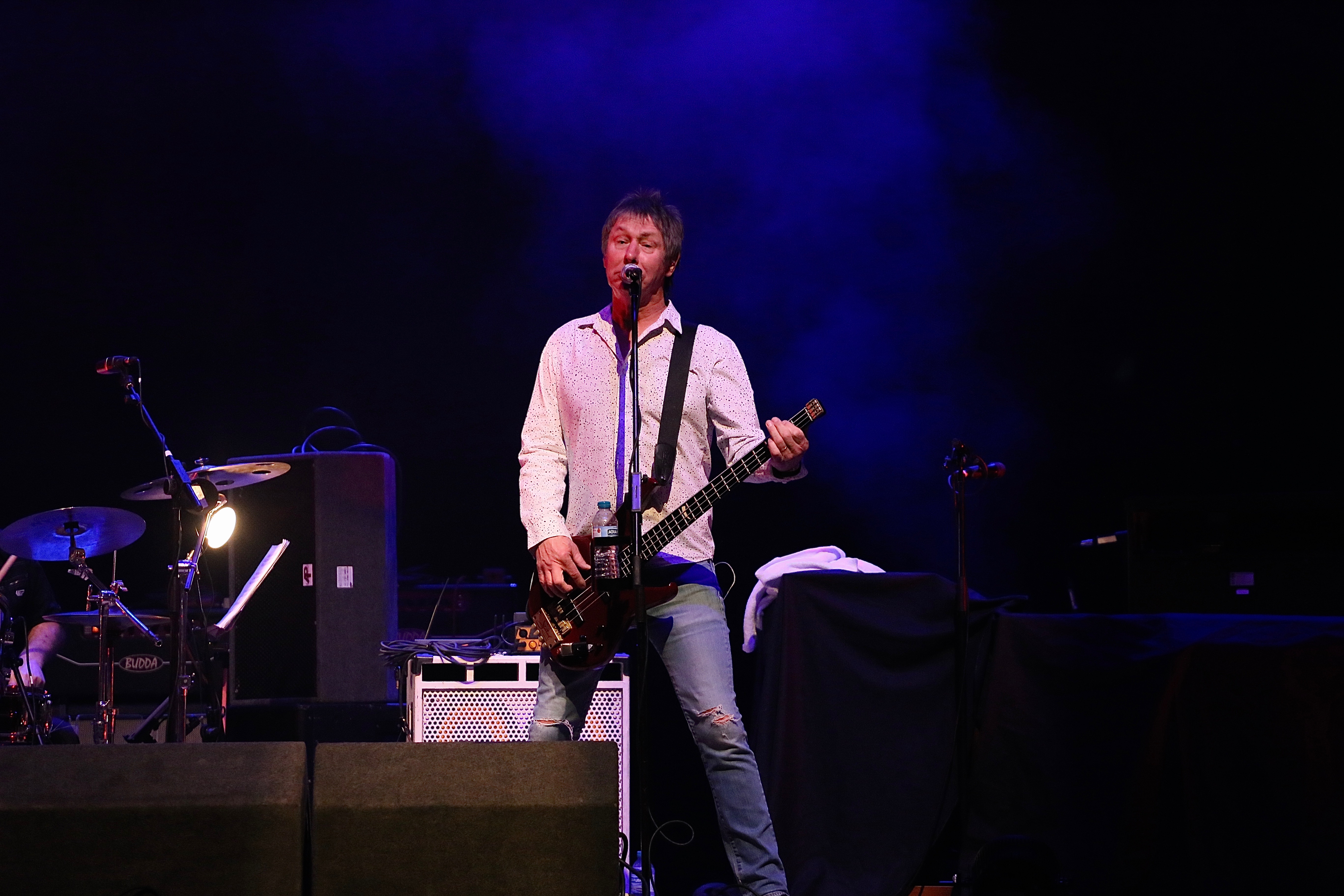 The man on the kit is Richard Newman, who's played with Paul Rogers' band, the guy doing clever things on a headless bass, delivering the vocals and cheeky chap banter in between while looking like a cross between Joe Brown and Paul Weller is John 'Rhino' Edwards of Status Quo fame, while the guy about to play a rather tasty slide solo on the next number is Jim Kirkpatrick sidelining from his regular gig with FM – He also uses a capo at various positions on the same guitar during the set, leading to some interesting tonal sounds throughout. Numbers come thick and fast, 'The Original Republican' and 'Gravy Train' could be semi-political, 'My Name Is Stan' is about Edwards' dog, because he told us, and it's actually rather funny.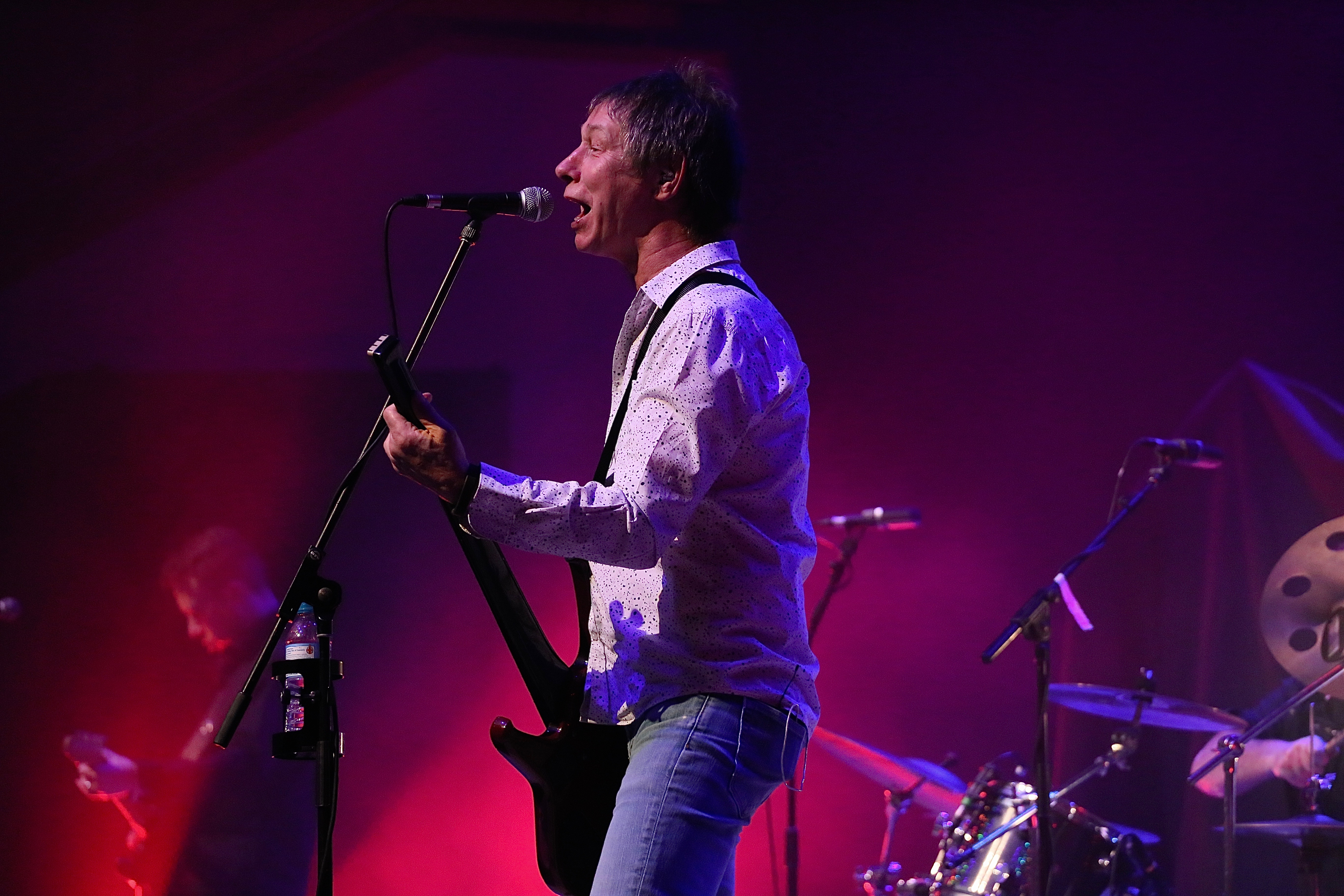 I used to watch a young funkier bass playing John Edwards pogo up and down while playing with Judy Tzuke's band. A couple of decades later he's still got the energy to pace around the stage, and slips into that patented Quo pose at a moment's notice. The music dives in for some Dr Feelgood meets The Hammersmith Gorillas rock bovver in between Piledriver-era Quo boogie, Kirkpatrick adding occasional backing vocals on numbers like 'Jungle Love' and another tasty guitar solo in their final number, a cover of Quo's last great hit, 'Heavy Traffic', written by Edwards himself.
A busman's holiday from their regular gigs, you might need a few sherbets down you to appreciate a full headline set by them but their performance tonight certainly didn't drive anyone to the bar; good stuff it must be said, as Rhino's Revenge left the stage with smiles on their faces and deserved applause.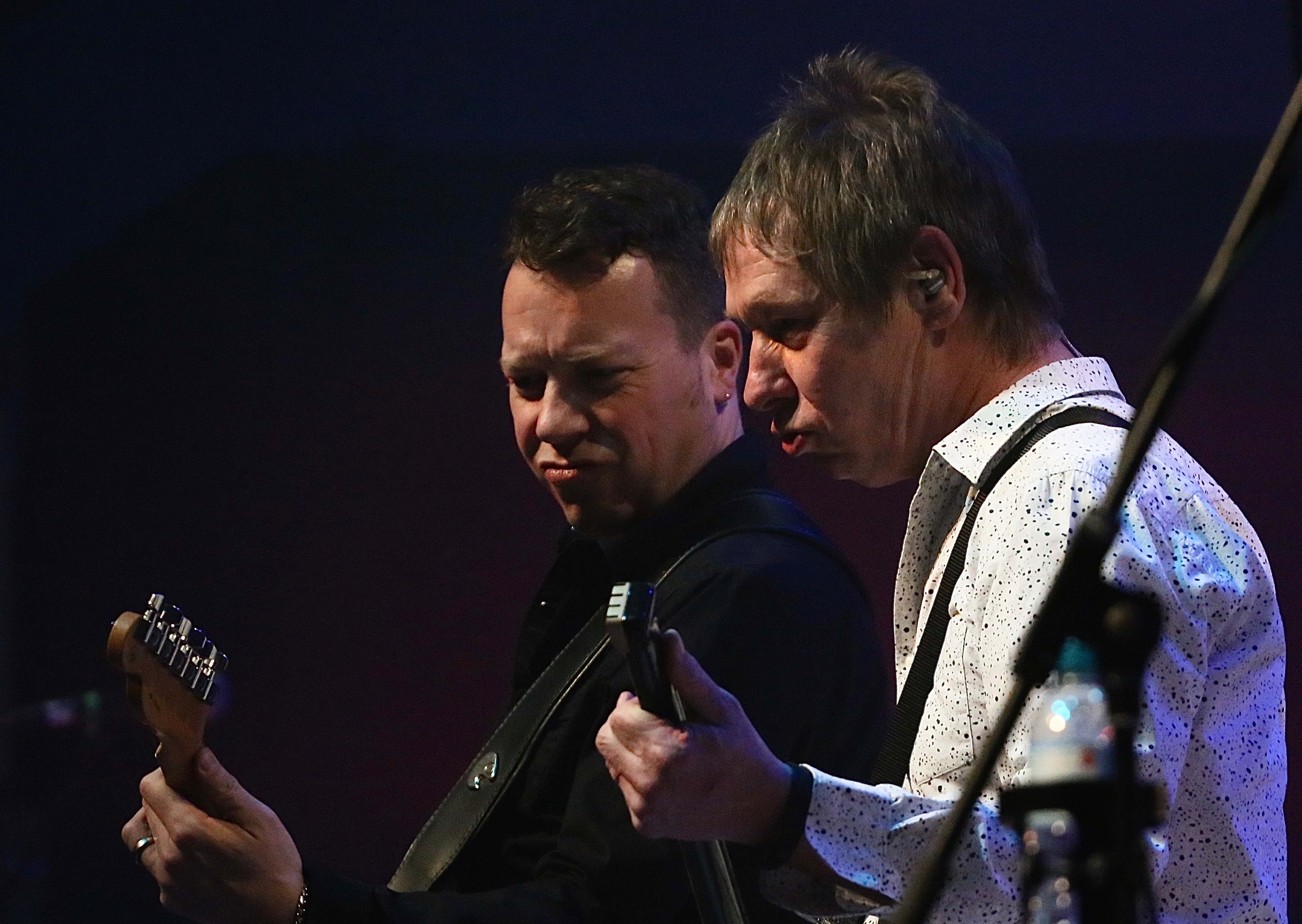 There are apocryphal stories in Birmingham's pubs by rock fans even more ancient than me, they'll tell you stories of the legendary acts that have played Birmingham's Town Hall – Photos in the bar can attest to the likes of Chuck Berry, Buddy Holly & The Crickets, Clapton & George Harrison (as part of Delaney & Bonnie's band) and Black Sabbath (their Volume 4 album features photos taken there) – One of my favourites is about the night the Andy Fraser Band played there; the former Free bass player so confident about his prowess he had all the top rock singles that year (yes, grandchildren; the pop charts had them back then) played over the PA before he walked on stage, naturally everyone who narrates this story will also tell us that his power trio rose to the occasion.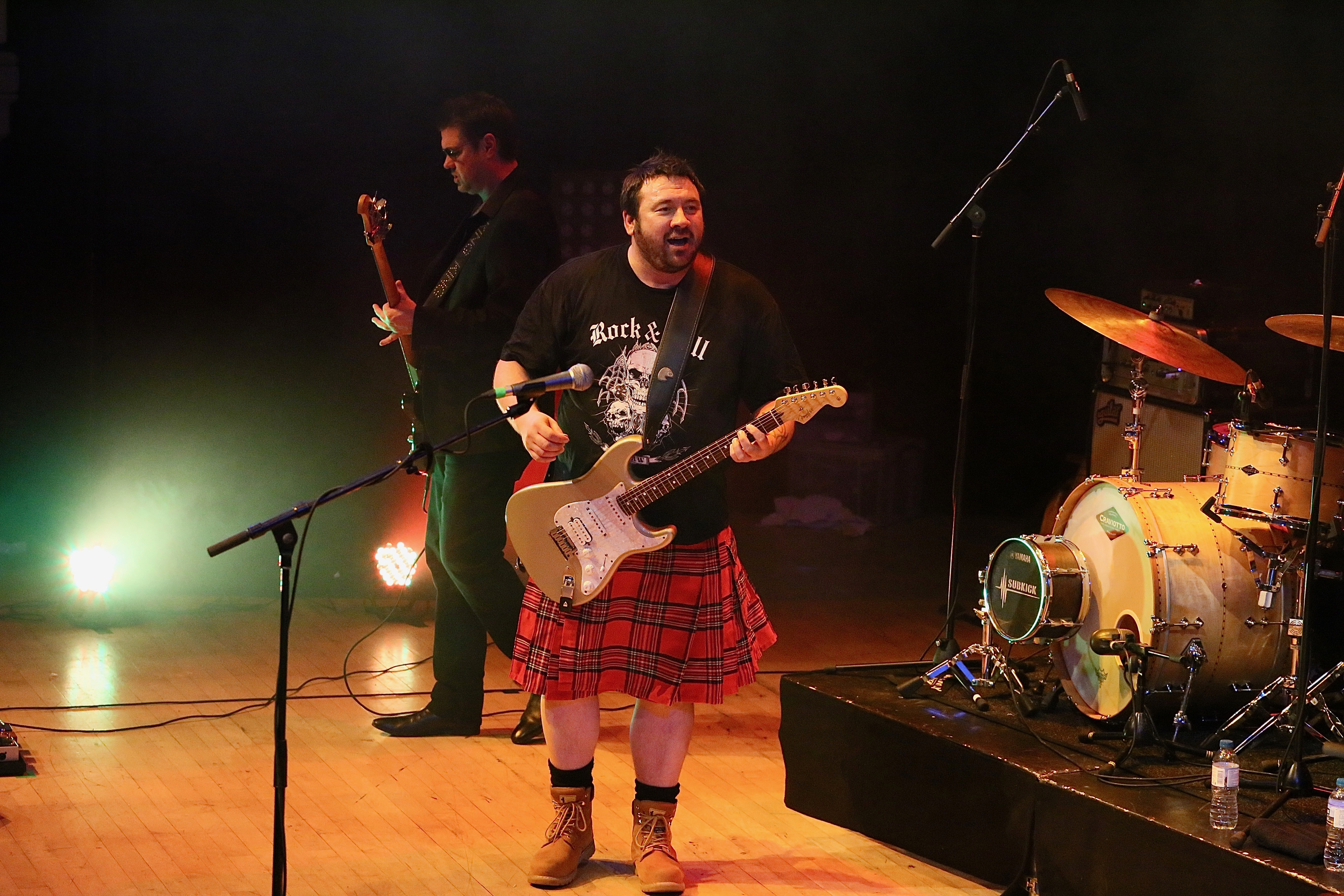 That each time I've seen King King play somewhere or other they've walked on to Free's 'All Right Now' I've taken less as a sign of their bolshiness and more an intent to follow in the footsteps of their spiritual mentors. Tonight as they walk onto AC/DC's 'Highway To Hell' we are reminded that on the release of their latest album Exile & Grace they announced their intentions to tread a rockier route musically, and so they do as guitar in hand Alan Nimmo unleashes a wave of wah-wah sustain that feed into the riff of that album's first single '(She Don't) Gimme No Loving' as new keyboard player Jonny Dyke's whirling organ joins him in the fast lane. Stomping up the microphone, Nimmo's joined in his vocal delivery by an enthusiastic audience and so on taking his first solo he wanders up to the front of the stage to greet them.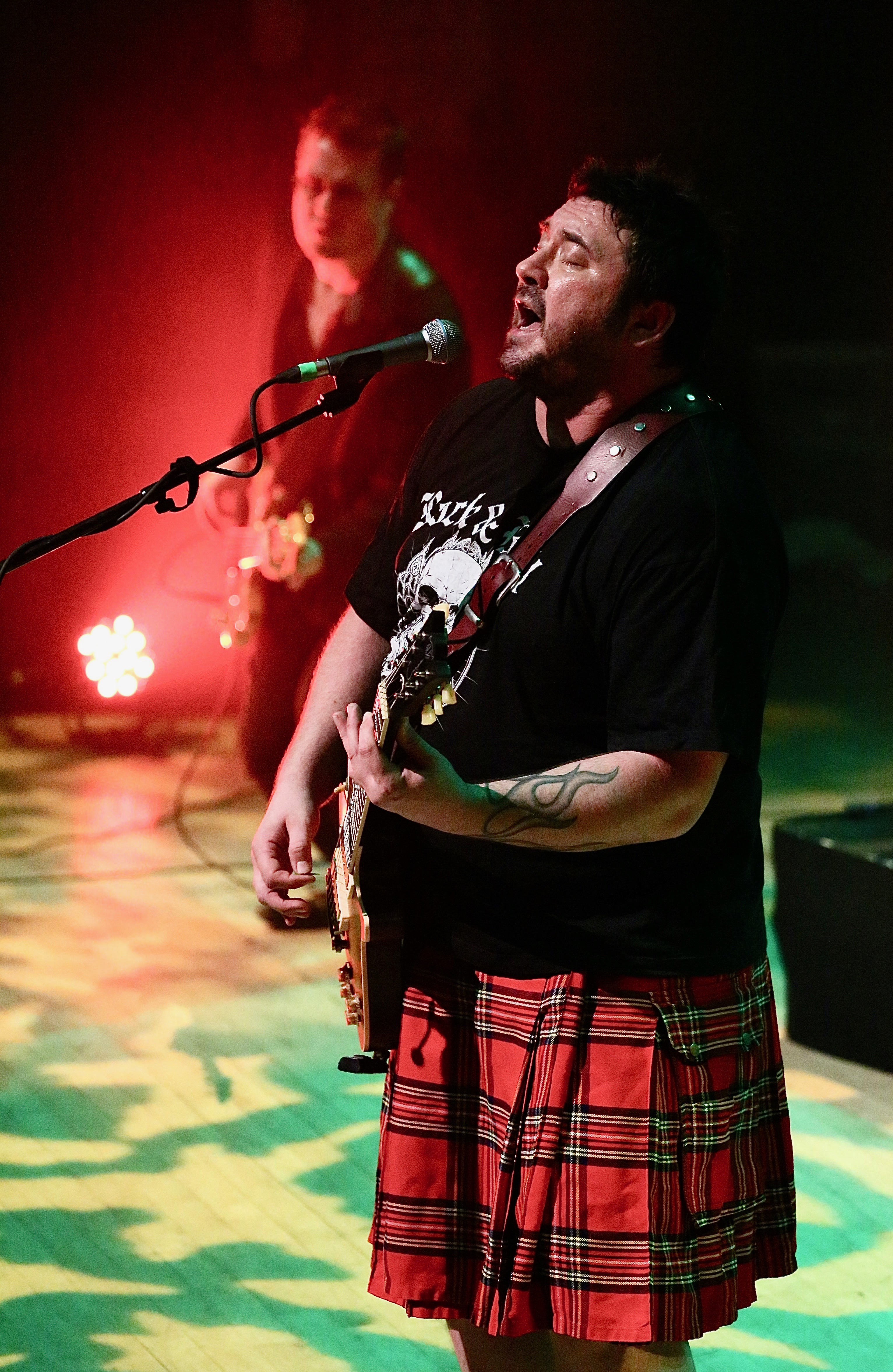 That this rockier version of the band may also feature more animated performances wasn't one I anticipated but the familiar ultra-cool suited and booted Lindsay Coulson also takes time out from that time honoured tradition established by Wyman and Entwistle that bass player's remain motionless has been torn from the rule book tonight with him throwing some shapes, while he continues to play just the right note with such economy and class and a very nice hard popping sound being produced to boot.
That Dyke looks a little younger than the others may be the position I'm seated, but his higher vocal pitch without doubt adds an extra dimension to the harmonies alongside drummer Wayne Proctor's, and while his playing come solos is stylistically different to Bob Fridzema's no one's complaining and I have to declare myself as one of those who were concerned prior to hearing the new guy – Although, as Nimmo, will relate later, Dyke actually played in a prototype version of the band.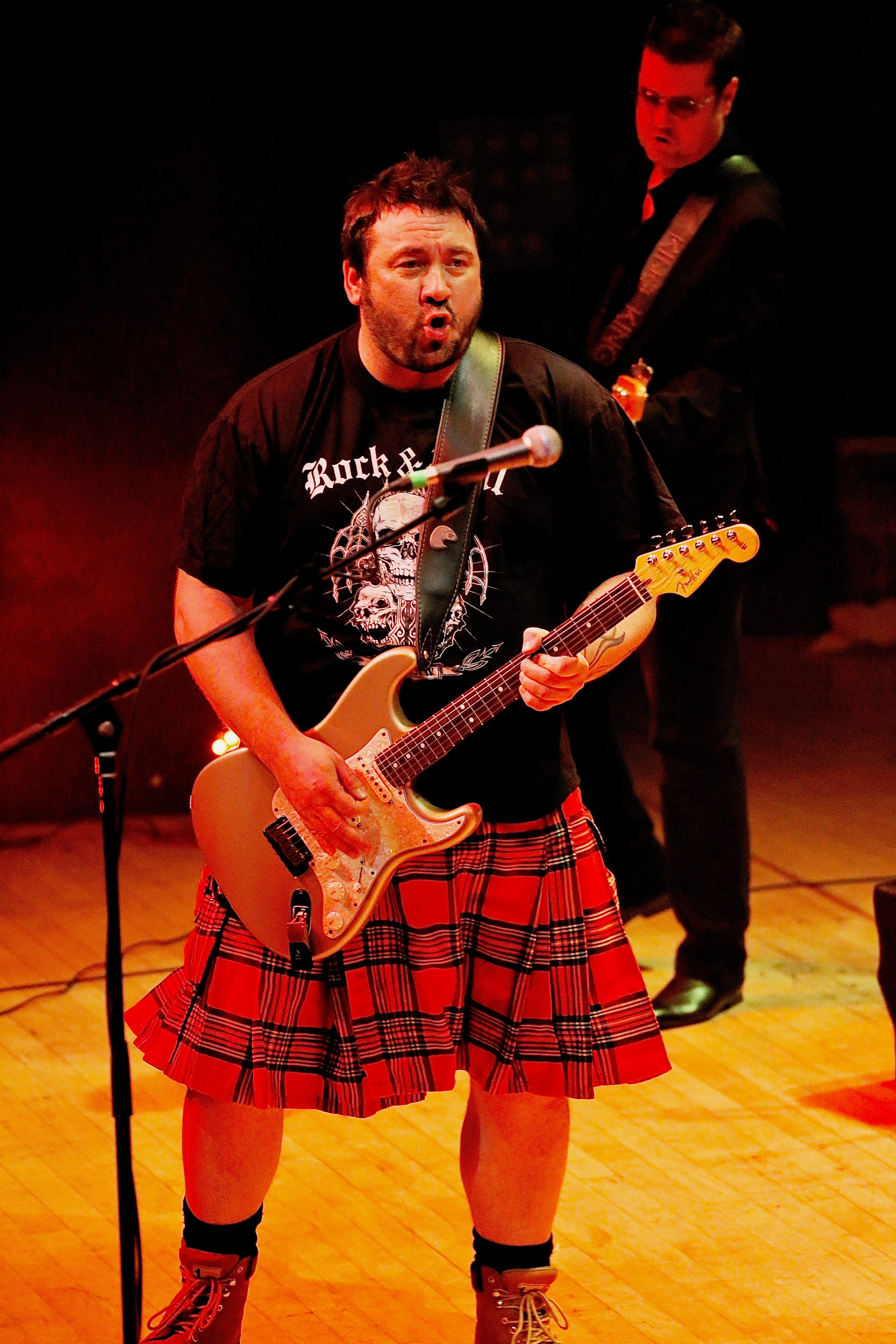 The rocking blues of Reaching For The Light's 'Waking Up' is next with Proctor's snare vigorously chopping at the beat. The woman in front me is visibly moved as having relieved herself of her jacket her shoulders are now bopping gently from side to side, her head shuffling in counter motion and her hands begin to rise as she clicks her fingers in time. This is a good start to the New Year I note, and Nimmo agrees wishing us all the best before playing through the chorded opening notes of 'You Stopped The Rain', bass and drums locking in tight as it becomes an emotional soul rocking timeless piece, with pronounced musical interchanges before Nimmo delivers a wiry guitar solo that he extends and takes into areas that the chap sitting next to me refers to as "a bit like Neil Young".
This rawer approach on the latter section perhaps also reflecting King King's more hard rock intentions, either way it continues to be dedicated to the guitarist's brother Steve Nimmo who at this point walks on stage to offer a Stratocaster to replace the Gibson Les Paul for the next number.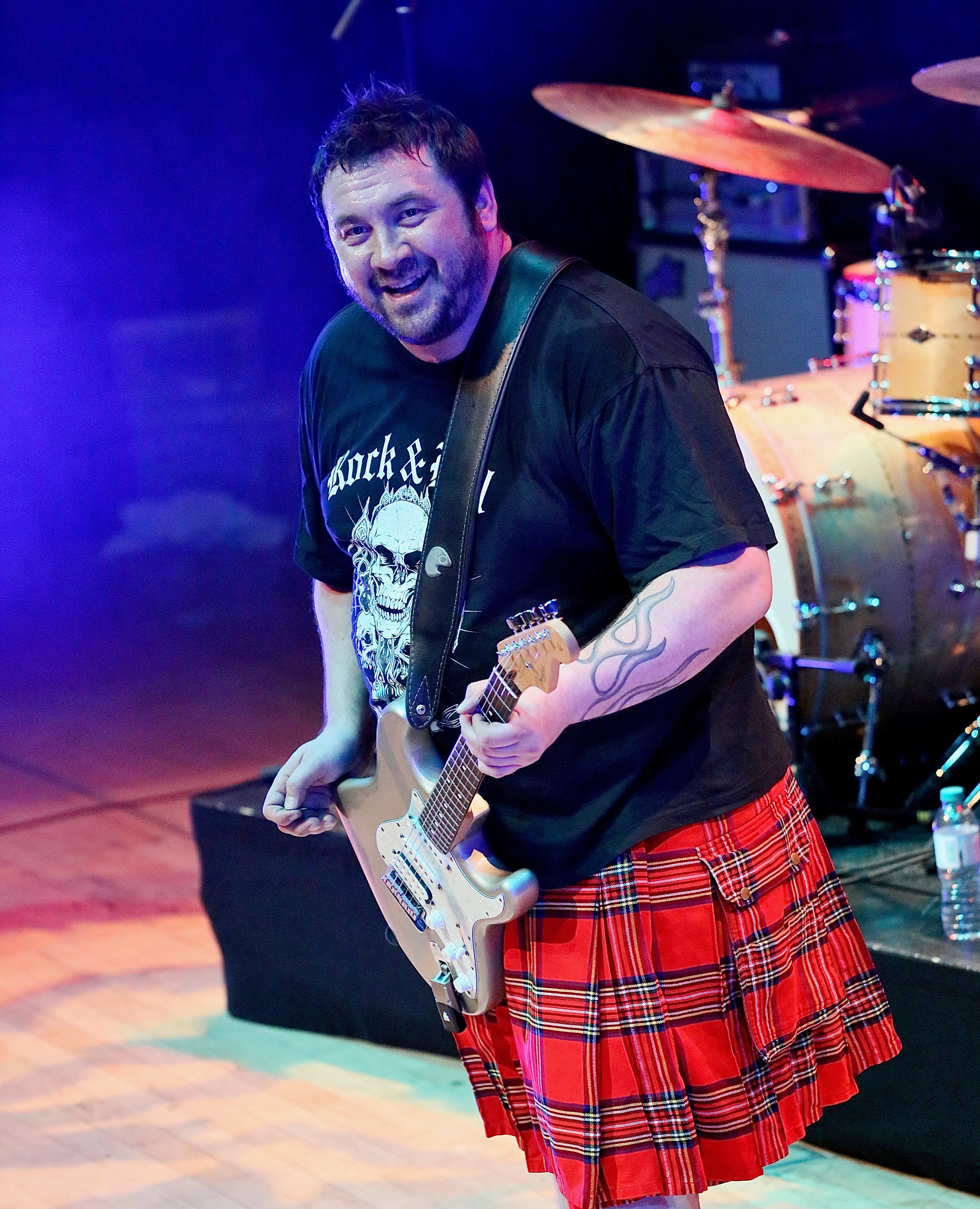 "Maybe it's my age" Nimmo considers as he tells us that 'Broken' was written when he began to worry about the world we were leaving behind for future generations, with our mindless wars and ecological catastrophes. Unexplained you might consider it a song about a failed relationship, think about it and it's a rather apt comparison. Nimmo's vocals have been on the quieter side until now, a winter cold he'll inform us later, but the breathy quality of his lungs adds passion with added volume here, the band as a whole punching with the subtle jab and hook of the original Whitesnake when they walked so honourably in the shadow of the blues. King King follow this with an absolutely intense and beautiful interpretation of 'Long History Of Love' from their own Standing In The Shadows album. Nimmo is back playing Gibson, and Coulson's replaced his familiar white Fender with a black one he'll use for the rest of the night, and while they strap in Dyke is officially introduced and proceeds to wrench every drop of emotion he can out of his organ as he begins the song.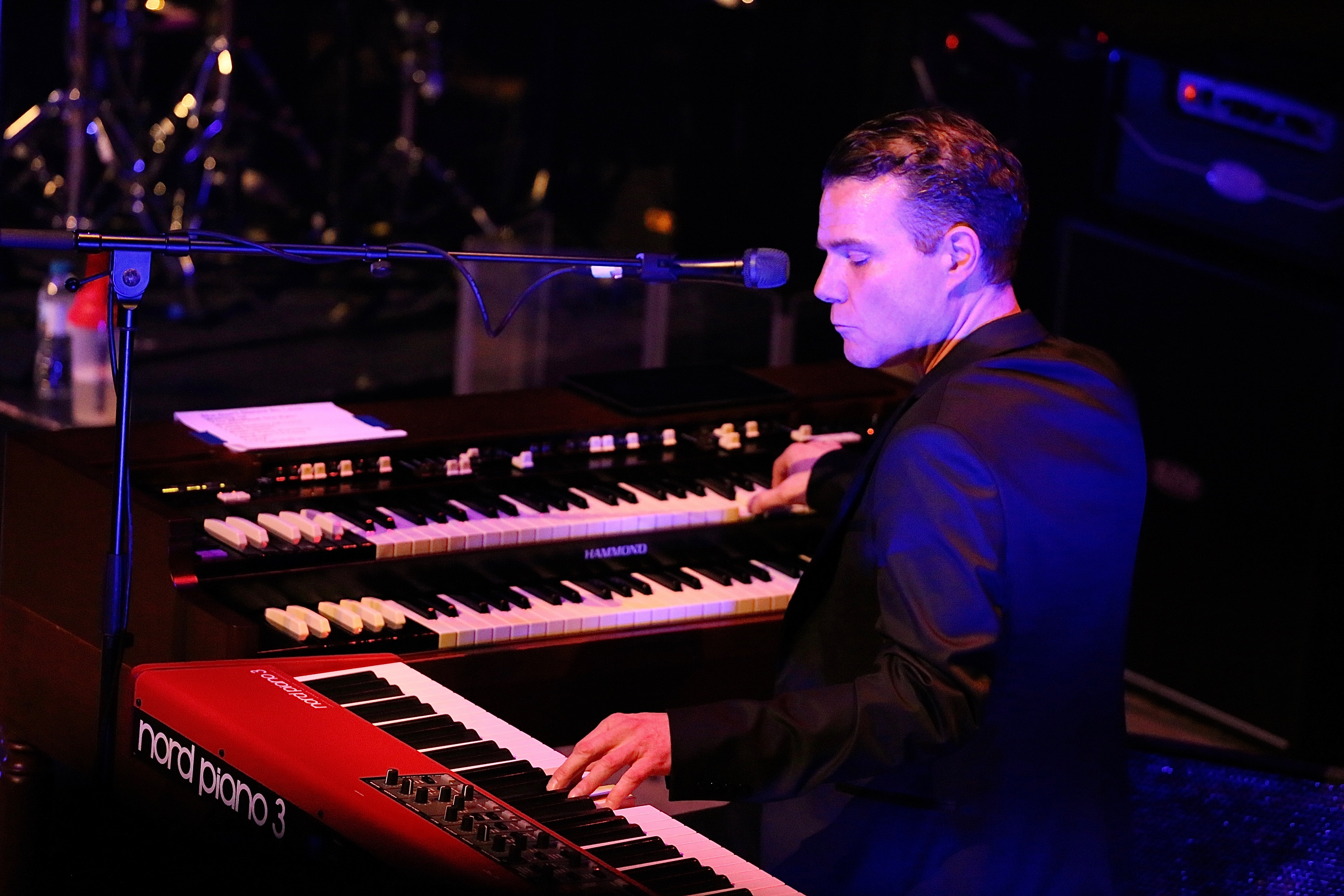 I can't hear 'Long History Of Love' without thinking of it as some personal trip down memory lane where music and the women I've been lucky enough to share my life with go hand in hand skipping merrily away. From its sounds of 70s Philadelphia R 'n' B gently swaying in the early part of the song taking me back to Top Rank's disco down Dale End, across the city centre from here, holding a girl in my arms for the first time and moving in slow awkward circular motions around the dance floor, thinking life wouldn't get better even when I became a teenager to the song's Heartbreaker-period Free section where I recall the youth who tried to look and sound tough when he lost or walked out onto something a little more emotionally serious, right through to the twists and turns of keyboard and guitar solos bringing everything to boiling point and reflecting in the emotions that have poured  out over longer relationships, and, that I'm damned lucky to still be holding onto the woman who shares my bed after all these years. But enough of how the song affects me, the audience sharing these timeless moments with me here tonight is enjoying it in their own special way meaning no one can see if there any tears in this old curmudgeon's eyes.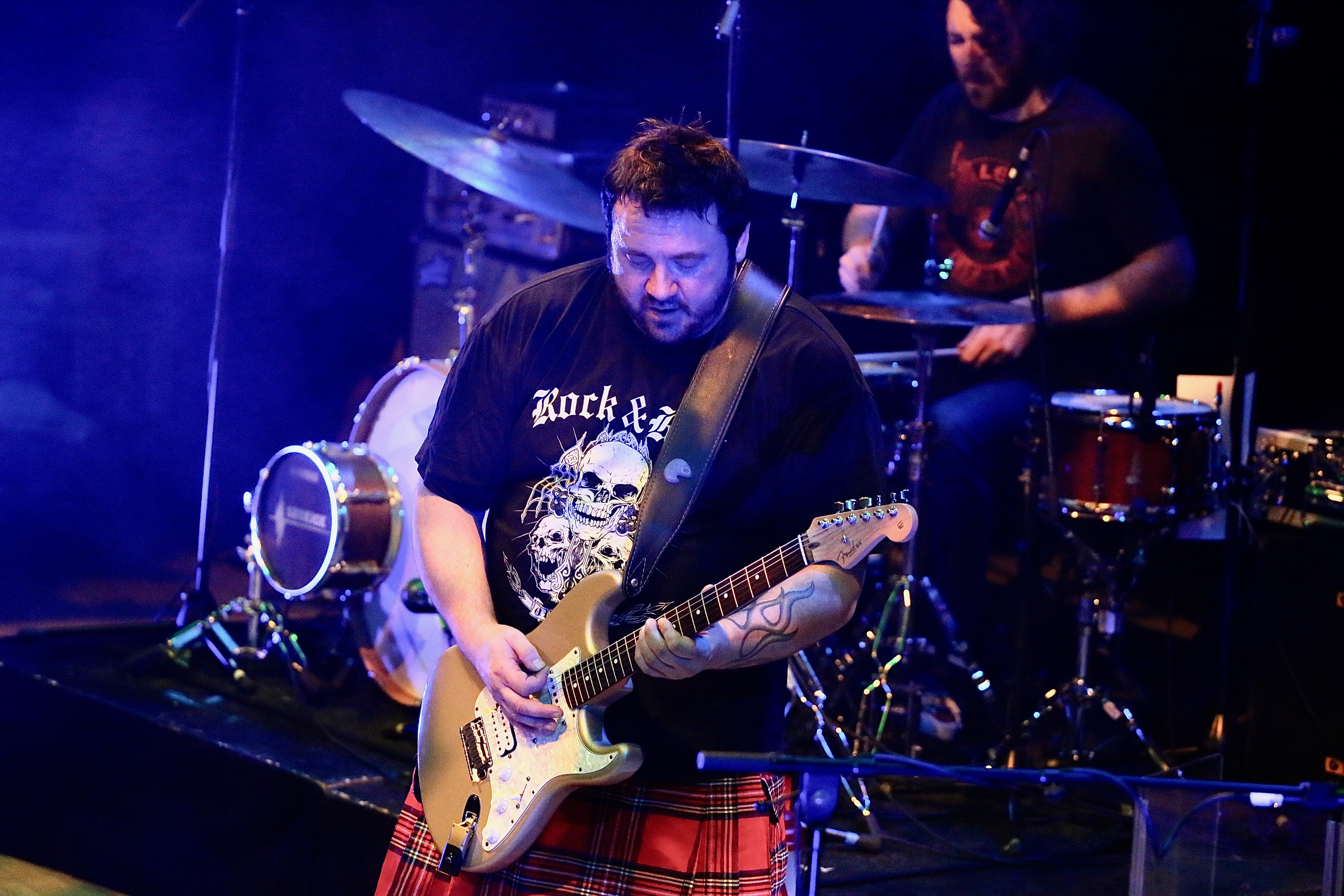 The backing harmonies alongside the plaintive asides Dyke's organ takes give the song an added country feel tonight. Tempos change and Nimmo's guitar feeds gently through them, then he begins slashing at chords as he works his way stage front and rocks out soloing, his kilt flowing as his bare left leg stomps to the rhythm section's beat before dancing back to play alongside Proctor as Coulson moves two steps forward swinging and shuffling away while remaining musically locked in with his rhythm section partner before the sound drops out abruptly. Nimmo sings a capella, before they slowly fall back in but Dyke only teasing out notes and Coulson playing even less but each bass guitar note resounding purposely. At the end of the song, it's announced it's the bass player's birthday and the audience promptly sing out 'Happy Birthday' that's followed with a great roar from Nimmo's six string as 'Lose Control' rocks out like some Rolling Stones/Thunder hybrid with Dykes jabbing manically with finesse at the electric piano.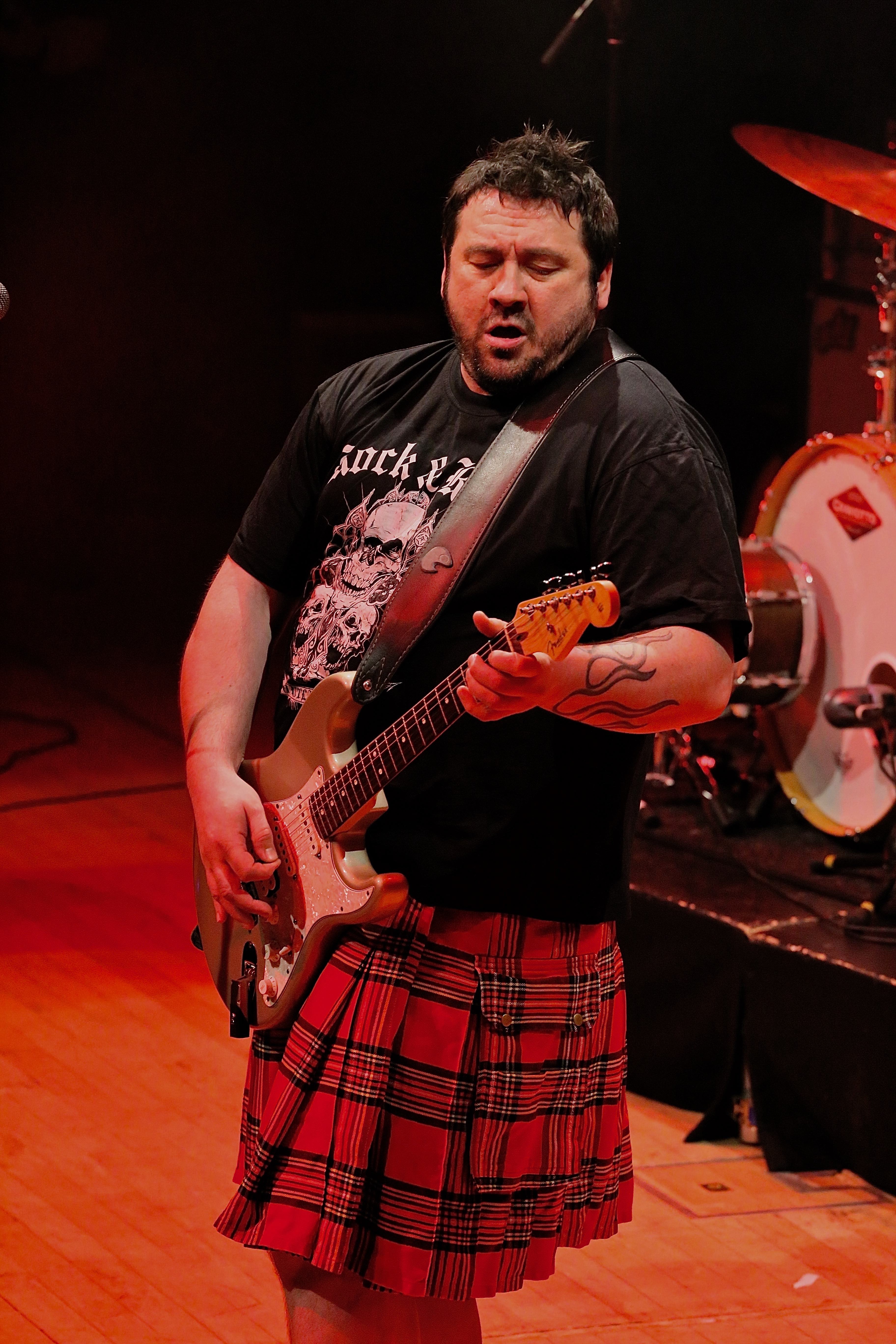 Spotlights spread out over the audience as the new keyboard player strikes out on piano once more, tempered stoicism poured into every line Nimmo utters as he delivers the opening lines to 'Rush Hour'. I fully expect some great drama thriller TV series to want to use this song as its theme tune one day, filled as it is with equal measures of frustration, intrigue, suspense where little people are caught up in events beyond their control when all they want is each other. But hey, tonight, as the band close in tight musically the song lifts to another level and a spine tingling guitar solo is let loose to soar. Treading harder they give it some Bad Company oomph, Nimmo soloing again this time his notes lingering slower. Proctor and Dyke supply harmonies while Nimmo giving it some Paul Rogers singing out "Whoah-whoah" and the audience responding in kind back, before it reaches a fulfilling conclusion.
When you've got a hefty set like this it's hard to let go of what have become live favourites, and I'm surprised how few tunes from Exile & Grace they've been able to fit into their set. However, as Proctor starts the band off, his bass drum kicking out loud, 'Long Time Running' rocks up favourably, the backing vocals again working well, ensuring that when Nimmo belts out the top lines they purr like a satisfied tiger.
"Let me fidget with me bits," the guitarist requests as he plays with his foot pedals, claiming he still hasn't a clue what half of them do, and couldn't get them to work without the road crew, and brother Stevie who'd just handed his Les Paul over to him. "This is dedicated to you, the audience" he announces when ready, apologising that this tour is one that was rescheduled from last year due to him recovering from surgery. 'Worth the wait, Alan, for you to be better most importantly, and for us to share a great evening out with you and the band…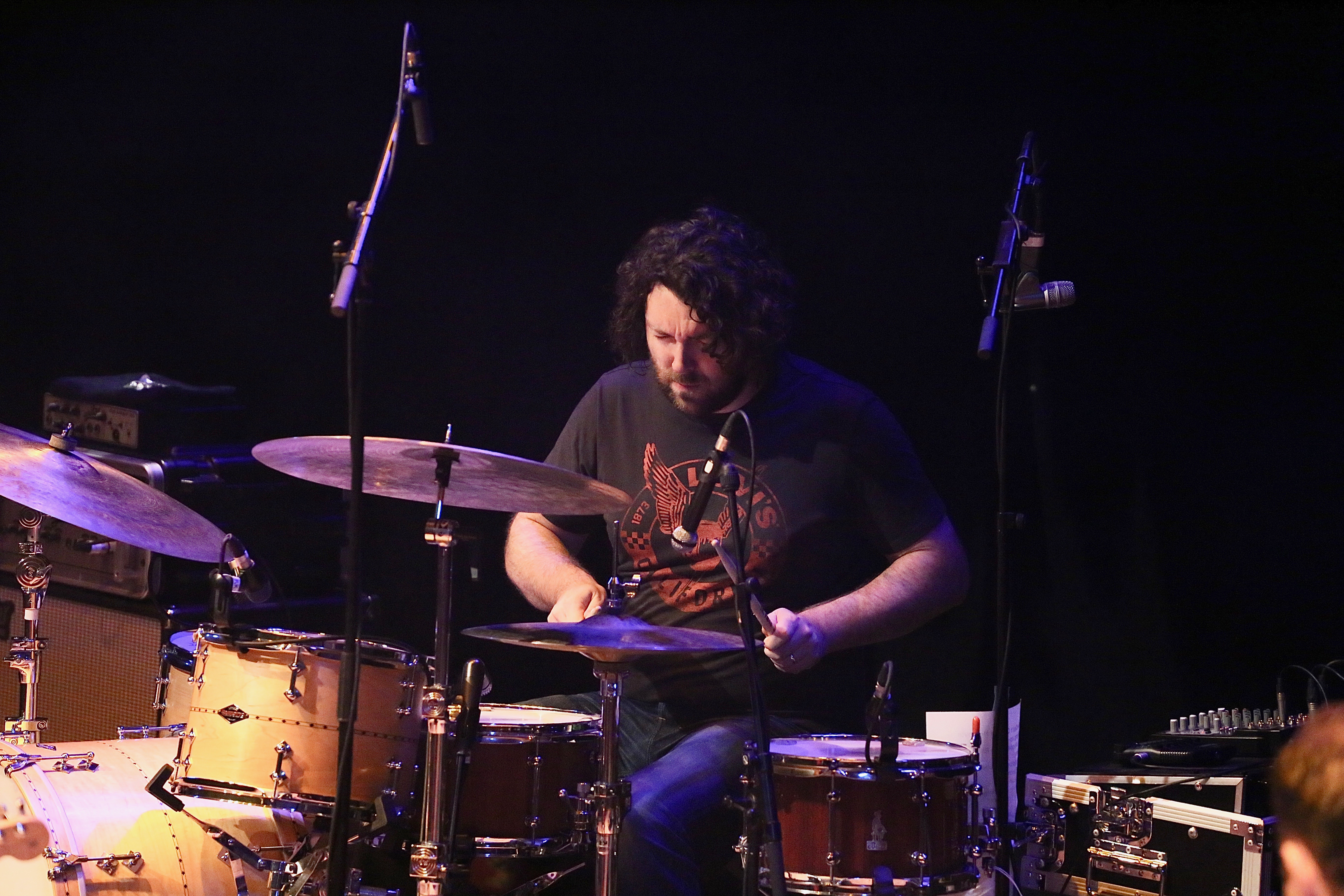 So off we go, drums and bass hugging in a groove, Dyke doubling on piano and organ with everything building momentum as Nimmo's voice reaches its most expressive  for 'Stranger To Love'. Proctor's drumming a lesson in restraint and how to move a song through its changes, and Nimmo takes a series of extended guitar solos of varying styles, finishing with sustained phrases that call out in pain evoking in us the memory of the late Paul Kossoff, whose own last time on this stage more apocryphal local stories have it sadly found him in a far worse state on stage, physically and emotionally, than his former Free band mate, Fraser. Suffice to say, Nimmo redeems the more worthy of his own guitar hero inspiration tonight. That the band then shift into a near avant garde jazz section totally throws me but just as I'm getting my head round it they're back in for the chorus hook before bringing the song to an end. "Truly mesmerising and addictive," says the guy sitting next to me, and he's on the money there.
"We're gonna get funky!" calls out Nimmo as they go into 'All Your Life' with solos by everyone on stage and thanks given to all concerned – Including the staff at the town hall who Nimmo reminds us will still be working here clearing up after everyone has long gone home tonight – we're up on our feet, tapping our feet and dancing like there's no work tomorrow.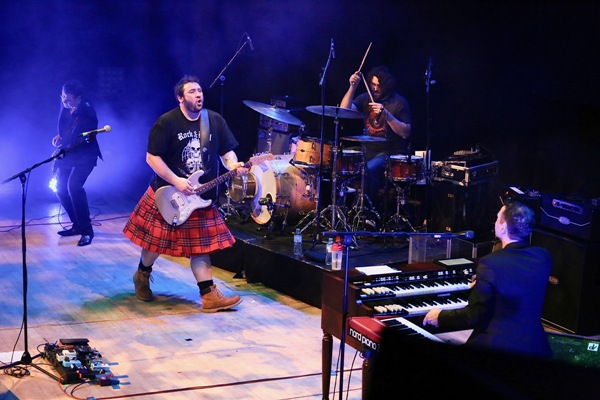 A few minutes later they're back for one big final epic party rock encore with 'Let Love In', Proctor gets things rolling and it shuffles along to a beat you could see cowboys riding off into the sunset to but before that there's some major audience participation required, a lovely echoed solo from Nimmo before he starts making out like Niles Rogers chinking away playing chords alongside Coulson as Dyke gives us one final organ extravaganza.
And that's it, off home to a warm bed if you're not waiting for signed records from the band, and if you were don't worry because they've some heavy touring intended for the rest of the year so they might just pass by near this way again before too long, as you can see below…
Future King King 2018 UK Tour Dates
Huntington Hall, Worcester              Saturday 14 April
HRH Festival, Sheffield                        Sunday 15 April
The Lemon Tree, Aberdeen              Friday 20 April
Darvel Festival, Darvel Town Hall      Saturday 21 April
St. Mary in The Castle, Hastings         Thursday 3 May
Muni Arts Centre, Pontypridd           Friday 4 May
1865, Southampton                             Saturday 5 May
Liverpool Epstein Theatre                  Thursday 10 May
Whitley Bay Playhouse                       Friday 11 May
The Grand, Clitheroe                           Saturday 12 May
The Live Rooms, Chester                    Thursday 17 May
Brudenell Social Club, Leeds             Friday 18 May
The Picturedrome, Holmfirth            Saturday 19 May
Cheese & Grain, Frome                      Saturday 26 May
Exeter Arts Centre                               Sunday 27 May
Robin 2, Bilston                                    Thursday 31 May
The Apex, Bury St Edmunds               Friday 1 June
Rock & Blues Festival, Newport         Saturday 2 June
Tickets available by clicking here.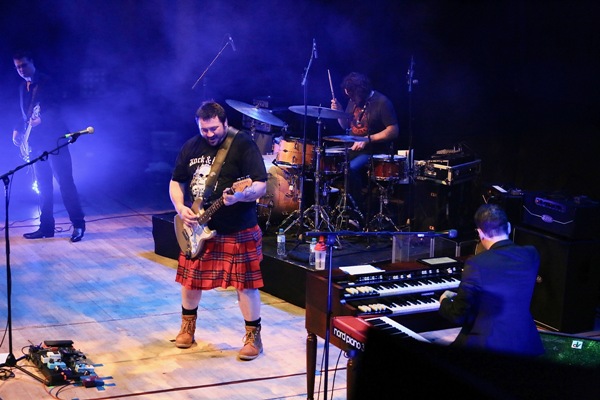 (All photos by & © Martin Tierney).