Mariana Semkina is vocalist with Russian duo Iamthemorning, a band with an increasing groundswell of favourable opinion carrying them along, and Sleepwalking is her debut solo album. It's a deeply personal take on how her life experiences seems to have been in the past few years. It has often been said artists who've experienced difficult times in their lives can be inspired to use them as the basis for producing some great music – think Myles Kennedy and Year of the Tiger.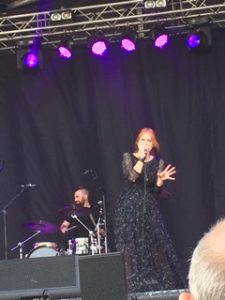 Mariana's place must have been very dark from listening to the lyrics on Sleepwalking. But, she has come through it all, and on this album, she takes the listener on a highly emotional journey via a beautiful musical landscape. She also draws you in with the beauty of her voice, which compares very favourably to stellar artists like Kate Bush and to Chrissy Mostyn (Blackheart Orchestra).
As with similar albums, it takes a few listens to fully appreciate the quality of the songs. Once inside, you're drawn into her world. She sings of heartbreak, death, and despair with allusions to some bad experiences, which suggests that her dark place was indeed very dark. But, as she says, there's no sugar coating or filters – just creative and honest thoughts caught in the moment. Songs like 'Everything Burns, 'Turn Back Time,' and 'Invisible' are sung from the perspective of someone who has been in the throes of emotional turmoil. However, her thoughts are conveyed via the accompaniment of some very melancholic – even mournful – atmospheric backing which is delicately played and never overwhelms the message. Her vocalising is nothing short of virtuoso. It can be heavy and brooding, but is also light and ethereal. It's a small wonder that she was recently voted as female vocalist of the year in a 2019 Prog Magazine reader's poll. In sum, this is a highly evocative, mesmerising debut album full of emotion and heartfelt sincerity. Even without the vocals, there's a good album here with just the backing music!
Sleepwalking will be released on 14th February via Kscope.