Venue: Riverside, Newcastle. Date: 23/01/18. Special Guests: Cane Hill, Ice Nine Kills.
Every movement in rock has that one band. That one band that all the youngsters love, but their parents HATE. The kind of band they plaster their walls with magazine cuttings of, and they constantly watch YouTube videos of (the latter is more recent of course).  In the '70s it was Alice Cooper, in the '80s it was Motley Crue, then the 90s Marilyn Manson, the 00s MCR. So almost at the end of this decade, who are 'the one band' of the 2010s? It might not be so obvious now but the strongest contenders are Scranton, Pennsylvania metalcore mob Motionless In White.
Although the five-piece has been around since 2005, their presence on the UK gig circuit has been at its most dominant in the past few years. After a storming main stage set at Download Festival and their last headline tour with New Year's Day, its no surprise this venue is packed out for the first big gig of 2018. There is tangible excitement, in the form of a wrestling style 'MOT-ION-LESS' chant, as atmospheric plays over the PA system… for a fairly long time, broken up by 3/4 of Gorillaz' 'Clint Eastwood' – then back to the spooky music.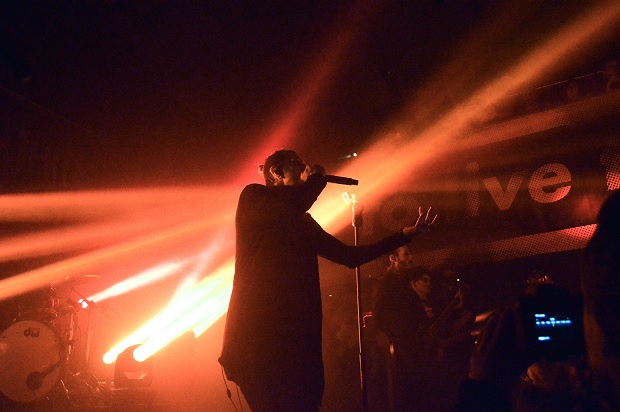 The lads in eyeliner don't waste any time getting in to their latest album, Graveyard Shift, starting with 'Rats' and changing it up with 'Necessary Evil'. Sandwiching now-classic 'Reincarate', from the album of the same name. It's clear after vocalist Chris Motionless finishes the track early to help out a fan in discomfort, their setlist isn't the one written on the paper taped to the stage anymore.
It's apparent as soon as the fifth song of the night, 'A-M-E-R-I-C-A', MIW are a very visual band – even for a 'medium' sized venue like Riverside. Boasting angle-grinding dancers, who double up as cheerleaders, flag bearers and..sexy bunnies. Not to mention the unexpected pyro and stage production you usually reserve for arena shows. I think I will be forgiven for saying guitarist Ryan Stikowski's attire is reminiscent of one Wes Borland  from Limp Bizkit. The tuxedo, face-paint, bunny ears, this is classic Borland circa 2000.  If MIW popular back then they would be in the same boat as Bizkit, as SlipKnot were somehow.
Speaking of odd sub-genres,there's a lot of debate around what genre MIW belong to. On the surface songs like 'Abigail' and 'Immaculate Misconception' paint them as a typical melodic metalcore band, where as moments such as 'Loud (Fuck It)' and 'Queen For Queen' play with different styles including industrial, punk, pop, and everything in between. So what are they? Let's be real for a second: who actually cares? They do an amazing show, and it has to be seen to be believed. No matter how you dress or who you are, there's pretty much something for any rock fan here.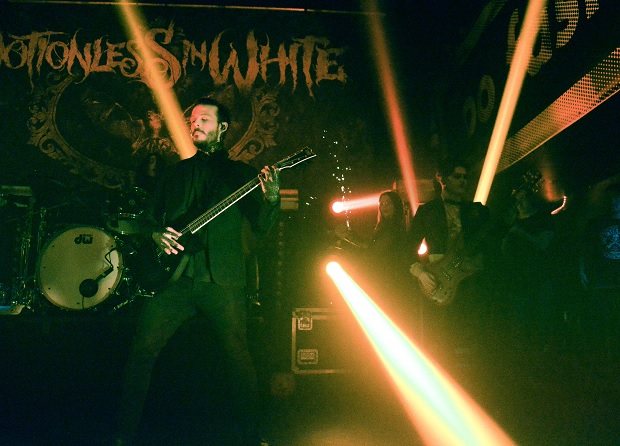 As mentioned before, there seems to be some changes to the planned setlist as the show is now coming to an end.  MIW don't have any 'pop hits' per se but certain have a lot of 'fan favourite' tracks. And boy did they say the best until last.  'Contemptress' and 'Devil's Night' have become compulsory at MIW gigs due to their wide appeal, which are sometimes fans' first exposure to bands like MIW. Or rock in general. Chris and co. finish with the most memorable track from their latest album, 'Eternally Yours', drawing a line under what seems to be the ideal gig for fans both dedicated and casual.
With no exaggeration – this is a band who have firmly found their feet doing what they do best. Like most rock and alternative bands, playing live is their bread and butter and it seems MIW have mastered their craft. The set was precise, the visuals were impressive for a medium-sized venue, fan interaction was spot on, and most importantly they played well. Some may wonder I am giving this band so much praise and cast them off as a band that only teenage girls like (apparently) but they are much more than that. Nirvana, Green Day, and even The Beatles have been given the label 'teenager band' but have stood the test of time. Much like MCR, Crue, Manson et al…MIW will continue to live out their passion and will be re-discovered in years to come.
Check out our interview with MIW guitarist Ricky Horror at last year's Download Festival here. Keep checking back for an interview with Chris Motionless on RAMzine.co.uk
All photography by Caitlin McKenna. Check out her work here