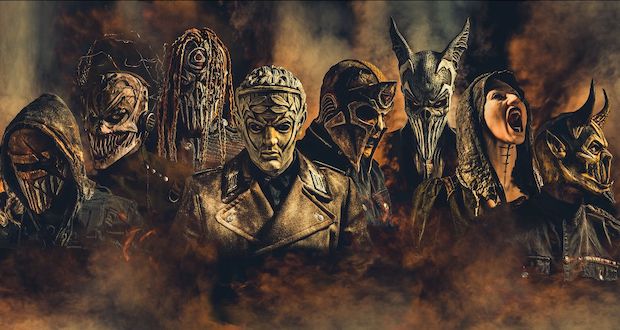 If you have read our interview with Mushroomhead founder, Skinny, you will have realised he has always been about giving their fans what they want – as well as keeping the integrity of the band. After 6 years since their last album (The Righteous & The Butterfly), we are treated to a 70 minute, 17 track epic. What's it like? Will the addition of new members change their sound? This is Mushroomhead's new album, A Wonderful Life…
Straight away we recognise the mix of influences, with a church choir evoking the likes of Ghost before gears shift into that hard-hitting alternative metal sound. Opening track 'A Requiem For Tomorrow' is Mushroomhead in a nutshell. Spanning genres and decades.
What follows is aptly named 'Madness Within', certainly the craziness of Insane Clown Posse wrestling meets Marilyn Manson, something Shroom's audience will love. We do get the clear contribution of new full-time vocalist Miss Jackie on this, giving this track vibes of In This Moment. A little repetitive, but I think this track needs it.
The lead single off the album 'Seen It All' certainly feels like the most accessible track, even for those who aren't fans of the masked metal mob. We really hear the talent of the new 'clean'. vocalist Mr Rauckhorst and returning 'rap' vocalist J-Mann. A banger for sure. At this point, it's important to point out Shroom is no longer seen as Slipknot's biggest rivals. If you read the interview, you will find out Skinny sees that as '99% media and fan-driven', plus Mushroomhead are their own entity. This is evident on tracks on this album which take some pointers from the likes of Cradle Of Filth, In This Moment, and as always – Faith No More.
Having such a jam-packed album is great for fans but casual listeners it may not be as pleasing. The tracks on this album are so night and day it may not scan as well unless you are a huge fan. As someone who has listened to this band for almost 20 years, I realise that is the whole M.O of Mushroomhead, but most of these tracks won't attract new listeners.
Considering 4 of the 17 tracks are classed as 'bonus tracks' this could have benefitted from being whittled down a bit more. Surely the band felt this during some of these tracks. There's no doubt most of these tracks will be epic in a live environment, and the album certainly picks up again in the second half. 'I Am The One' is the Shroom track we have been waiting for for years. Taking everything great about nu-metal and alt-rock and giving it a modern twist, which is Mushroomhead's strength.
The bulk of the album ends as it began, with a church choir, but we're not done yet. I think the placement of this is quite jarring considering we have 4 bonus tracks next. These aren't really anything different from the rest of the album, except sounding more like Nine Inch Nails in parts. 'Another Ghost' is worth checking out as it definitely slaps. We get the choir again as the last track but it has to be asked if we really want 2 finishes to this record?
Overall, there is way too much shoe leather to this album and bagginess. The first 5 tracks are great and pull you in but the remaining 12 seem to drag their feet. We know Mushroomhead are a good band with a lot of different ideas, but on this occasion, it seems like too many cooks spoil the broth. If this album was slimmed down to 8 tracks it could have been a different story. One for passionate followers only in this case.
Click here to read out interview with Skinny of Mushroomhead here.