Norwegian black metal stalwarts Taake and Whoredom Rife recently teamed up for this superb split EP entitled Pakt consisting of four glorious compositions (two by each entity, that is) that encompass everything that makes said genre so utterly marvelous to immerse oneself in. Rich in atmosphere and chilling to the bone, both musical enterprises have managed to conjure up some of their most evocative and musically rewarding pieces to date, which is saying something.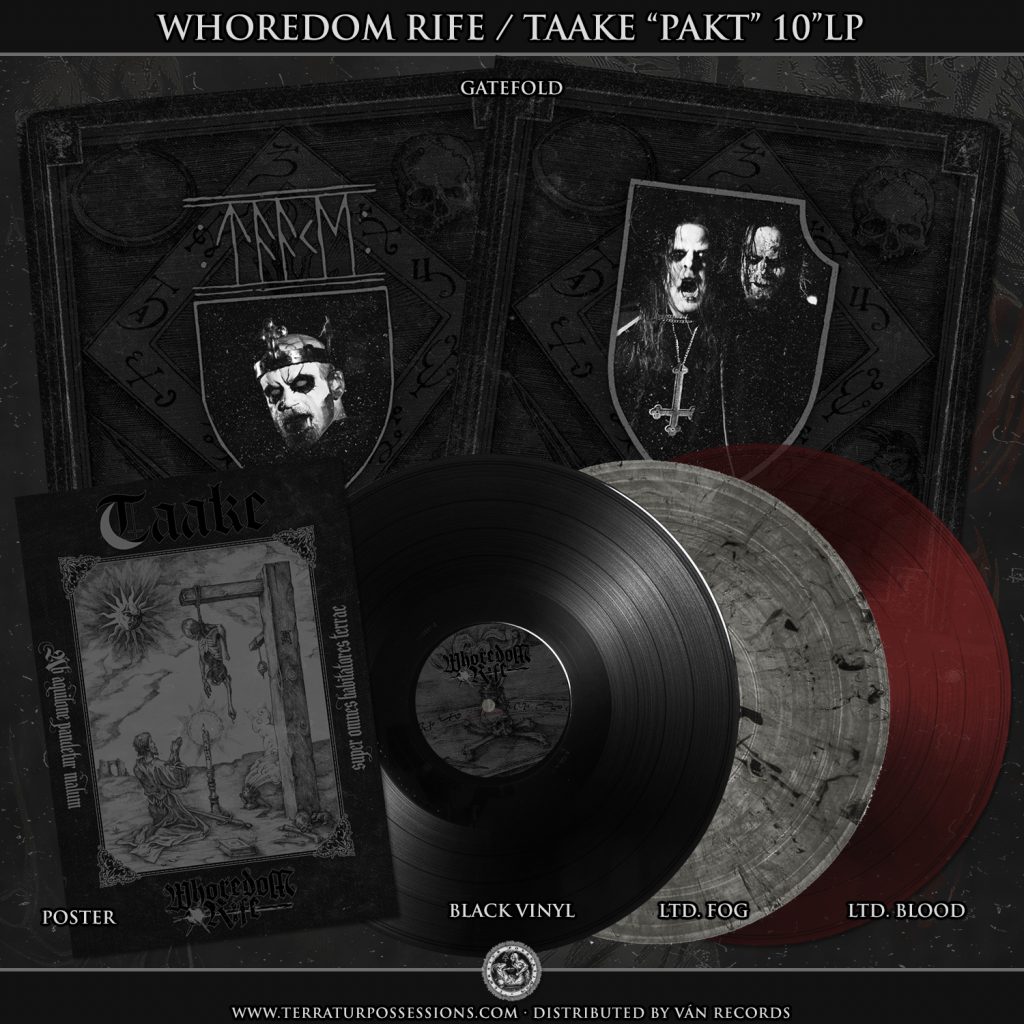 First up are Whoredom Rife whom yours truly had the pleasure of witnessing at the Beyond the Gates festival in Bergen, Norway a few years ago and they blew me away that night and chimed in with a powerful and memorable performance that was undoubtedly one of the highlights of that evening. The two tracks included here, namely 'From Nameless Pagan Graves' and 'En Lenke Smidd i Blod', are sharp, hard-hitting affairs that go straight for the throat. Loud, rumbling, and driven, Whoredom Rife's tunes strike a good balance between melody and aggression while simultaneously being sufficiently bombastic and dirty to make them a damn good black metal listen. Strong, muscular riffs and cold tremolo-picked melodies wrapped in a swirling mass of darkness are what these ugly fuckers offer and you had better not miss out on these songs. The highlight is the bleak yet catchy 'En Lenke Smidd i Blod' thanks to its trance-inducing vibe and convincing vocals.
Taake never fails to deliver something unique and heartfelt – and nowhere is that more evident than here. As usual, main man Hoest is in charge of everything himself and his contribution to Pakt is inspirited and admirable. 'Ubeseiret' is quite the majestic workout and bears a slight resemblance to the moody tunes that constituted the self-titled record from 2008. What immediately stands out is how inspired it sounds and how brilliant the song's arrangements are. Subtle nuances and wicked twists abound and yet its main musical motifs are instantly memorable and easy on the ear. Its uncanny ability to churn out guitar- and vocal hooks while relatively often throwing the listener a curve-ball or veering off into more complex territory and thereby challenging us is remarkable. In some ways, 'Ubeseiret' is akin to a raging tempest. Unsettling and strange? You bet! Immensely cool and wildly compelling? Check! The second cut is a cover rendition of The Sisters of Mercy's 'Heartland' and it works like a sick charm. Steeped in melancholy and drenched in gut-wrenching agony, it is arguably the best and perhaps even the catchiest cover version that Taake has brought to the table yet.
Pakt is blackened metal rawness at its finest and apart from the two ensembles complementing each other beautifully both musically and in terms of the overall aura of the song material, this 24-minute EP perfectly illustrates just how intoxicating Norwegian black metal can be when performed with class and conviction.
TAAKE / WHOREDOM RIFE Pakt (Split MLP) is out now via Terratur Possessions.