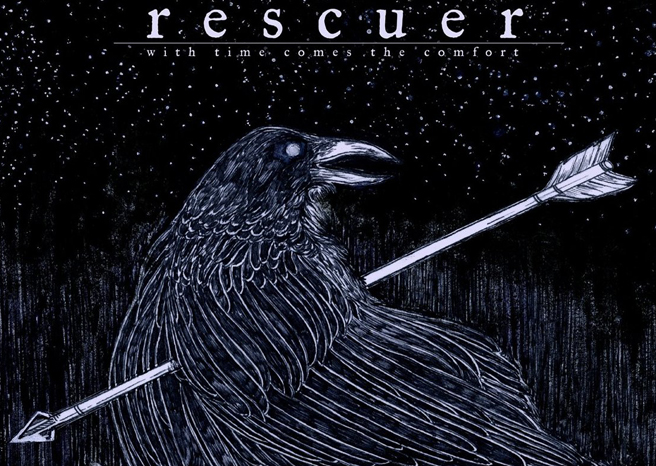 Florida based melodic / hardcore / punk outfit Rescuer have released 'With Time Comes The Comfort' (January 15th 2013.) The album had already made the Absolute Punk's 'Most Anticipated' list for 2013. Describing Rescuer as "One of the most exhilarating bands Rise Records have signed for years…" http://www.absolutepunk.net/
This 5 piece play their own brand of fresh hard-won power-trips, with the kind of taste and energy you maybe thought to be a thing of the past.
Starting out with the stormy 'Breathe' – the album matures expressively with 'Birds of Prey' which incorporates a fierce low attack, and loud, solidly grinding arrangements. A whirling light-filled guitar connects the dark to the white, and this ornament helps to cradle the intense vocalization.
'Shame' veers across the highway, like a bandit machine chased by the fuzz. Hopelessly speeding, it reaches the crash-barriers and gets squeezed urgently, against the metal-framed barriers. Lucid guitars help peel away the smoke from your eyes, as this number burns out quickly- and intensely – like a magnesium flame in the wind.
'Fell' looms through the air pollutants like a colossus on a street full of smoke. A nuzzle of guitars and a muscular beat keeps the sounds thumping. Then 'Settled Ground' comes at you faster, and much more elaborately. It's like having a stun grenade exploded inside your head. The screams of power will make you hang on tight to every handrail that you can find.
'Faded Youth' is like having a machine-head smashed into your face. Chords are expelled with relentless precision, and the pace is exciting and dizzying. Then 'Too Far Gone' creates panic. This is short, sharp and realistic. Like having a band-aid peeled off too slow. It brings on a painful burn, but long after the initial injury left you bleeding.
'Dead Ends' is a stroke of heated emotions and screams. But a riff regurgitates itself, and raises this song from the depths of depression to new fiery highs. You are left with a feeling of hope-against-hope.
This album is a bit black and white, and indecently hasty. Nevertheless, it is a swift delight. Sometimes the range and scope feels a little monotonous, but the speed and strength of the power-pieces will keep the listener amused and entertained. Perhaps there could have been more spices – and more spaces – but this album is a clear, spotless vision.
5/10