A Room Swept White are one of the latest British bands to throw their hat into the  melodic hardcore genre, a style of music that it has to be said has been rather over populated in recent years. They've had a good entry to the scene however and having shared stages with the likes of Feed the Rhino, Bury Tomorrow and Palm Reader it could be said they have been learning from the best, before the release of their EP, 'No Love Lost'.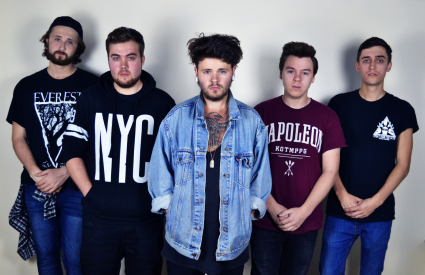 Opening with a short melodic into track, this EP starts off so far, so similar.  Unsurprisingly this isn't the style A Room Swept White are sticking with, as the guitars come in heavier on 'This Life' and everything ramps up a notch.  It is a track that can't help bringing to mind bands like While She Sleeps, a group that A Room Swept Wide have compared themselves to and at times it is almost too close to their sound for it to truly stand alone.
The title track opens heavier, but actually has a lot more melody running through it.  This is a band with an ear for a hook and they aren't afraid to use it.  That is a fact that continues onto 'Time Heals', probably the best song on the release.  Its big, heavy and groove filled verses lead to a clean chorus, that is obviously looking for a crowd to sing along with it.  As said, it is the highlight of the EP and the moment when the band come closest to developing a sound of their own.  loser 'Better Days' see's the band embracing that melody to the full, leaving behind many of their chugging riffs and amping up the clean sections.
A Room Swept White have a bit of good in them, but as things stand their influences are too deeply ingrained into their music.  If you are a devote to the likes of While She Sleeps and Bury Tomorrow, you will probably find a lot to enjoy here, but you won't get anything new.  However, it is obvious they have an ear for a tune and this is a band that should be filed away in the 'keep an eye on them' category.
A Room Swept White Release 'No Love Lost' On Monday 12th January through all digital platforms.