Put the thought inside your mind of a grim-faced army, be they a time-forgotten Teutonic race or the latest despots roaming the Middle East, then imagine them marching through time, picking up the pace and charging, even as missiles begin to scream out overhead steering us towards a near-future apocalyptic war. That's the theme for 'World at War' and indeed much of 'Empire of Destruction'. From slow grinding chords to a faster tempo where sonic blasts of guitar zig-zag and circumnavigate the main musical themes, the word epic comes to mind as a voice stirs throughout wandering unharmed amidst the aural carnage, appalled but not surprised. The heavily arranged guitars segue into the less frantic 'The Midas Touch' as the narrating voice redirects its macrocosmic overview to more personal observation, annoyances now felt at turns by embittered growls and angrier higher pitched harmonic screams. In the accompanying DVD interview, vocalist Al Atkins raises a concerned eyebrow that all this might be considered progressive rock, but that scene's changed a lot since he formed the original Judas Priest.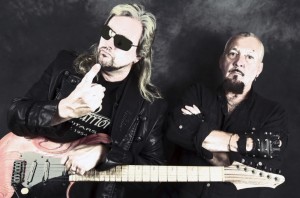 For those unaware, Atkins was the original vocalist in Priest, writing most of their songs back then, some of them filtering through to their first couple of albums after he left. Abandoning the rock world for a family life, he found himself returning intermittently and in recent years has released a number of solo albums, some compare his voice to Iron Maiden's Paul Di'Anno, though I'd say you'd find it more in keeping with a punk-edged Roger Daltrey. Latterly he's been recording albums under the Atkins May Project moniker, featuring songs predominately written by producer Paul May who's not only a tasty shredder but can arrange a damned fine metallic six-string orchestra on record (and also reveals on the accompanying DVD that it's him doubling up as the rhythm section). Whether or not it's our wider more modern take on progressive music can be argued until we're blue in the face, but May has composed a partial concept album here at least, and it's a natural continuation from their previous Valley of Shadows outing.
It continues to explore biblical styled themes of a world suffering hell and damnation while this time offering a taste of hope in the concluding 'Whisper to the Wind'. The songs are grander, more varied, indeed longer and May rises to the occasion as a guitarist, from vivid overdubbed arrangements to explosive blasts of heavy metal and some quality soloing. As producer he's also captured Al Atkins' voice engagingly, the baritone timber remains but is more expressive as an instrument, and that's aside from deeper shrugs, grunts and unexpected higher range affectations at work (Rob Halford comparisons are obvious with the latter but possibly the late Brian Connolly's of Sweet's harmonic phrasing more relevant). The singer stirs most compellingly on 'Here Comes The Rain' displaying tenderness, frustration and rage over May's interchanging classical acoustic and overdriven electric chorded riffs, all rising epically while a lead guitar plays in and out of a phrase, twisting it continuously so that it sighs and weeps in understated beauty.

Much of the music falls loosely into that Priest/Maiden heavy metal pocket, but there's also a Rainbow/Dio influence, notably on Paranoia and Thin Lizzy via dubbed harmony guitars, though finding they had done an actual Lynott cover initially felt a huge mistake. The results, however, are pretty darn good as they give 'RU Ready' an unexpected groove. Elsewhere, 'Wreckless Child' begins as a slow metallic strut before exploring several guitar-heavy detours with Atkins howling back at them in response come the end, whereas 'Dog Eat Dog' has big balls and goes straight for the throat being the last tale of violence prior to the aforementioned 'Whisper to the Wind' that contrasts with 'Here Comes The Rain' by an acoustic lead infilling flamenco melodies throughout. 'Empire of Destruction' concludes with a bonus track, 'End of the Earth', intended as accompanying music for cover artist Rodney Matthews' websites; the music's fine and the guest female vocalist contrasts nicely with Atkins in duet, but thematically it's a different musical concept, and as such feels slightly out of place and might have been better served on the accompanying DVD where there's an interview with the illustrator (as there is naturally of Atkins and May, alongside videos of previous album tracks).
The aural equivalent of a science fiction film or latest European graphic novel, and even the kind of long play soundtrack computer games should have, 'Empire of Destruction' sprawls forth from your sound system and features several pleasant surprises and sonic thrills along the way, especially for those who take time to sit back and appreciate the various nuances of its longer tracks.