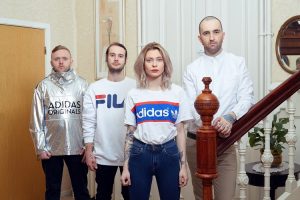 I have been asked to review some bands in my time but never before have I ever heard of Death Pop/Hop before and if I wasn't so opened minded probably would never have pressed the play button. However, this is quite an eye opener, slightly punkish, with added aggression and yet the band are very much in control and produce a beautiful melodic flair that sends out signals that are worth listening to.
The unusual titles make the album more poignant and compelling, if that is possible. It invades the audial with a firm surge of melody and hard hitting unpredictable imagination. It's mixed bag of genres however, suit the band and allow them free reign over the proceedings, so anything can happen within this ten track album and probably will.
'Quitters Don't Smoke' has a tremendous bass hook as well as a delicious keyboard melody that frames the track nicely. It still doesn't move too far from its punky genre but is given enough freedom to explore its rock and newly founded death pop side. It's catchy with brawling rhythms that will leave you exhausted especially if they command you to dance, which is quite possible.
'Nervous Laughter' is quite a punchy rock track that has a volatile streak and well punches above its weight. The female vocals from Karina are well matched to the group's diversity and mellow-rich flavour. At times your feet will just start tapping and you won't even notice.
Returning to its edgy punk roots first and foremost the track 'Gang Signs' hungers for attention and contains a relentless beat and highly charged rhythms of which there is no escape especially as the enormous screams are spewed out in quick succession and taken as impressive and good to encounter.
There is a defiance coming out of the speakers when you hear 'You Can't Sit With Us', it's pulsating and mesmerising rhythms like to scamper fiendishly around until it just explodes with a bang and really raises the roof.
With all these new genres popping up everywhere it is sometimes hard to know where to begin, mixing punk, pop and hardcore together seems to be another genre that works and no doubt gain appeal the more it is heard.
Blood Command's Cult Drugs is out 28th April 2017 via Fysisk Format.