The manner in which country rock filtered towards more mainstream musical credibility is an odd one and curiously still remains ill-defined. At its outset under the wings of bands like The FIying Burritos Brothers it never took off. Now, outwardly it appears musical tastes have either changed or more likely the populist approaches of country music and country rock has become felt by the masses via other more transient mediums, despite say the western  no longer a popular movie genre. Over in the US of A, those rhinestone cowboys began supplanting the hairspray brigade of rockers on MTV as visual eye candy, and major record sales followed. How much folk swopping aerobics for line dancing up and down the social clubs of the British Isles counted is anyone's guess. The fact is, country's cool – whether it be revisited Americana, genuine bluegrass, or a just a song recorded in Nashville or featuring a couple of bars of pedal steel guitar.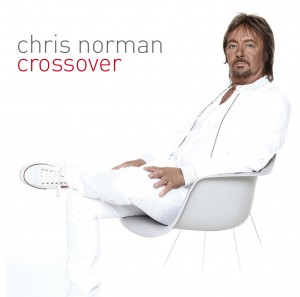 For those who've been working round its fringes for more years than they may care to remember it must cause them to chuckle. Chris Norman's been doing so ever since he started scoring hits with Smokie back in the 70s. That he's been just as popular if not more so across mainland Europe since he went solo deserves respect. Crossover is a collection of 13 songs in total, ones that he finished because he liked them, regardless of the genre, an awful lot however do fall into the easy flow side of country rock.
'Cat's Eyes' steers one step away from line dancing while numbers like 'Hard To Find' and 'Highest Mountain' aren't too far removed from the Tom Petty & The Heartbreakers mould of country rock with the former having some added salsa flavour, while 'Carry On' busks along into country boogie territory with Norman delivering a surprisingly cool whistling solo during it, then following with a country ballad in 'This Lonely Heart' and 'Before The Morning Knows' has that sitting on the back porch homely feel.
Despite this, it can't be ignored that the singer/guitarist's background is old school British pop and rock 'n' roll thus tracks like 'The Girl I Love' and 'Beautiful Rain' have that harmony vocal quality established by The Beatles and further developed by The Hollies. Most affecting vocally is 'Fly Away' that becomes an aching heart power ballad wavering somewhere between the work of Bryan Adams and Foreigner when the gospel choir effects come in near the end. To compare Chris Norman vocally to such Johnny-come-lately types actually does the man a great disservice however: he has a great voice with an ability to phrase, intone and deliver the kind of tune a song needs.
Norman is aided and abetted by a small contingent on backing vocals, keyboards, bass and guitar where Geoff Caroline frequently enhances the sound with melodic lead solos. That the drumming is programmed is a shame, as a number of the songs could do with a good kicking of some real skins, and not necessarily just on the up tempo numbers. Among those, the oddball rockabilly of 'Alien Like You' features the goofy kind of lyrics first popularised on 50s novelty songs –  so whacky one's not sure if Norman's implying he and his lover are opposites attracted to each other or she actually she is from out of this world.  With 'Love's On Fire' there's no doubt what the man's feelings are; this hard rock tune is a driving beast of desire – it ain't daddy rock, dude: it means business. A couple more like that would have most welcome.
Mr Norman must be getting on, '40 Years On' the bonus track that's a remix of a tune from Smokie Gold – 1975 – 2015 attests to that (a semi-hokey trip down memory lane about the band's highs and lows) but like many a seasoned British performer he's a professional through and through, and on opening track 'Waiting' he shows he's not wrapped up in the past, in fact he applies a shoe-gazing indy rock backbeat over a Neil Diamond savoir-faire melody while singing of optimism. It's the first single he's released of this album, and its closing lines read "No more waiting it has just begun".
Picking up new listeners in the UK might not be high on Chris Norman's agenda for Crossover and it won't be everyone's cup of tea musically, but there are some pretty good tunes and a damned good voice delivering them.