There must be something in the water in Sheffield, as recent years have seen the Steel City producing some fantastic music. Joining their contemporaries in bands like While She Sleeps, are hardcore mob Dead Harts. Their follow up to 2010's 'Born into Rags to Die into Riches' is 'Cult for the Haggard Youth' – an eleven-track slab of experimental hardcore, that actually includes a couple of tracks from 'Born into Rags to Die into Riches', and is different enough to stand out in the UK's current exceptional scene.
Filled with spiky riffs and more anger than you could shake a stick at, this is not an album you would want to play to your mum, unless she is an incredibly angry woman. There is a lot of attitude packed into these eleven tracks and with the album coming it at just over 30 minutes, they are not afraid to bash you round the head with it.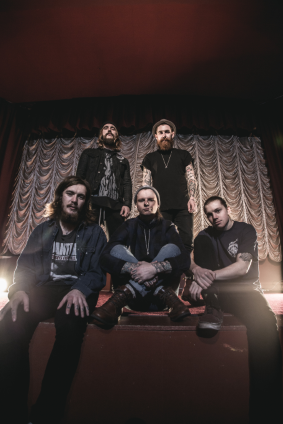 Opening with 'Pit Talk' – 'Cult for the Haggard Youth' sets it stall out early, with big chugging riffs and ferocious vocals it is not an introduction willing to hold your hand. It brings to mind bands like Dillinger Escape Plan and Norma Jean, with it having a lot more intelligence than your bog standard hardcore. Despite this, it never loses the edge that made the genre the success it was in the first place.
Despite all this aggression, it has not stopped Dead Harts from doing the most important thing, actually writing songs. The likes of the title track and 'Concrete Walls' have big shout along moments, guaranteed to go down well with any live audience. While the aforementioned title track also has a groove filled riff running through it, that shows these boys are not all whirlwind guitars and breakdowns.
Vocalist Matthew Baxendale is fantastic throughout, as he really throws himself into every track, getting across the anger and frustration that makes up the central core of this music. On the likes of 'Suicide Cocktail', he sounds genuinely terrifying as he roars into the microphone. While on the feedback heavy 'Council Pop', his opening guttural howl will make anyone whose mind has wandered jump.
It is also on tracks like 'Council Pop' that Dead Harts show their class. With a dark, almost doom metal riff bringing us in, the track explodes into a ball of energy that, if you can excuse the cliché, just makes you want to flip tables. It is the musical equivalent of being kicked in the crotch repeatedly and yet for some reason it just feels so good. While on 'Dirty Fingernails', where the riffs become slightly less pointed and a bit more melodic, you see their ability to mix it up. This slight reduction in aggression proves a natural resting point, which continues into the similarly calmer 'Tar', although calling it calm has to be taken into contrast with what has come before.
With their second full-length album, Dead Harts have shown that the UK hardcore scene, which has given so much in the last few years, is not quite ready to stop. With an album crammed full of fantastic moments and songs designed to create chaos, it is surely only a matter of time before Dead Harts make their ascent up the UK musical ladder and if they keep creating music like this, they will be a welcome addition to it.
8/10
Dead Harts 'Cult For The Haggard Youth' is released 21 July 2014 via Transcend Music Release.