Back in late 2011 I stumbled across Deaf Havana. After flicking through endless music channels I waited for the adverts to finish and for the next song to appear on Scuzz. I'd never heard 'I'm a Bore, Mostly' before let alone the band. I was instantly blown away by James' incredible voice. I knew back then that the band would become huge and sure enough they have. I have had the pleasure of seeing the guys play live twice, two truly unforgettable gigs.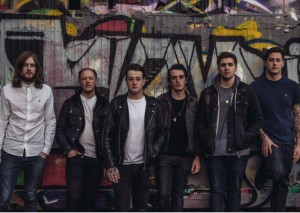 Following on from last years release of 'Old Souls', it seems '22' is going to be another hit release for the band. The EP kicks off with '22', which was previously released on 'Old Souls'. Once again James vocals don't disappoint. You can hear the emotion in his voice, which only a true artist can do. Having written the song about his experiences on tour James is able to do this. A catchy song that I'm sure fans will be glad of its appearance on the EP.
Next track 'Drive All Night (English Hearts)' is a totally new sound from the band. All though different, they have managed to pull it off and it totally works. I would like to hear more similar sounding tracks. It has a real summery feel, one that would be great to hear live.
Third track 'Whiskey' makes you find yourself getting lost in James vocals, a mellow sound which is complemented by James soulful voice. It is an emotional performance once again.
Fourth and final track 'Kings Road Ghosts' is another track previously released on 'Old Souls'. Another great song, which I'm sure fans will be pleased to see, has made an appearance on the EP. The fact the band write their own songs which come from their own experiences has definitely added to their success. '22' although short and sweet, is definitely proof that quality over quantity wins every time. This is going to be the soundtrack to my summer. We haven't heard the last from these guys I'm sure of it.
9/10
The new EP from Deaf Havana '22' is out now for just £1.79 on iTunes.
Video: Deaf Havana – '22'