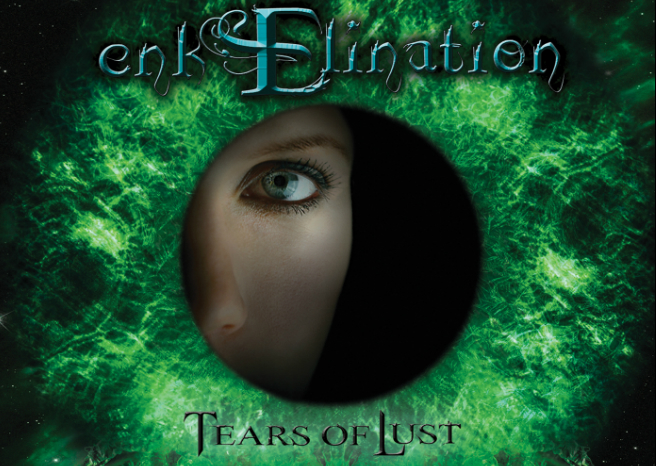 enkElination (enkeli – meaning Angel in Finnish) was formed in November 2011 by classically trained former opera singer Elina Siirala. She moved to London in 2008 and fell in love with the power and performance of rock and metal. In 2012 she started working with a guitar player Shadow Venger, whose previous band Empyreal Destroyer was voted as the best unsigned band of 2007, supported Amon Amarth and played Bloodstock. He brought the sound of the band to another level and since then they've been joined by Alasdair on bass.
After playing numerous live shows in and around London, enkElination released their first EP in September of 2012. The past few months they've been recording their debut album which is coming out in summer 2014. Their official music video 'Tears of Lust' was released in March 2014 and they supported Van Canto at The Underworld London in April.
Here is our track-by-track review if their newest album 'Tears of Lust'.
'Tears of Lust'
An amazing opening track that portrays an unusual blend of beauty, and Elina's vocals are just perfect for adding to that beauty holding a certain melancholic urging and extremely alluring. I feel, Elina has earned her title as an angel. A really enticing track!
'Higher Ground'
Slightly harsher than the opening track but not detrimental as the angel's voice reaches its peak in clear and powerful crispness. The keys in the background are not over the top but add to the tracks hypnotic embrace, whilst the guitar gives it that edge.
'Never Ending'
Quite a disturbingly compelling track that is commandingly effective, concocting a fascinating brew of imagery as it balances between shades of dark and light respectively.
'Lullaby'
Is eerily disturbing with low tones of keyboard and the haunting lilt of Elina's vocal dexterity. Shrouded in hues of melody and rich ambience that give the track a tantalising texture.
'Insane'
As its title suggests voraciously compels and antagonises with rounded infused rhythms and strong keyboard intrigue. It is irresistible because of its dark emotive forces.
'What have you become'
A gripping track from the word go, with masterful, uncompromising and seductive haze that hangs in the air as the track plays out. It dances over the senses and is an enchanting embrace.
'Reborn'
Again hitting the harsher side and cloaked in eerie ambiance it slowly winds and spirals into a well-balanced sound that caresses the aural and is seriously intense.
'Chimeras'
Opens with a super slice of metal chugging that hits the immense box. Elina's vocal beckons, is bewitchingly, dark and haunting. Again certainly another winning track.
'Changeling'
A diverse and unique track that is all encompassing, balanced and breeds a glorious encounter and a sultry stroll of impressiveness that roams through a magnetic canvas of beauty.
'Abyss'
Dark and deadly it stomps through a twisting landscape of blackened beauty and as it gathers momentum ravages with poetic lure. It holds plenty of intrigue with thoughts turning to a more emotive force of imagination.
'Last Time Together'
A calming brooding piece of music that is sculptured into an expressive ambiance. The melancholic beauty is prominent and shades the listener in a bitter sweet embrace.
The album is an absolutely riveting journey through eleven tracks that hold appealing imagination. The canvas is awash with vibrancy that holds a magnetic pull on the senses and never let's go through-out its entirety.
The operatic voice of Elina is enchanting as it is compelling and haunting. It definitely throws icicles down the spine with regular monotony. The music is embracing and rich in melodic hues that change rapidly – sometimes more boisterous then hauntingly ambient.
Clad in innovative riffs, keyboard magic, bass hooks that are dramatic and drumming that relinquishes beats of passion, this is an emotional journey but one I am more than happy to take over and over again. I cannot praise this album enough! Roll on 21st July!
10/10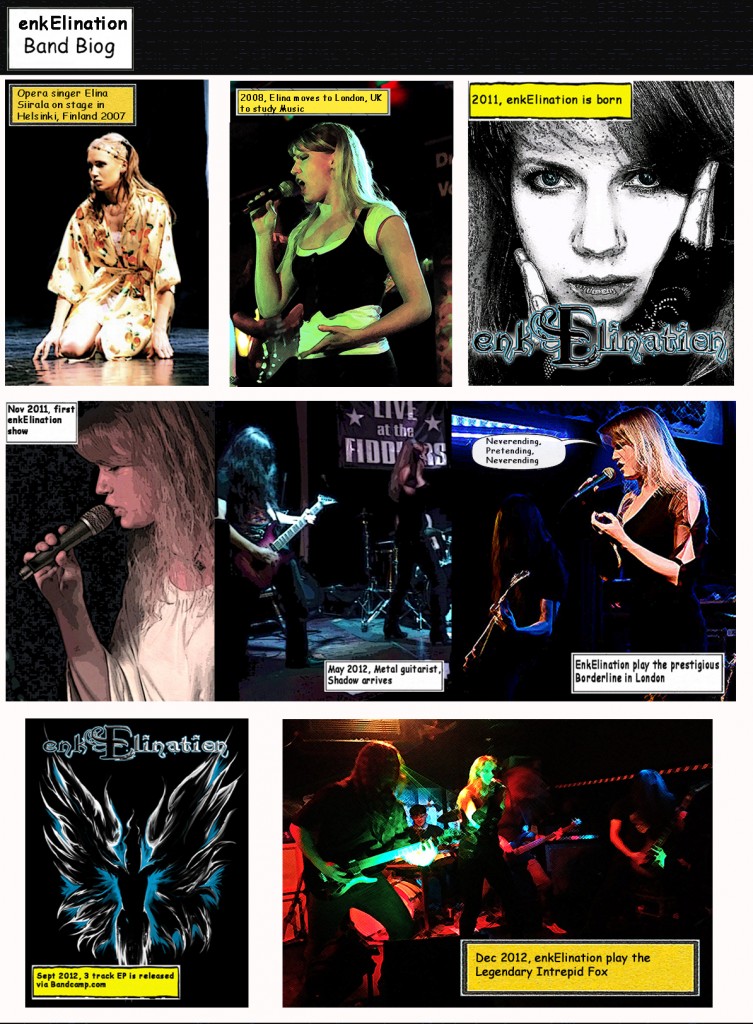 Track List
Tears of Lust Higher Ground Never Ending Lullaby Insane What have you become Reborn Chimeras Changeling Abyss Last Time Together