Founded August 2007 Junior Bruce are soon to release their newest ten track album Endless Descent – not long to wait!
I love the album cover it is just colourful and just as striking as the tracks on the album. First track 'Lapis Philosophorum' simply bounces with sheer vibrancy and does its self- justice of the highest degree. 'Lion's Teeth' again cuts its teeth on a scathing groove which is magnified by the harsh vocal edge that seethes vehemently. The riffs are potent and scratch the itch perfectly. 'Thirteen Zeros' is a solid encounter that punishes the ears with a brutal and sulphurous assault, while possessing a highly infectious rhythm.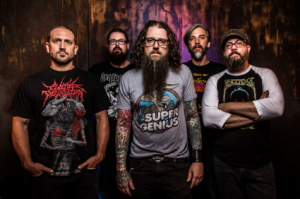 'Of The Deep' holds a sinister rhythm that sounds disturbing and mordant. However, its fuel-charged malignancy is more than welcome. 'Of The Earth' is swept along by powerful and groove insistent plague of rhythms that compel whichever way you look at it. 'The Worthless Ones' simply makes the guitars scream in some form of agony as the flexible fingers of Nate and Brian work their magic. The beats thunder with solid and unyielding clarification and the voice is emotionally disturbing!
Time for an 'Interlude' which allows for a brief respite from the turmoil and is sharp and yet emotional as the strings play out to moments of musical command. 'Night Hag' twists and turns into a malignant scathing groove that forges its way forward and into a brilliant caustic turbulence. 'The Lesser Key' has a deep resonating feel about it that simply punishes and pulverises the senses, losing no ground as it penetrates the mind with overwhelming ferocity – A great track! 
'Endless Descent' up next, its sludgy ambiance is so powerful despite being slow paced, holding so much to witness. It's rippling with adventurous rhythms that are edgy and full of intensity and intrigue with incredible vocals it simply scales the depths and brings with it a harsh and very impressive quality.
The album is superb, great production, executed fantastically and is a sheer delight to listen to. You can get so much from this album, it's incredible appetite is just consumed by slaughtering rhythms and beats in excess and never stops rewarding throughout.
It's addictive, uncaging a beast that once awoken is hard to put back to sleep. The potential of a band like this has far reaching qualities and should never be underestimated.
Endless Descent is out 31st October 2016.