Three years on from the release of Once More 'Round The Sun, American heavy metal act Mastodon have returned to the front lines of the industry with the arrival of their seventh studio album, Emperor Of Sand. Their latest record hit physical and online stores on 31st March, and it's fair to say that Atlanta's furious four piece have delivered a precious jewel worth crossing a few deserts for.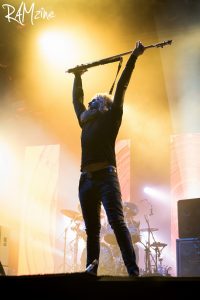 A concept album at its core, Emperor Of Sand supposedly follows an unfortunate soul who's been cursed to wander a vast, barren expanse for…well…a really long time. Forlorn vocal passages toy with thought-provoking lyrical content centred around the ever-flowing movement of time, the inevitability of death and the finite, fragile essence of life. Light-hearted stuff, I'm sure you'll agree.
Truth be told, you could blast though Mastodon's seventh studio release in complete ignorance of the intended concept and still take enjoyment from it, but the introduction of this extended imagery opens up a whole new level of understanding behind the brilliance of Emperor Of Sand… and it is indeed a brilliant, dynamic and well crafted piece of – let's call it what it is – art.
Mastodon have crafted each of the eleven tracks to offer a different shade of what truly feels like a sense of despair, hopelessness and maddeningly twisting streams of consciousness. The band present their sound with a dusty, aged feel in instrumentation and melodic movement that serves only to strengthen the imagery cast up into the audible atmosphere.
Though not abnormal in its length, the album adopts a broad span of stylistic shifts to cross over what feels like an array of different "locations" or "milestones". With genre influences that span from grassroots heavy metal to stoner/prog metal, commercial rock and beyond, Mastodon deliver a warping shift in colour and tone even in the opening moments of just the first three tracks. This exploration of varying colour and influence is only further cemented in later tracks with the rolling rotation of vocalists within the band, adding to the versatility of Emperor Of Sand as a whole experience.
It's fair to say that the American four-piece aren't exactly breaking the mould with their latest release, and it does feel as though the band traverse familiar ground whilst leaning more towards their rock influences. Whatever desert they're crossing, Mastodon were smart enough to bring a map, and while this might irk a few die-hard fans, the majority are still likely find plenty to latch onto and enjoy in the album's a broad palette of colour and expression.
Given the time to flourish and develop from end-to-end, Mastodon's Emperor Of Sand feels like a truly epic journey filled to the brim with memorable moments of brilliance. You can check out the album's opening track 'Sultan's Curse'  below.