It feels like a long time since we had new music from Shinedown. Granted, we had 'Smith and Myers Acoustic Covers' in 2014 to help fill the void but it's not the same as a full length LP full of gut busting Shinedown goodness.
'Threat to Survival' is Shinedown's fifth studio release and the follow up to the 2012's 'Amaryllis'. It has been described by singer, Brent Smith as "devastating, heart-breaking, beautiful and ferocious".
One thing that past Shinedown albums have done well is the messages they convey to their audience. 'Threat to Survival' is no different. These are more than just songs. These are stories about the experiences the band has had. This is a relatable album. A biography.
The album opener, 'Asking For It', has Shinedown written all over it. Big drums, roaring guitar, clever lyrics and a catchy chorus. The message is clear: Take responsibility for your own actions. This is a great opener that gets the neck bobbing and the blood flowing.

'Cut the Cord' was the first single released when the album was first announced back in August. It features more thumping drums from Barry Kerch and some rather aggressive vocals from Smith. If your blood was racing after track one, it's probably in overdrive by this point. This song is a statement. No matter how bad life gets you down, don't give up!
Things get stripped down and are somewhat pop sounding with 'State Of My Head'. It features nearly only an electric sounding flat drum track. Feeling like a pop song isn't a bad thing though. It's different and makes you want to dance.
What was probably lacking in the previous track, all returns on the next track, 'Outcast'. A song about self confidence.
One thing that needs to be praised on this record is Zach Myers' guitar work. It's excellent. While it's not in your face and over the top, everything about it just works. The simple but very effective solo in 'Outcast' really brings the song together. You can see why he is sought after by other musicians to play live or on their respective albums.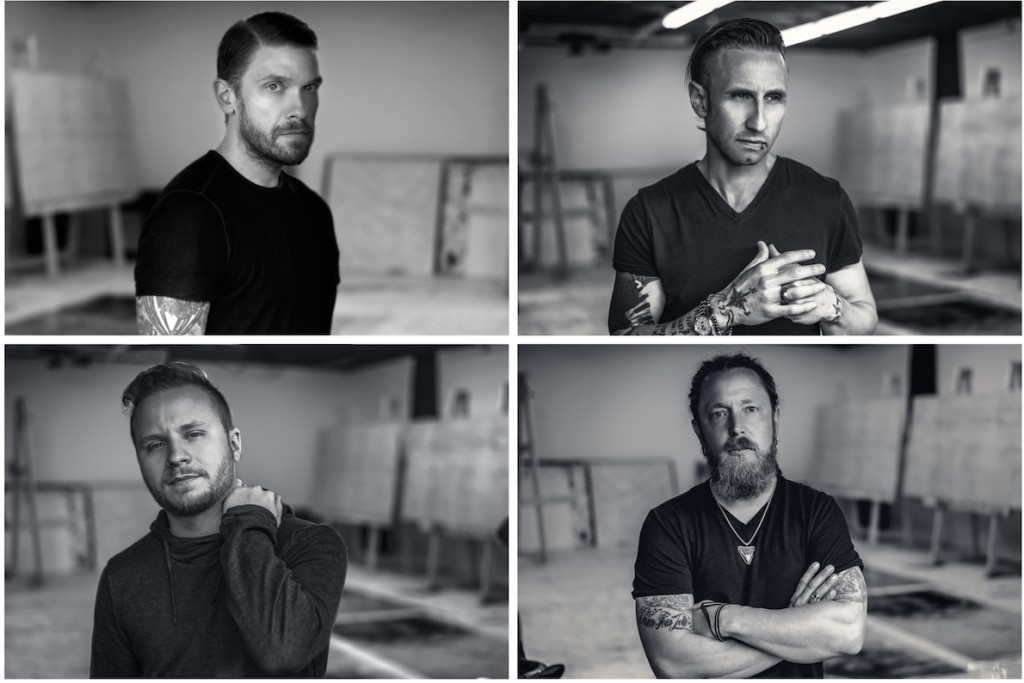 The album gains some serious pace now. 'How did you love?' is the closest song to a ballad we get on 'Threat to Survival'. Starting soft then BOOM, this is very Shinedown.
With 'It All Adds Up', the guys have created a sound that fans haven't heard from the band before. The song borderlines on funk/rock. It works very well. The chorus however feels slightly out of place. Not lyrically, but it sounds as it has been slowed down after the song was recorded.
The last few songs on 'Threat to Survival', are where the album really shines (no pun intended). Oblivion and Dangerous are both heavy and feature some of the bands best music and lyrics to date. They are in your face anthems, designed to fill arenas. You feel the guitar solo from the moment 'Dangerous' starts. When Myers finally pulls it off it feels like a huge relief, its executed to perfection.
Brent Smiths past has not been a secret. A history of substance and alcohol misuse was a huge part of his life. Several songs that have appeared on previous albums have told the story of how his actions affected his family and the people around him. The message 'Thick as Thieves' tries to get across is unconditional love and forgiveness. For me this is the stand out song on the album.
Penultimate song, 'Black Cadillac' is the "letting go and don't live in the past" song on the album. It's a feel good song. Smith's vocals swing over a cool piano track then explode into a stomping tune.
The final song 'Misfits', will speak to a lot of people. A slow paced song, it speaks about being the odd one out, growing up because of the music you listen to or the clothes you wear. Being the odd one out just because it's not how society tells you how to live. The vocals in this are haunting and get stronger as the song progresses. A fine closing track.
Shinedown haven't reinvented themselves with 'Threat to Survival', they didn't need to. They have tried some interesting things on this outing, some have worked and some haven't. From the core they are a rock band through and through.
"Can I have a minute of your time?" is the opening line to this album. Give them 40.
Shinedown will be performing in the UK as part of the Carnival of Madness tour next year.