From the start this live album is filled with explosive exploits and hungry attitude, but hardly surprising for this band whose reign began in 1995 under the shocking name of 'Inferior Breed' – thank fook they changed it in 1996 to Soilwork (meaning working from the ground up), and they have certainly done that!
I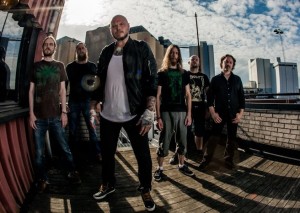 am not usually a lover of 'Live' albums due to the sound being drowned out by the crowd, but there is no chance of that happening on 'Live in the heart of Helsinki'. The rewards are gained pretty much in an instant as the humongous riffs and rhythms from this Swedish sextet fully engage and set a new record for being extremely raw and defining Divorce Death Metal!
We are all aware the Swedes know just how to dot the I's and cross the T's where metal is concerned and Soilwork have it made down to the last unruly mega-beat!
All the tracks continue in a mode of self-destruction and plough through a malevolent tirade of intimidation. If you don't believe me check out 'Spectrum of Eternity' in fact do yourself a favour and buy the album and immerse yourself in the bands menacingly emotive grooves. You will thank yourself afterwards and then you can pat yourself on the back.
The feisty vocal encounters from Björn "Speed" Strid are pure and powerfully exceptional with monstrous rhythms and deep fevered riffs to back them up. No wonder the hordes are pumped to an all-time high. The hooks are impacting and embraced by a stupendous drum beat that shows no sign of weakness, in fact this 'Bastard' chain would be mighty hard to break even if you wanted to?
Soilwork have captured the essences of hosting a melodic drama that plays out with captivating intensity, and goes all out to turn up the heat to gigantic proportions. Each encounter on this mighty 23 track is brutish and unmerciful and it would be fair to say, energised with extreme passion and blunt force trauma, so much so no-one can ignore it! The band pride themselves in brewing up a frenzied storm that everyone can get involved in. The raucous frenzy is predominant throughout the volatile offering with Soilwork calling the shots and calling a spade a spade, would it be anything else?
No word of lie, this album will taunt, tease and go straight for the jugular, YOU HAVE BEEN WARNED!
Soilwork 'Live in the Heart of Helsinki' the 23 track album is released 13th March 2015.