Back in the days of the New Wave of British Heavy Metal (NWOBHM), for those of us with long memories, females playing rock were about as rare as a Ritchie Blackmore's smile. But this changed when bands like Girlschool and, in particular, Rock Goddess came onto the scene. And they didn't let the fact of their gender deter them from their mission to make us rock, either. Both bands could rock up a storm on stage and they made many people sit up and take notice, with each going on to establish solid bases of support in the rock fraternity.
Rock Goddess came to a halt in 1987, for various reasons connected to financial and contractual hassles, and there's been a couple of attempts to resurrect the band down the years. But now, Rock Goddess has finally regrouped and have set out to prove they could continue where they'd left off. They now have their own record label, the charmingly named Bite you to Death, and they're about to release their first new album for almost thirty years, This Time, with founder members Jody Turner still the main fulcrum of the band, with her sister Julie on drums, plus new lady Jenny Lane on Bass.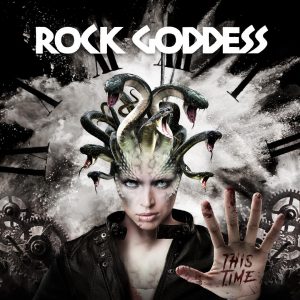 So, the question is… can they recapture the momentum they were building in the eighties, when they were on fire and being tipped as a band to watch ? Well, they've certainly made a very credible stab at it with this album.
To the opening screams of 'Are You Ready?' the Goddesses kick off the album in some style with a song which is also the single taken from the album. And what a damn good song it is as well. Take the vocals out and this is pure Thin Lizzy, circa 1977. They sing "we're back in town, this is our time, we hope you feel the same".
All through the album, Jody Turner proves she hasn't lost any of her chops, and is still able to tear off some powerful guitar licks. The rhythm section is tight, the harmonies hit the spot and the songs are good, notably rockers like 'Why Do We Never Learn' and 'Call To Space'. Title track, 'This Time', is a slow, powerful rocker, and closing track, 'Drive Me Away', is for me the track of the album. It's the longest track at just over five minutes and shows the more sensitive side of the Goddesses, with some delightful harmonies in the chorus.
Whether Rock Goddess can ever scale the heights again, that they came close to achieving in the eighties, remains to be seen. This their comeback album is a very positive statement of intent and, if they can build on this there's no reason why not.