Sinister Realm was formed in the summer of 2008 by former Pale Divine band- mates John Gaffney and Darin McCloskey.  With a desire to capture the feel and spirit of some of their early musical influences they set out to create music that would harken back to the classic sounds of early Ozzy and Dio fronted Black Sabbath.  As things progressed and songs began to take shape they knew that they had to find a singer and record a demo so the world could hear what they were working on.  Singer Alex Kristof entered the picture and a four track demo was quickly recorded.   Positive feedback from around the Internet drew the attention of various labels and eventually the decision was made to go with Shadow Kingdom Records.  Now in need of a complete band (up to this point, John was also handling guitar duties) they set out to find a guitar team that would bring to life the dual guitar influences of Judas Priest and Iron Maiden.  John Kanter and Keith Patrick were enlisted and work began on the first self- titled album.  Recorded at Brian J. Anthony's studio the first album was unleashed on the world in 2009.  With its unique combination of heavy riffs, catchy melodies and throwback vibe it was immediately met with praise from the metal community.
At this point in the story Darin McCloskey had to step down due to having recently relocated and Keith left to pursue other interests.  Local guitar hero John Risko was quickly enlisted and Chris Metzger, whom Alex had sang with in a former project Type 14, took over the drum throne.   Lots of live gigs followed and work began on the sophomore album "The Crystal Eye".  Completed in 2011, "The Crystal Eye" followed in the footsteps of the first album but brought the traditional metal influences of bands like Priest and Maiden more to the fore.   Receiving worldwide acclaim, the album helped bring in even more fans to the Sinister Realm camp.  Extensive live gigs were highlighted with a trip to Germany to play at the Metal Assault Festival in Wurtzberg.
With two successful albums under their belts, Sinister Realm knew it was time to raise the stakes once again, enter their most recent album "World of Evil".  Combining all the elements that made the first two albums successful as well as adding an even more epic feel to the music, Sinister Realm has once again proved themselves to be true defenders of the flag for classic heavy metal.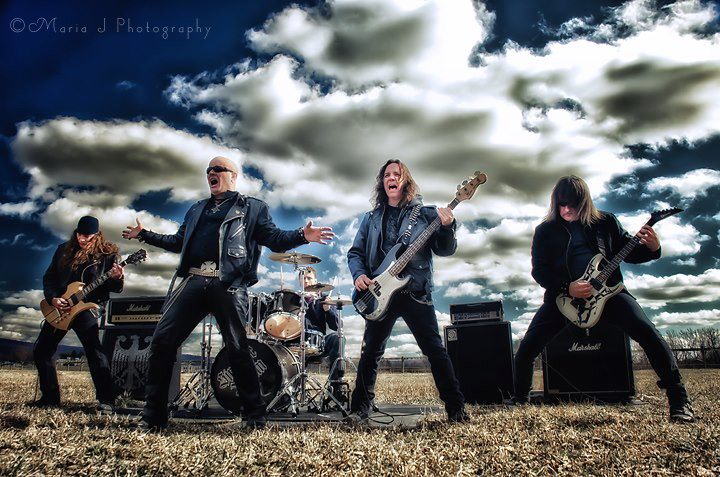 Track by Track review of Sinister Realms 'World of Evil'.
Dark Angel of Fate: With a thunderous and rapturous powerful gait this track flings itself into the spotlight with crisp guitar and transports you back to the 80's and sounds none too far removed from Dio so that's a winner for me! A truly classic metal track!
Bell Strikes Fear: Deep and compelling this track engages with a thick tempestuous rhythm and clean but powerful vocal.  I swear I can hear Dio singing this track it is quite chilling, but superb!! Another head banging track that is well balanced with meaty riffs and strong bass lines.
World of Evil: The bands title track soars with a thick rippling vibrancy of guitar riffs and leaves one in an 80's ecstasy. Another classic metal track that is infused with Dioesque quality.
The Ghosts of Nevermore: The dark rumblings of a turning tidal wave bristling with intrigue, it unleashes sinewy riffs and a quieter, crisp vocal.
Prophets of War: Thick rhythmic and solid this track is drenched in a powerful swathe of melodic splendour. Ripe for listening so get your ears ready. This sounds a lot like Bruce Dickinson from Maiden and possesses Maidenesque qualities.
Cyber Villain: Another Maiden bonanza with climbing rhythms reminding us that the 80's isn't dead but lives on within the Realms of the Sinister! Try not to move your head to this… if you can you are clearly a corpse!
The Forest of Souls: The rasping breath begins and is then overtaken with a crisp acoustic guitar that is then submerged into an electric rhythm. A truly unique track brimming with engrossing quality.
Four Black Witches: This track bubbles with a harsh rhythm that will have either your head moving or your toes tapping.
Definitely a classic metal album that fans of the 80's will be able to recognise and get their teeth into. Although it isn't anything new, it is good to hear bands like this who appreciate the old school metal and bring it back into the spotlight.
Alex the band's vocals certainly has a gift sounding like Dio and Dickinson whilst the band have captured an essence of the 80's metal genre which in my opinion, was an amazing decade and brought the metal scene alive. Although, these days I tend not to listen to bands of the past but more to the bands of the future, but it is great to be reminded of a time when Metal was truly coming into its own and at the prime of its undying life.  Definitely a superb album!
10/10