The problem with a study of the Beach Boys is that their career has been so long – their production has been so prolific, and their legacy and achievements were so remarkable – that their story is not an easy task to tell. It is just way too big. And we all have a little piece of that incredible story tucked inside us. So, their history can never be fully re-told. Their story is like a strand of human genome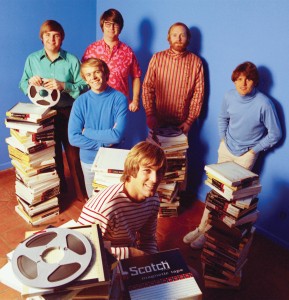 sequencing. Their sounds have been woven into the fabric of our lives for so long, and so subtly, that each of us – in our own way – are living, breathing fully-encoded 'Beach Boys'.
It would take a heavyweight encyclopedia to be able to properly monitor and discuss all of the many contributions that 'The Beach Boys' have made to 20th century culture over their fifty year reign.
But 'Made In California' – a glorious 6-disc journey that spans across half-a–century – begins to try to make sense of it all. Starting with "Surfin" released in 1961 and journeying through to reach songs like "That's Why God Made The Radio" which was on their twenty-ninth studio album released in 2012. This mammoth collection is over seven and a half hours long and it includes more than 60 previously unreleased tracks.
The deluxe set is presented as a kind of 'high school annual' – so it's like flicking through your own musty old photo's and diaries – trying to sort out the good memories from the bad … and attempting to relive those memories that are most precious and faded.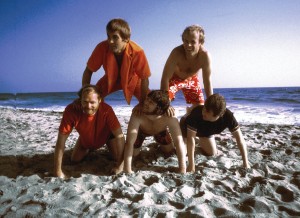 For me, like many people of my age, the Beach Boys provided the 'soundtrack' for my life. I had my first girlfriend in 1965. She played "Barbara Ann" at her birthday party. And I remember that during that song, she gave me my first kiss on the lips.
I also remember hearing "I Get Around" blaring out of the 'Dreamland' side-show speakers in Margate on a 'bucket-and-spade' holiday. The year was 1964. Ten years later – during the mid-1970's – I realized how poignant the B-side of this song was when I heard "Don't Worry Baby" on my car radio after a bitter split from a long-term love affair. And my best friend and his new bride walked down the aisle to "Lady Lynda" in 1979. And then they left my life completely.
But it was always "Good Vibrations" which was the Beach Boys stand-out track for me. I played it over-and-over again. As a disc jockey it totally fascinated me. The song was composed by Brian Wilson, with lyrics by Mike Love – and it was the first ever record to employ the sounds of an early synthesizer ( an Electro-Theremin.) The song was a mini-epic. A publicist for the band at the time described it as a "pocket symphony." It took literally months to record. And the multi-layered production techniques, that were used on the track, led to all modern-day recording studio procedures that we nowadays come to expect. It is surprising to think that, without that Beach Boys number, we might never have discovered the common production techniques that kick-started the electronic music industry. We may never have used electronic tools in our popular music. This one Beach Boys track was, quite literally, the precursor to the whole of the electronic dance music /club scene.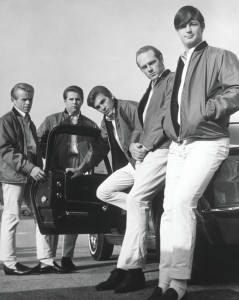 "Good Vibrations" is a wonderful song. It was complex enough to turn me on immediately. And it started me out on a lifelong quest to search for rock songs that are 'classically inspired ' (This led me to a lifetime love of progressive rock – but that's another story). Yet it was also quite easy to sing along to. It had a strong and exciting vocal riff "I'm picking up good vibrations / she's giving me excitations". It is the sixth greatest song of all time according to the magazine 'Rolling Stone'.
So this new collection , 'Made In California' chronologically charts the 50-year career of 'America's Greatest Band.' From their earliest demos to their most recent recordings. With huge hits and rare gems included. Plus never-before-released original songs, home demos, alternate takes and mixes, and live concert, television and radio performances, the set showcases the breadth and diversity of The Beach Boys' recorded catalogue – and it illustrates the band's unique and evocative West Coast story.
Our own story – here in foggy old England – was less glorious and less sunny. Yet, in the Sixties, we were all fascinated by the idea of West Coast surf culture. Don't forget that – back then – hardly any Brit had travelled to America. There were no cheap trans-Atlantic flights. In fact, in those days, nobody had even been on a continental holiday. We didn't wear baggies or bikinis. We certainly did not wear Hawaiian shirts. And we had never eaten a barbecue. (The closest we got to having a barbecue was eating grilled sausages wrapped in foil on Bonfire Night.) We had never had a drink out of a can (we used to buy 'Party Sevens' and pour the warm beer into paper cups.) We had never even seen a snow board or a skate board. Or a hot rod. And we had only ever seen surfboards in the Hollywood movies.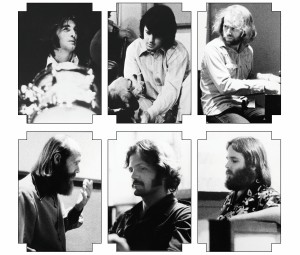 But the glamour, spirituality and the sensuality of the West Coast came to us through the music of the Beach Boys. Above all – we were fascinated by the idea of that never-ending, glorious sunshine That really appealed to us. We needed urgent rescue from the gloom and smog of rainy-day Britain. So we started out – very gently – to emulate those fabulously golden-skinned West Coast beach bums and bunnies. We began using words like "dude". We drove around (in the pouring rain) in totally unprotected 'beach buggies'. (My friend had a Morris "Mini Moke" – but he never once surfed in his life.) And we played the Beach Boys singles over-and-over again in our local high street cafés. We even had our very own 'Surfing' band – 'The Shadows' – whose surging achievements like "Apache"and "Kon-Tiki" – always made their way to the top of the British charts. Although to be honest – watching Hank Marvin and The Shadows play "The Rise and Fall of Flingle Bunt" at the Batley Variety Club was a long, long way from watching Brian Wilson and The Beach Boys play "Fun Fun Fun" at the Memorial Auditorium in sunny Sacramento.
The relics in this collection include Brian Wilson's 1959 high school essay titled 'My Philosophy,' which is reproduced in the book contained in the package – and is re-printed in its original handwritten form (the original is currently on display in The GRAMMY Museum's Beach Boys exhibit celebrating the band's 50-year career). It would be wonderful to compare this writing to a high school essay written by a British scholar that same year.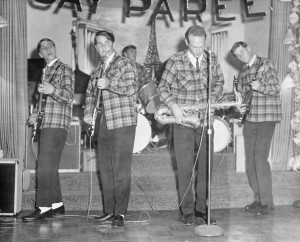 If you are a real nut for Beach Boys memorabilia, then you will love the previously unreleased and long sought-after recordings that are included in this collection. Songs like 'Goin' To The Beach,' 'California Feelin' ( by Wilson and his live band), 'Soul Searchin', Phil Spector's 'You've Lost That Lovin' Feeling,' and 'You're Still A Mystery,' among others.
The set also débuts 17 unreleased live recordings, including 'Runaway' (1965), 'Friends' and 'Little Bird' (1968), 'Wild Honey' (1972), 'It's About Time' (1973), 'Wonderful' and 'Vegetables' from The Beach Boys' legendary 1993 acoustic tour, and a 1995 rendition of 'Sail On, Sailor' featuring a soulful lead vocal by the late Carl Wilson. The greatly missed talents of Carl and Dennis Wilson are also celebrated with rare and previously unreleased recordings including Dennis' '(Wouldn't It Be Nice To) Live Again,' 'Barnyard Blues' and 'My Love Lives On,' Carl's lead vocals on 'Da Doo Ron Ron' and 'Soul Searchin',' and Carl's shared lead with Bruce and Brian on 'California Feelin'.'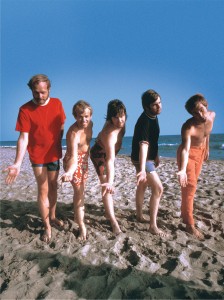 This collection is highly recommended for all those who want to revisit their golden teenage years or would like to discover the many gems that are hidden within this immense and surprisingly accurate accumulation. It makes up for the much maligned and disappointingly short "Beach Boys: 50 – Live In Concert" DVD.
But it's priced at £82.99 – so you'll need to be an avid aficionado to take the plunge and spend this kinda money on a band. But this isn't any old band. And this is an ultimate collection. From one of the greatest bands in the world. So go on grab it. And let the Beach Boys brand of surfin' rock rescue you. Once again.
The

Beach

Boys

'

Made

In

California' is out

2nd September 2013 via Universal Music Catalogue.
8/10