10 years ago it seemed like rock was dead: nu-metal was getting more cringe-worthy by the second and Nickleback had a hit single in the UK top 10. All hope was lost until 2003 a glimmer of hope for the Hard Rock scene…
… A band whose front man was wearing striped spandex jumpsuits supporting the likes of Def Leppard and Deep Purple. A band whose bass player had a handlebar moustache The Village People would be jealous of, and most importantly a British band that actually rocked!
It might seem like yesterday when The Darkness' debut album 'Had permission to land' was released. But it was released 9 years ago. After a 6 year split the Lowestoft lads return with Hot Cakes.
The opening track 'Every Inch of You' is thumping bass riffs laden sing along reminiscent of songs, like Free's All Right Now or Queen's Fat Bottomed Girls. 'Nothing's Gonna Stop Us' jumps into fifth gear and takes us on a journey guided by Dan Hawkins' trademark guitar work and Justin's famous falsetto. Keeping in mind the first two tracks pre-date Permission To Land, as well as their cover of Radiohead's Street Spirit (which they have been performing live since 2002) 6 songs away. This makes the record seem like one of those 'previously unreleased rarities' that an artists' label will put out after a band is no more. Nevertheless, the following riffage of 'With a Woman' and 'Keep Me Hanging on swiftly disprove this theory!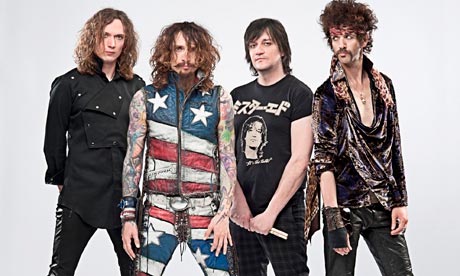 Any hard rock/ cock rock/ hair metal/ whatever-you-want-to call-it rock album would not be complete without the obligatory power ballad. 'Hot Cakes has Living Each Day Blind' is just that. Its a song addressing the frustrations of a young person living in a small town, who wants to leave for bigger things. I'm sure this is something the heavy rockers from Lowestoft will have thought about in their early years.
'Everybody Have A Good Time' follows, the title really sums up what this album is all about, having a gosh dang good time!! Which is something Justin and Co have always believed in, and we can appreciate it now they aren't in our faces constantly and being over-played on TV and radio. In a world where Steel Panther and Tenacious D play alongside legends such as Black Sabbath at Download we welcome the dad-rockers back onto our stereos.
And still the ride isn't over. Well written pop-rock songs like Forbidden Love and Concrete assure us the glam rock revivalists are a brilliant band, who cares about the spandex! The next adventure on the band's horizon is supporting some American pop star, Lady Gaga, you may have heard of her before. The Darkness will serve as support for the European leg of her world tour, which makes perfect sense to fans of both acts in some ways. The album closes with 'I Can't Believe It's Not Love' which is cheerful and ditty featuring acoustic guitars and percussion as well the traditional Darkness axe-wielding. Leaving a sweet taste in the mouth, this is the comeback record we were all looking forward to!
The Darkeness – EPK on new album HOT CAKES!
For Fans of: Queen, Thin Lizzy, Meat Loaf.
Recommended download: 'Living Each Day Blind'
7.5/10