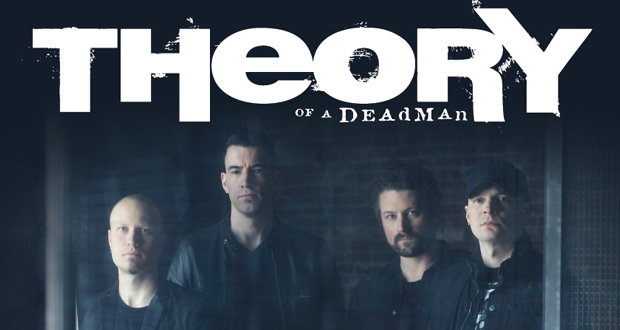 Theory of a Deadman are back in the UK for the first time in a few years and tonight they kick ass. With this they have two fantastic support acts, Forever Never and Royal Republic.
Opening up the show Forever Never have returned to the stage, and it's their third time here in Manchester. These confidant bunch are eager to get the show going. Renny, the lead singer says "Manchester are you ready for fun?.. I am!" He then flashes his shirt, which says 'FUN', and they begin their set. Opening up with a newer track 'Never Giving Up' which is the first new single that they have released in five years.
We are spoiled with another new track, which was released in January this year called 'Living a Lie'. Then moving onto one of their covers 'You're The Voice' by John Farnham. Singing along to the chorus as Renny encourages the crowd to sing along to the chorus. After singing a few more tracks they play the final song, while thanking the crowd "Thank you Manchester for having us, can you make some noise for the last track" which is 'One Life'. The band all bounce around the stage, which sets the mood for the night. Happy, fun and full of energy.

Royal Republic up next! I honestly did not expect this. They come on stage to a royal theme tune all suited up in an ordinary fashion and then into action starting off with 'When I See You Dance With Another'. Hard rock with a rockabilly vibe and a Sweedish twang.  All I can say is that its madness, the joyful happy vibe, everyone is having a laugh.
Adam Grahn (lead singer) said "This is Manchester right? Good, we've landed in the right place then".  He then says that the floor moves around when people jump and everyone can get sea sick, jokingly of course.
More randomness hits as during the song 'Make Love Not War', Adam stops mid song and speaks to the crowd, picking someone out "ima call you bob" this is a break-up song.
The next track on this fun filled night is their new single 'Baby' which has a interesting story behind it. It was filmed in roller scates now Jonas Almen (Bassist) a few weeks before shooting the video he had surgery to his knee, now that's crazy.

Theory of a Deadman kick start with 'Blame Canada' from South Park. The crowd was confused and laughing, I was laughing and thinking "is this for real". The humour doesn't stop there the first track is 'Lowlife' and yes everyone one is chanting along to this song.
When it goes quiet a fan yells "Tyler", to which he replies with "yes?" everyone laughs. "Women always screaming my name" he says.
"Ok this next song is dedicated to all you girls" before everyone gets the time to fully show affection he says "It's called 'Bitch Came Back'" and yes people laughed. Another upbeat track that is also humours, the attitude tonight is having a laugh and not giving a fuck, it's brilliant.
Tyler then talks about new tracks coming out later this year and speaking of new tracks they play their new single of Savages 'Blow'. Slowing things down with some grungy rock, Drown is next played of this album, which is brilliant live as there was a sick guitar solo mid set.
Then Tyler talks about music, and how it can stay with you for the rest of your life, its crazy to think that a song can be so personal, "You can't just turn it off" – which is true when you think about it, you can get attached to a song and it will mean something to you forever.
Continuing on with the slower right in the feels track 'Santa Monica'. After this emotional train carries on 'Angel' is the next one, it's mesmerising, hearing it live, the soothing vocals, the lighting and the crowd swaying to it, it's simply magical.
Of course after this to shake off the blues a kick ass drum solo is needed and that's what happened. Kicking it off with 'So Happy', and then up another knock in the rock level, 'Savages' is next. Before the song starts, Tyler splits the crowd in half to see which is the best side.
Back on the feels coaster with 'Hurricane', slowing it down before the pace is back up full of energy. Tyler talks about more personal stuff and also says that TOADM don't come over to the UK that much and that needs to be changed.
"Put your middle fingers up," everyone puts their middle fingers up ready for the last song of the night, 'Hate My Life', which is funny, catchy track to end the show.
The crowd cheering and applauding as TOADM come back to the stage. Starting with a mix of 'Sweet Home Alabama' but changed it to Manchester, then mixing it up more with 'Paradise City'!  Tyler keeps quiet as everyone sings the lyrics to paradise city.
To end the show on a good note the final track is infact 'Bad Girlfriend' which is a great track to end the show and everyone is loving it. It's been a fantastic night.