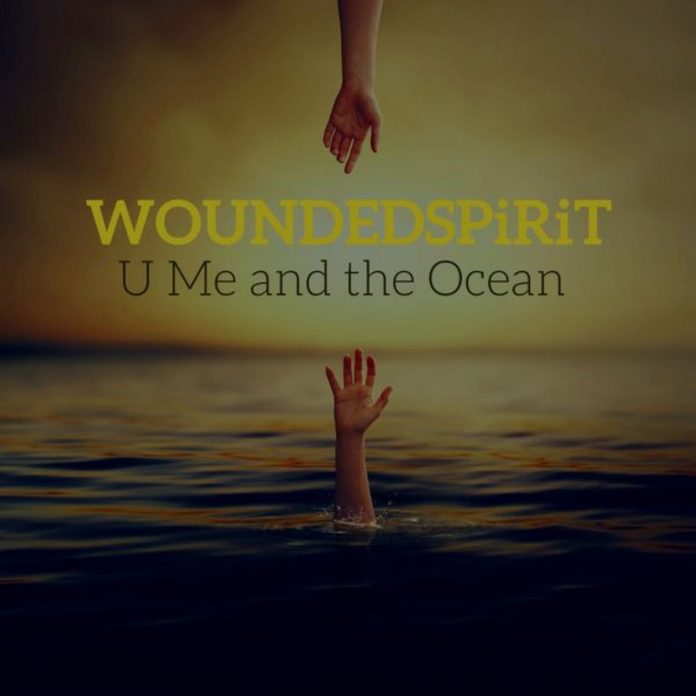 Black country rock/pop band WOUNDED SPiRiT released their second album digitally earlier this year, with a physical released via CD, and possibly vinyl, due in October. Gigs, have naturally been postponed due to the coronavirus pandemic, but the music plays on.
Together, since 1989, vocalist Jason Kelly, bass player Terry Banks and drummer Elton McTaggart had put the band on hold as time and the music industry changed, but your first love often calls you back and they reformed a few years back. Steven Scaife is their current lead guitarist, and on U Me And The Ocean there's a definite female presence vocally, as well as keyboards in evidence – Whether or not that's Debbie P, a lady previously credited with having two stints in the band and fulfilling those role I couldn't say, but it's a big plus to their overall sound.
'Love-Emotion-Devotion' opens with old school late 80s-90s synthesisers soaring corrosively over a constant drum beat and a guitar chunking away. It's Manchester's Stones Roses meets Birmingham's Fashion half way into the Black Country. Vocalist Kelley echoes the title in distant voice then the whole thing rocks shifting gently forward. Post-rave meets krautrock with a full wine glass beginning to spill as you dance.
Released last year as a single, 'Taking Back Control' brims with vigour, hooks and good time vibes as it sings about self-empowerment. The pace changes throughout but you're kept swept in the momentum of it. The kind of song you might have been singing, dancing and drinking along to at a barbeque if 2020 hadn't turned out a lot more cock-eyed than we expected, but there's always next year.
Acoustic guitar and keyboards play along in a more-melancholy reflection for 'TWO Sister Of Mine' but it's a familial long song as approached by a protective big brother as it moves towards upbeat sections. Harmonies come in as the chorus builds up and a female voice is heard, adding and sing singing different lines, she adds to the ensemble, while Kelly's higher pitched tones here add dimensional weight and effect.
Butterflies' concerns itself with relationship and emotions that stay over a synth bass rhythm 'n blues tune that rocks out gently, and then things cinematically widescreen for title track 'U Me And The Ocean' – The femmale voice echoes an almost eerie spaghetti western post-rave theme for mere moments before a prowling bass rolls out and guitar and male vocals are writ large – Imagine that classic Big Sound of The Waterboys and U2 lifted through The Thompson Twins mixed John Paul Jones  when he was producing The Mission. Kelly's vocals are confident but reflective, in touch with himself as the secondary/alternative vocals of the female singer add a further dimension.
There are shared vocals on 'PlayCold' wherein the chorus rocks out gently at a constant pace. A lesser work but your attention is held by the lyrics and some nice guitar filigrees near the end. Scaife then repurposes Fleetwood Mac's 'Oh Well' riff for 'iN THE MOMENT' while a barrage of techno rock pounds away, and a second guitar squeals out, keyboards whistle jauntily and it's sung with a charismatic maleness and existential philosophy while the female voice picks out her own melody.
'OUTSIDE' opens with organ and drums paradiddle for all they're worth before dropping back to a chopping rhythm as assorted instruments flitter in and out. It's another full-on tune of euphoric vocals, while the guitar noodles away as he sings "let's get outside" If only, eh. A vintage rock organ solo parks up before vanishing within moments. Then finally, 'Another Day' features iano and emotive dry voice with band building up towards a big Beatles or Wings meets Tear for Fears big orchestral feel send off.
This is 90s Brit pop meets post rave rock with a take it on the chin attitude, packed with a lot of soul where some songs look back with fondness even when bad things happen, while still living to fight another day.
You can buy WOUNDED SPiRiT's U Me And The Ocean by visiting their website here.