This year's Download Festival will feature a brand new 'Eco Camp' hosted by Greenpeace. The camp is located amongst ancient oak trees surrounded by wildlife and will fit up to 3000 festival-goers. You are able to stay in 'Eco Camp' at no extra cost with a regular ticket, however, you must pre-register to stay there and must be willing to sign to agree to a set of eco rules.
Last year Download received a 4-star Creative Green Certification and this year they have raised the bar by adding viewing platforms across all stages and interpreters from British Sign Language, creating a more accessible festival. This year will see Download also adding a viewing platform to the Doghouse in the village.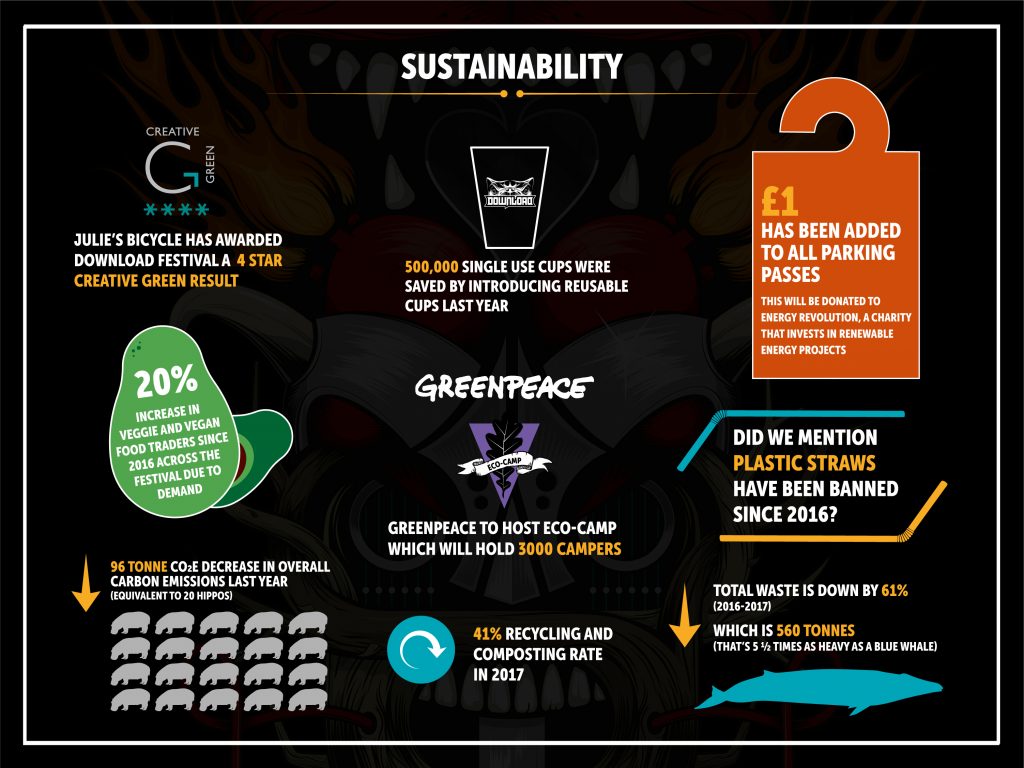 Castle Donington Volunteer Centre will also return to Download for the fifth year, to provide an almost 24-hour free shuttle service between the campsite and Village, along with Campsite and Public Transport Hub for Access customers. This year will see a 50% increase in the shuttle bus vehicles due to significant demand in 2017.
Festival Republic's Melvin Benn says: "Download Festival is built upon an ethos of inclusivity and it's incredibly important to us that as many people as possible are able to enjoy the festival to the fullest. The appointment of accessibility ambassadors has provided us with invaluable feedback so that we're able to implement practical improvements to site the that we hope will dramatically improve the experience for all. Being awarded a 4 out of 5 star Creative Green Certification is a huge milestone for Download Festival, and in this current climate I can't help but feel proud of what we are doing to protect the environment including the introduction of Greenpeace's Eco Campsite."
Continued improvements are being implemented at the Access Campsite. Those camping in the accessible campsite will now be able to drive right up to their pitch to drop off their equipment, where a team of ready and willing helpers are on hand to unload customers' cars. A wheelchair charging tent with 50 charging points will be available for the first time, and the possibility of adding extra, and there will even be a 50% increase in the number of toilets in the Access Campsite as well as the check-in facility doubling in size to help make the process as comfortable, smooth and efficient as possible.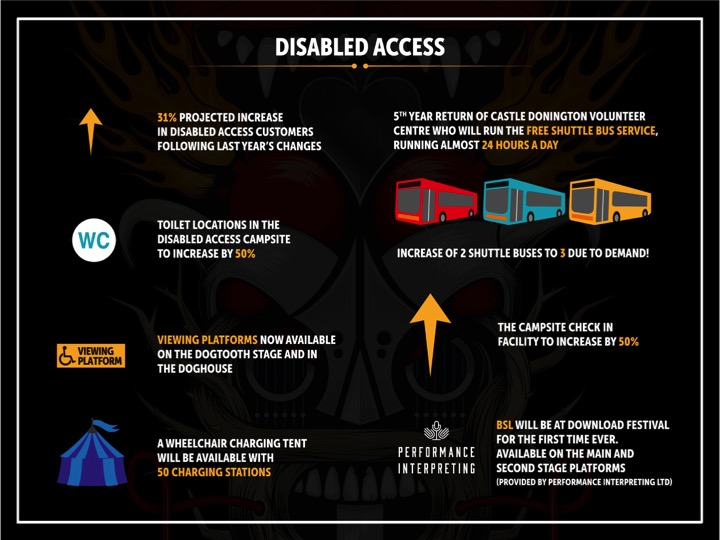 Last year at Download there was a decrease in overall carbon footprint by 96 tonnes of CO2e compared to 2016, and for 2018 we have introduced carbon balancing by adding £1 to the cost of all parking passes which will be donated to the charity Energy Revolution, who invest in renewable energy projects. This is on top of current travel initiatives with Big Green Coach, Liftshare and shuttle buses to encourage the reduction of traffic coming to the site.
In 2017, overall waste decreased by 61% compared to the year previous. Download Festival introduced reusable cups last year where half a million single use cups were saved, and the Deposit Return System has seen an amazing 100,000 bottles collected and recycled since 2016. There has even been an increase of campsite recycling points, and food traders are not allowed to use single use plastic cutlery or food containers to ensure 2018 is the most environmentally friendly yet. Did we mention plastic straws have been banned since 2016 too?
DownloadFestival takes place on 8 – 10 June 2018 at the spiritual home of rock in Donington Park, Leicestershire. Tickets are on sale now at downloadfestival.co.uk/tickets.