Cradle of Filth have always been a band that brought a full entertainment package to their fans and the album art is as much a part of the release as the music itself; part of the enjoyment for me has always been flipping through the booklet, both looking at the artwork and reading Dani's ever poetic lyrics – let's face it, until your read it, you have no clue what he's saying.
It will have been almost three years since their last release but the wait is almost over; 'Hammer Of The Witches' hits stores worldwide on July 10th and the buzz is already building.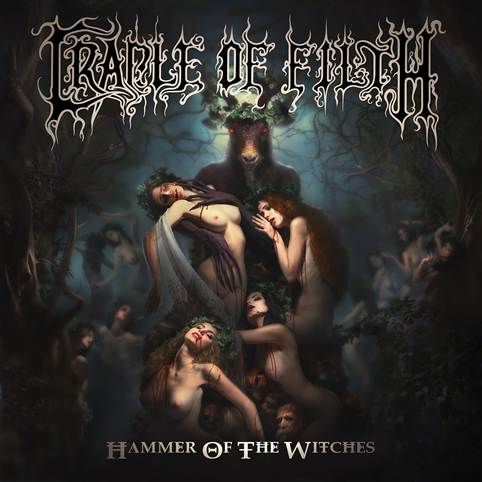 The artwork is the most refined to grace the cover of a CoF album and is the creation of Latvian artist Arthur Berzinsh, who is best known for his provocative neo-symbolism. There are, of course, intellectual themes and inspirations behind the artwork; however, the layman (me) just sees boobs. Boobs and a goat. Or, I suppose, just a goat to those for whom boobs hold no real allurement.
Breasts aside, the artwork is atmospheric and well suited to a Cradle of Filth album; it is dark and subtly unsettling and led me to further investigate Arthur Berzinsh's works. From this it was easy to see why he was chosen to work with the band on the album artwork.
Cradle Of Filth have revealed that 'Hammer Of The Witches' will be released via Jewelcase CD, Limited Edition Digipak, Mail Order Edition and 2LP vinyl formats. The album is set for release 10th July 2015 through Nuclear Blast.
Track listing of the Limited Edition Digital CD:
01. Walpurgis Eve
02. Yours Immortally…
03. Enshrined In Crematoria
04. Deflowering The Maidenhead, Displeasuring The Goddess
05. Blackest Magick In Practice
06. The Monstrous Sabbat (Summoning The Coven)
07. Hammer Of The Witches
08. Right Wing Of The Garden Triptych
09. The Vampyre At My Side
10. Onward Christian Soldiers
11. Blooding The Hounds Of Hell
Bonus Tracks:
12. King Of The Woods
13. Misericord
This is a tentative moment for Cradle of Filth fans who will no doubt be eager to hear 'Hammer Of The Witches'; however, with the departure of Paul Allender, one can't help but wonder if we are likely to see another change in their sound as we did when Gian Piras left. Dani Filth has said himself that the previous three albums were written as one guitarist, whereas they are now back writing for two; he cited 'Dusk and her Embrace' and 'Cruelty and the Beast'. Could we see CoF going back to their roots? Watch this space.