To call Venom legends is almost not enough. These Geordie lads rewrote the rule book when it comes to extreme metal and are up there with Black Sabbath as one of the United Kingdom's most important contributions to heavy metal.
Over 30 years since they released their first two classic albums, 'Welcome to Hell' and 'Black Metal', Venom are still going strong, with their fourteenth album, From the Very Depths.  As 'Eruptus' sees us in with its swirling wind, thunder and tolling church bells, it's clear they aren't in a rush to bend over for modern trends.
The title track comes out of that like a man possessed, flying into the dark and heavy brand of music that we have come to know and love.  It's not long until the big boss man from hell gets a mention and unsurprisingly it's not the last time you will hear from Satan on this release.  'Death of Rock 'N' Roll' quickly follows on behind, sounding like an even more grizzled Motorhead, if you can believe that is possible.  Venom may be getting on a bit, but they still run this town.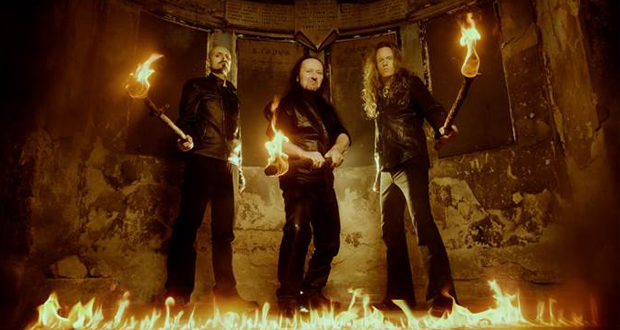 No one lives up to that image more than Cronos himself, whose roar may be a bit more throaty now, but could still give a child nightmares.  His new look band also sound tight, Stuart 'LaRage' Dixon enhances the bass heavy sound, with his clever guitar playing, while Danny 'Dante' Needham gives the drums a suitable bashing.  Venom may not be made up of the guys that helped them make their name, but this newer and younger outfit are proving themselves worthy of that legacy.
All of this is backed up by a production that has become a lot cleaner than the original releases, but still has that fuzzy bite, that is so integral to the Venom sound.  There is plenty more high octane thrash metal laced throughout this album, for those just wanting to bang their heads and scream. 'Grinding Teeth' and 'Temptation' will give you exactly that. While 'Long Haired Punks' is another Motorhead esque rocker, with all the balls of Lemmy and co at their very best.
However, it's not all balls to the wall metal here and occasionally Venom remind you they are not a one trick pony.  'Smoke' opens with an almost bluesy guitar and you can picture it being a song that was born in a puff of smoke itself.  It stays slow, heavy and ominous and reminds you that there is a little bit of evil lodged in the heart of this band, in a good way of course.
Venom are still bloody brilliant. If you've never listened (well what have you been doing for one thing?) this is an album that will show you what you have been missing.  While lifelong fans will find just as much joy in this as they have most of their other releases.  Venom just don't seem to age and whether that is because of the guy down below or their own grit and hatred, I think we should all gives thanks, because they still rock.

Review Overview
Evil in all the right ways.
Summary : Venom were, and still are, the masters of extreme metal, bow down before them.