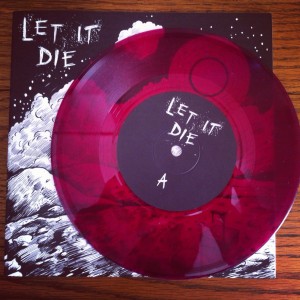 Blisteringly speedy dark hardcore punk, with a sound comparable to a clearer, faster Harm's Way; Let It Die's latest offering should be an instant classic in the power violence library. The six tracks speed by and 12 and a half minutes appears to be no time at all.
Let It Die's 7" as a finished product comes across polished, as in the production is great, the lyrics throughout the mini album don't sound contrived, the riffs are distinct in between the on point drumming, the vocals are as coarse and as harsh as possible without becoming irritating and still sounding professional, the bass mixing provides a suitable brick to be thrown at you during the crushing drops, for instance at the end of Funeral Of No Tears and The Judge Is Guilty.
Despite how polished the release comes across, it retains a poisonous taint that exaggerates the aggression of the three band members, like a sledgehammer more than a razorblade.
Summed up, this isn't a release to bat an eyelid at. Brilliantly composed and refined Let It Die prove effortlessly why they're a band that deserve the attention of the three record labels that have put this release out.
8/10