It's fairly safe to say that Les Claypool is a bit of an odd chap when it comes as far as music. I don't think I ever heard song titles like the ones he comes up with both for Primus and his various other projects. He's quite unique in that respect and also in the respect of his bass playing. He is one of the most phenomenal and distinguished bass players on the planet and this album is one of the perfect showcases of his talent. Not taking anything away from Tim Alexander (Drums) or Larry Lalonde (Guitars) but Claypool is the centrepiece of the band.
Once the intro plays past the sound of raked bass chords fades in leading into 'Here Come The Bastards' which acts almost as a second intro as Claypool puts in a disjointed yet well fitting vocal over the top of it. From here it's a journey through disjointed grooves, incredible bass work with drums that keep up with it and compliment it extremely well, complimentary guitar work that never pulls focus but still adds a necessary extra layer to the songs. There's also some extra instrumentation on the album to add to the heir of experimentally found here including clarinet, banjo and even a water jug?
The songs themselves are pretty unconventional as they go but if you were looking for conventional you wouldn't be listening to Primus. 'Jerry Was A Race Car Driver,' 'Tommy The Cat,' and 'Is It Luck' are the standout tracks on this album and are the more energetic of the songs on offer but that doesn't mean they're any less psychedelic than the rest. The whole album is very much a weird and twisting journey that lyrically and instrumentally feels like a journey through another world and has a very surreal feel to it all. For that reason I really recommend listening to not only this album but Primus in general as there's no other band like them, there is no band I can really draw a comparison with as they are both an oddity and a stroke of genius at the same time.
But onto the real issue here: the re-release of this album; is it worth it? Was it a cheap reason to get this album back out there again? Would re-mixing and re-mastering it ruin the sound? The answer is a resounding NO to all. I had my scepticisms when hearing that this was happening but as soon as I started listening to it I noticed a significant improvement to the overall sound. Most noticeable is how much clearer the bass sound is. Before it was clear but there were some parts that ended up sounding a bit muddy due to Claypool's choice of tone especially in parts of 'Jerry Was A Race Car Driver' and 'Tommy The Cat' but now it sounds crystal clear without spoiling the distinctive bass tone. Other than that everything has been improved audibly with some new tweaks with panning to make it a bit more of an interesting listen than before. Unlike with a lot of re-masters and re-mixes this actually does have a pretty noticeable difference in quality to the original, couple that with some high quality bonus live tracks plus a full Bassnectar remix of 'Here Come The Bastards' make this a great re-release that's fully worth picking up. Plus it's also being released on Blu Ray audio if you really need to hear it in ultimate high quality, that should be all of your bases covered more or less.
Personal Favourite Tracks: American Life, Jerry Was A Racecar Driver, Tommy The Cat, Is It Luck.
9/10
Primus: 'Sailing The Seas Of Cheese' (Deluxe Edition) [CD/BLU-RAY; CD/DVD] is out now via Universal Music Enterprises.
DISC ONE (New Stereo Mix by Les Claypool):
1.  Seas Of Cheese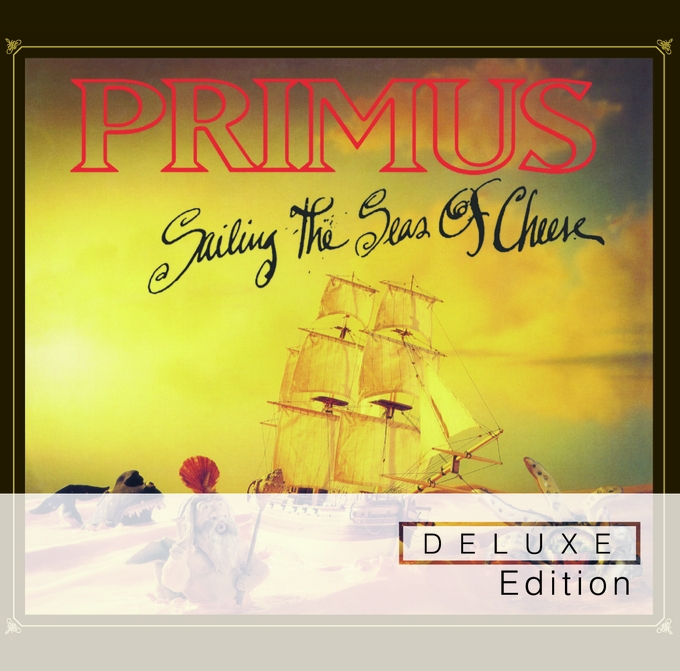 2.  Here Come The Bastards
3.  Sgt. Baker
4.  American Life
5.  Jerry Was A Race Car Driver
6.  Eleven
7.  Is it Luck?
8.  Grandad's Little Ditty
9.  Tommy The Cat
10. Sathington Waltz
11. Those Damn Blue-Collar Tweekers
12. Fish On (Fisherman Chronicles, Chapter II)
13. Los Bastardos
CD Only Bonus Tracks:
1.  Those Damned Blue-Collar Tweekers (Live at Bass Hall, Austin, TX – 11/7/12)
2.  American Life (Live at Tabernacle, Atlanta, GA – 10/31/12)
3.  Here Come The Bastards (Bassnectar Remix)
DISC TWO (DVD or Blu-ray):
5.1 Surround mix (original album tracklist)
New Stereo Mix (original album tracklist)
DVD- Video Audio Options:
Dolby Digital 5.1 Surround (48kHz/24-bit)
Dolby Digital Stereo (48kHz/24-bit)
DTS 5.1 Surround (48kHz/24-bit)
Blu-ray Audio Options:
Dolby TrueHD 5.1 Surround Sound (96kHz/24-bit)*
PCM (96kHz/24-bit)
PCM Stereo (96kHz/24-bit)
Additional Features
Video – Visualizers For Your Ocular Pleasure
Liner Notes – English
* Dolby TrueHD is a 100-percent lossless audio that reproduces movie and music playback in the home that is identical to the studio master.