Every band has t-shirts, albums, records, patches and maybe the occasional book after a few years. Then After a while, most fans will get used to the continuous production of most generic items of band merchandise. However, once in a while, a band will break the mould and explore new territory to offer fans something completely different with often very surprising end results. We here at RAMzine wanted to share with you our top ten list of both the craziest and most awesome pieces of band merchandise that took us by surprise…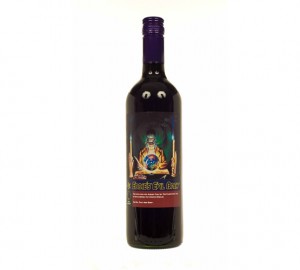 10. Iron Maiden – Eddie's Evil Brew
Iron Maiden cover a fair few topics in their albums; from outer-space treks to hellish tales of devils and demons, so it's really only expected they come as wide-spread in their merchandise. Now in its 5th vintage as a smooth merlot, Eddies Evil Brew comes in its own special box with each edition of the wine holding its own unique label. It comes recommended with meat, pasta and cheese dishes and a 75cl bottle will cost you a mere £17.50, but expect some heavy shipping fees.
9. Slayer – Reign In Blood ESP
For the 25th anniversary of Slayer's groundbreaking 1986 album, Reign In Blood, in 2011, ESP Guitars made a very

limited run of 250 of these beauties. The model itself features a special LTD headstock logo in Slayer's distinctive typeface, pentagram-shaped neck inlays and the Slayer logo inlaid near the 12th fret as well as the infamous album cover on the body of the guitar. Feel bad you missed out? Never worry, ESP are doing the same thing for Seasons in the Abyss.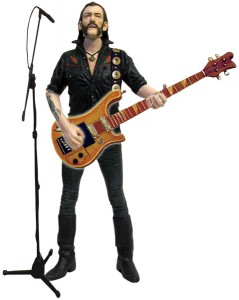 8. Motörhead – Lemmy Action Figure
Modelled after the man himself, the Lemmy action figure really does seem to be the ultimate collectable for any Motörhead fan. Produced by Locoape and limited to 2500 worldwide, the figure comes with its own numbered Ace of Spades playing card and DAndrea bass guitar. If you weren't there when they first got released in 2008 you'll have a tuff time getting one now. But it turns out that action figures based on rock stars are fairly common.
7. All Shall Perish – Condoms
First released in the 'Party Tech' package of All Shall Perish's latest album This Is Where It Ends but proved so popular they've been put up as a separate item of their own. Their songs might be on the more brutal side, but it's nice to see the promotion of safe sex coming from all walks of life.
6. Metallica – Monopoly
Monopoly is known for its many different themes, but did anyone really expect a music based board? Especially from a less mainstream end of the market. Nevertheless, from the board to the pieces to money, this is seriously Metallica down to the last detail. One can only wonder what will come next? Maybe Metallica twister? That would be interesting…
5. Rammstein – Rammstein Computerspiel für Windows
Admittedly more a piece of trivia than merchandise, but definitely treads in the realms of the unexpected. Released on the re-issue of their 1997 one-off single Das Modell, the 2D scrolling game enables you to take control of what looks like lead singer Till Lindemann as you blast stuff with a flame thrower in levels based around the band's album imagery. However if you wanted to play the game today you'd have to get yourself a copy of this now rather rare single and a computer fitted with a classic Windows 98 operating system, so good luck!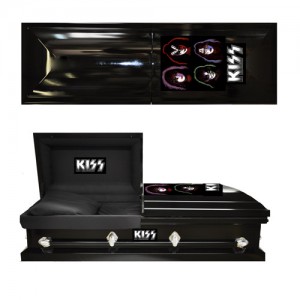 4. KISS – KISS Kasket 
It wouldn't be right to compile such a list as this and not include the most well known example of wacky merchandise. Possibly best known for being the casket of choice for the late and great Dimebag Darrell but equally desired among many metal fans when it's time for them to meet their maker. The caskets can now be found in standard and premium editions and there's even a KISS urn for if burial isn't one of your plans for the future.
3. Black Sabbath – The Vinyl Collection 1970-1978
There have been many attempts to make a definitive collection out the Ozzy-years of the legendary Black Sabbath. But this inparticular vinyl collection really steals the show; it feels less like a simple compilation of albums and more a celebration of an era. Each album come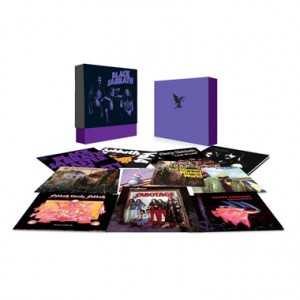 s on vinyl just as it did back in the day along with a book of tour guides and a re-press of the 7" Evil Woman single establishing a true feeling of nostalgia.
2. Slayer – Xmas Jumper
Slayer never struck us as the Yuletide types, but whatever; they make a great jumper! Complete with the Slayer logo, pentagrams and skulls we guarantee this is ten times more hardcore then anything your nan could knit for you. Unfortunately sold out but here's to hoping there's another batch on its way for this year!
1. Slipknot – Joey Jordinson's 'blood drumsticks'
When you've got a CD or something signed by a band, it feels a million times more special. Just a squiggly line in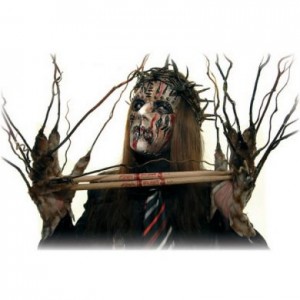 marker pen makes it all the more precious. But apparently this isn't enough for Slipknot's Joey Jordison as he took things to a whole other level, nay dimension, when he signed his brand of signature drumsticks with his own blood. The red ink on his ProMark drumsticks holds the DNA of the man himself. Call it madness or dedication, you certainly won't get anything like this again for years to come.