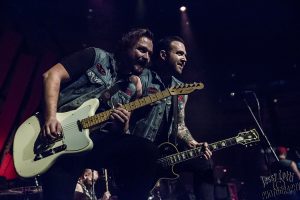 The queue at the Roundhouse started quite early with hundreds of fans ready to get their rock 'n roll dose. This eventful evening starts around 7.30 pm with The Wild, a brilliant Canadian band I have never had the pleasure to listen to or see live before. And what a great energy! From the very first moment they get on stage they fill the venue with pure fire and their passion definitely shines through. Their members are a group of tattooed bad boys with a sound that is punk, southern rock 'n roll and 80's influenced metal all mixed and well put together. They open with 'Roadhouse', the video for this track is a perfect representation of the band – surrounded by hot girls and alcohol with a partying and messing around mood. And boy do they bring that exact same level of madness and talent to their live performance! On vocals/lead guitar, Dylan Villain a powerful front man with a good-natured devilish charm. Bassist/vocalist Boozus accompanies the general loudness and raging sounds. Keeping time is drummer Reese Lightning, who doesn't seem to miss a beat. Rounding out The Wild's lineup is 'The Kid' on rhythm guitar and backing vocals. A young lad that doesn't let his age get in the middle of such a great performance and talent. 'Ready to Roll' is very well received by the audience being a particularly catchy tune and the fans interaction remained consistent right through to the last song which is the fast-paced and equally fast-living 'Party Till You're Dead'.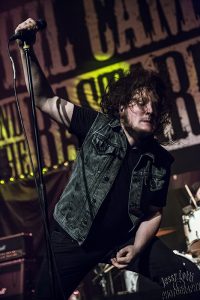 Half an hour later it's Phil Campbell And The Bastard Sons turn to rock the Roundhouse. The former Motörhead guitarist has got together with his three sons and vocalist Neil Starr for their debut EP. Welsh guitar hero Phil Campbell has succeeded in everything he has done and continues doing during his long and triumphant career. From over thirty years as Motörhead's axeman to being voted number 20 in the pole of top 100 Welsh Heroes and covering a Norweigian promoter in squirty cheese, Campbell has never stopped entertaining his fans with great music and stage presence. Produced in the band's own welsh studio and by the band's own guitarist Todd Campbell, this self titled EP has once again gone above and beyond any expectations from the fans. The EP opens with 'Big Mouth' and so does their set. The intro reminds quite a lot of punk rockers Green Day but with clearer vocals from Neil Starr and many more guitar solos. 'Take Aim' is definitely a winner, very catchy with easy to learn lyrics which makes the song a very memorable one. When 'No Turning Back' kicks off it generates a harder and even heavier atmosphere among the audience which is now incessantly hardcore dancing. Although I did enjoy to listen to their own tunes I must admit the highlight of their set for me must have been the two Motorhead covers 'Born To Raise Hell' and 'Ace Of Spades'. That's when the audience went absolutely ballistic and how could we blame them. It's amazing to see how these covers clearly show Phil Campbell's experience mixed with the vitality of fresh young ragers in Todd, Dane, and Tyla. Together with dad Phil, they make up the Campbell crew. There's one more piece of the puzzle that has been added to this dynamic family, the vocalist Neil Starr, an outstanding singer whose voice is especially suited for 80's sleaze rock tones. Absolutely memorable performance and the overall fun was very much contagious.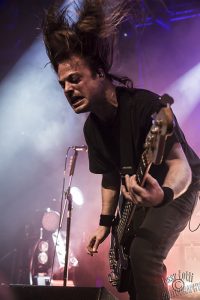 With such a great opening the crowd is already buzzing and can hardly wait for Airbourne to come on stage. Airbourne formed ten years ago in the band's hometown of Warrnambool, Victoria. Their first album 'Runnin' Wild' was one of the most acclaimed and successful releases in recent rock history, winning the band a Metal Hammer Golden Gods Award for Best Debut Album. This is a band that represents the heart and soul of pure rock 'n roll and its essence is particularly shown in every single aspect of their live performance from their persistent energy to their unquestionable musicians' skills. Tonight they stormed the stage with 'Ready To Rock' from their album Black Dog Barking. Right from the start it's very pleasing to see how the crowd is fully involved and connected to the band and to their music. What makes this bunch of crazy Aussies so special is that all of their songs are really good and they constantly exude energy and excitement. They continue their set with 'I'm Going To Hell For This' and carry on with my favourite 'Too Much, Too Young, Too Fast'. Airbourne once again prove their unique ability to put on a show which is always backed up by a glorious and memorable stage presence. 'Down On You' kept the energy level very high, Joel is definitely an amazing front man for the way he constantly succeeds to connect with his fans and the crowd lived up to it and supported the band with passion and never ending roars.
"This is a song for all the girls", that's when Joel introduces 'Girls In Black' and proceeds to get on a security guard's shoulders who takes him in circle around the whole Roundhouse and among his fans. Something you can probably only experience at an Airbourne's gig. In fact while relying heavily on the sound of their fellow Aussies AC/DC, the band is unique in their energy and way of delivering their performance. 'It's All For Rock 'N Roll' recalls once more the same melody and temperament of their predecessors and the audience can't help but loving, singing and head banging on every single note. Main set closer, 'Stand Up For Rock n Roll' is another success which leads to a three song encore. After a short break which created even more anticipation in the crowd, Joel made his entrance standing on top of his Marshall, jumping around and giving away the last bit of his relentless verve. 'Live It Up' was followed by a superb closing thanks to the perfectly executed 'Raise The Flag' and 'Runnin' Wild ' which saw the front man smashing several cans of Red Stripe on his head until they were bursting and throwing more beer in the crowd.
This was a pure and sublime rock show with no need for extra embellishment as it's quite clear that tonight it's all about hard music, sweat, roars and high voltage tunes and guitars. On this action-packed journey, Airbourne fans are not only left drenched in beer but also with the guarantee that with bands like this one rock 'n roll will never die.