In 2011, Alter Bridge played the biggest show of the bands history. The stage was Wembley Arena. The show, which featured them blowing the roof off with high voltage rock (not literally) was documented on a live DVD, appropriately titled, Alter Bridge Live at Wembley. A few years later they returned to Wembley as champions and did it all again. It's November 2016 and they have just finished their best live performance in a venue some call the best music venue in the world. Ladies, Gentlemen, fellow rockers. This is Alter Bridge: Live at 02 Arena.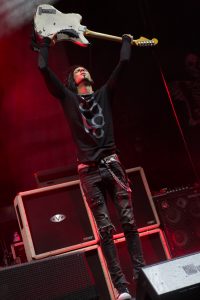 The crowd were completely pumped and ready for this. It was a full on rock show since the doors opened with the first support act coming from, Like A Storm who opening the set with a cover of AC/DC's 'T'n'T'. Despite the arena not even being a quarter full at this time, they treated it as if they were never going to play a live show again; a great opener. 
French metal band, Gojira were up next and while they were well received by a small portion of the ever growing crowd, for me, they felt completely out of place supporting at a rock show. Songs seemed to merge into another; screams rather than lyrics bellowed around the arena and the band felt the need to constantly remind people who they were. There is heavy metal, and there is noise. Unfortunately, this was the latter. The band themselves are a tight unit and the stage production was fantastic, but they would probably be best suited supporting a band more similar to their genre.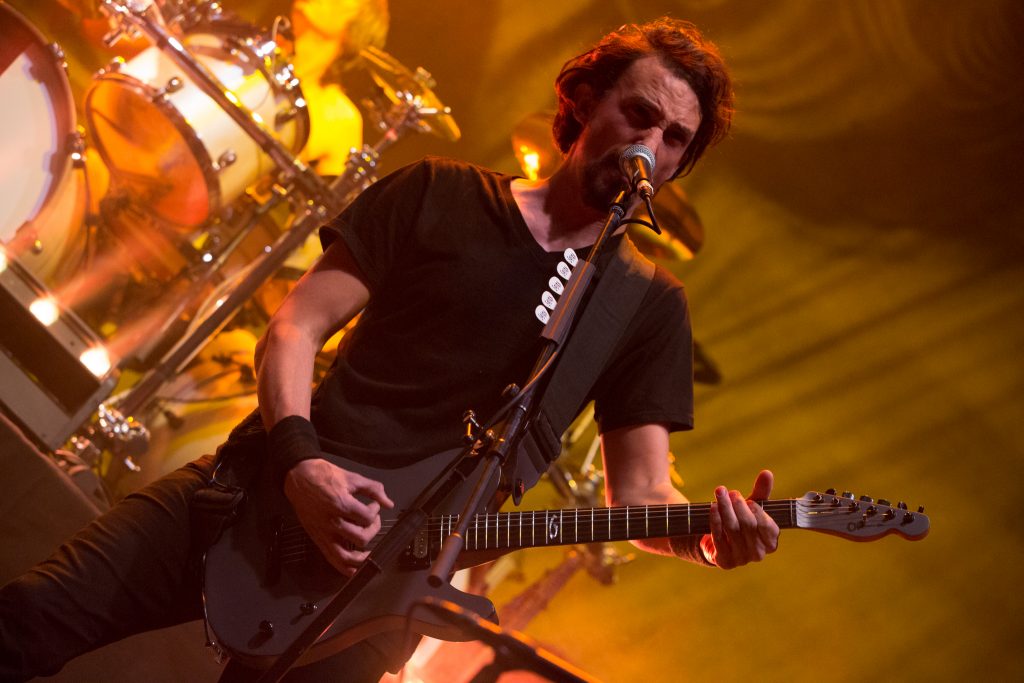 Thankfully, Volbeat got things back on track very quickly. In support of their new album, Seal The Deal and Let's Boogie, they ploughed through their set-list that contained a mixture of all past albums. For the song Evelyn, they brought out a friend of the band, lead singer of Napalm Death, Mark "Barney" Greenway to help with the singing duties. The highlight of the set (aside from great performances of 'Seal the Deal' and the catchy 'Black Rose') was a sing–a–long version of the Johnny Cash classic 'Ring of Fire', before adding a twist of their own. 'Ring of Fire' – Heavy Rock Version! The Danish rockers certainly gained a few more fans after on this performance (me included!). 
It was time. There was no big, amazing opening. The lights dipped and the 4 guys walked out picked up their instruments and started playing 'Writing on the Wall', from the latest album The Last Hero.  Many other bands will use member's good looks or fancy stage shows to slightly distract the audience from the music; Alter Bridge have never been that band. Their strength comes from being simple. People pay to see band play music. That's exactly what people get. You instantly got the thought that this was going to be special. 
After powering through 'Come to Life' and 'Addicted to Pain', the tempo slowed down briefly with the fourth song, 'Ghosts of Days Gone By' and by now, the place was blazing with their heart-pounding music. Adrenaline was running high at this point, and there was so much more to come. 
"They told us one day this night would happen… this is amazing! Thank you so much!" – Myles Kennedy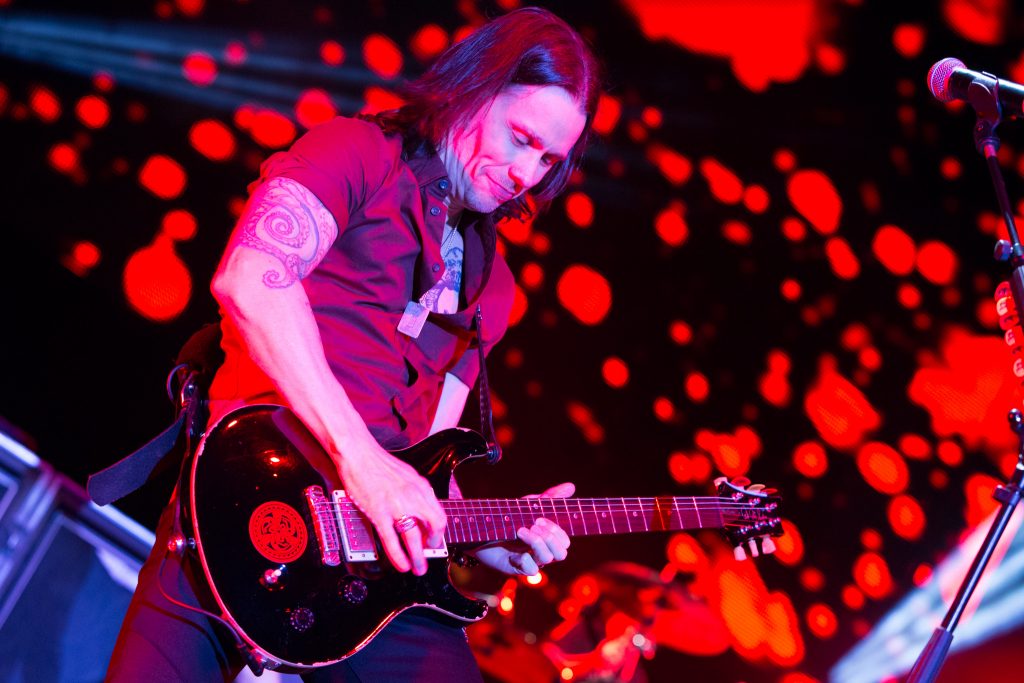 Without so much of a breath, the onslaught continued with Myles finger picking a Spanish sounding opening – This is 'Cry Of The Achilles'. Mark Tremonti's guitar work is second to none, the rhythm section handled by Scott Philips (Drums) and Brian Marshall (Bass) is one all bands should be envious of. During Achilles, we are treated to THAT bass solo from Marshall. It's deep. It's heavy. It's brutal. It's disgusting. Most of all, it's brilliant.  
After blasting through 'The Other Side', 'Farther Than the Sun' and 'Ties That Bind', the band take another small breather, as Kennedy introduces Tremonti as not only a kick arse guitar player but a fantastic singer – huge praise coming from a man who has a voice of an angel. Mark takes control of 'Waters Rising' and it is a welcome change of pace that allows things to not get stale and remain fresh.  
Myles cements his place as the greatest singer in the world as he performs an acoustic version of 'Watch Over You'. The emotion of this song is phenomenal. It is able to unintentionally break you down to your core. While he thrives fronting this band, where he really shines is when he is alone with a guitar on stage. 20,000 people in the palm of his hand and he does so without an ounce of egotism. He is where he is because of the fans and he doesn't abuse that.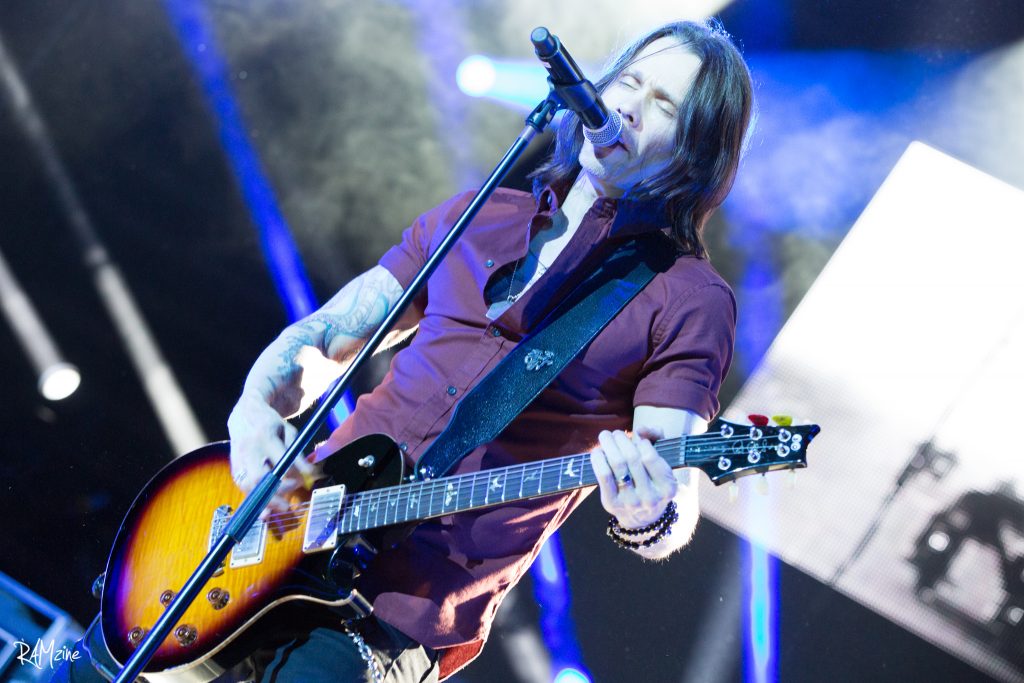 Following a gut-busting show of 'Isolation', we are treated to 'Blackbird'. Probably the "Stairway to Heaven" of the Alter Bridge back catalogue and the peak of the evening; this performance is incredible.  The band gives everything for this song and it shows.  It's a masterpiece. 
"Let the wind carry you home, Blackbird fly away, may you never… be broken… again"
At the 2013 Wembley show, Kennedy admitted that the show they performed the night before, they had left out a favourite, only to get backlash on social media. How dare they leave this song out? They have learnt from their mistake and tore the roof off with 'Metalingus'.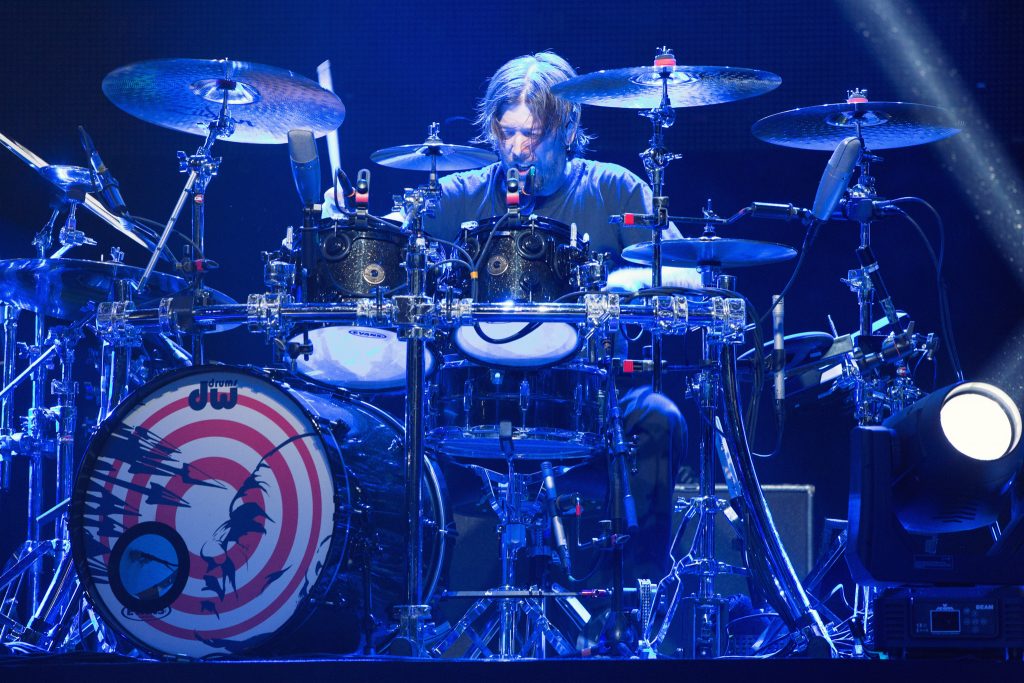 'Open your Eyes' is a fitting finish to this near perfect night. That is, till the encore. Lead single from The Last Hero and new fan favourite, 'Show Me a Leader' rings out and the show concludes with, of course… 'Rise Today'.  
"Are you ready to Rise Today?" – Myles Kennedy 
As I came back to reality and was leaving the arena, I overheard someone say that it being The Last Hero tour, that 4 new songs was not good enough. Actually, for a band with an ever growing back catalogue as good as theirs, I felt it was a perfect mix with something for everyone. 
24th November 2016 at the 02 Arena was a perfect Alter Bridge show. It showcased everything that the band have worked so hard to perfect over the past 10 years. It's a rare thing to see a band that has risen so quickly, stay true to their roots with a continued high level of professionalism. It is apparent they are forever thankful to the people that allowed them to be in this position – cliché but true.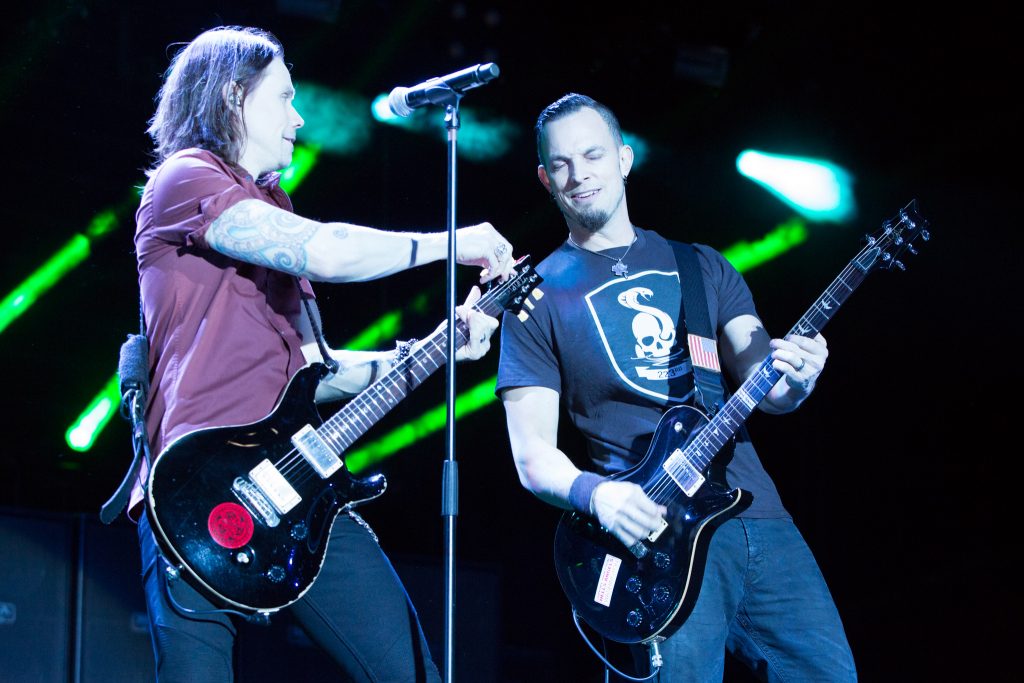 Watching and hearing this quartet play is a great pleasure for anyone that appreciates good music and it will take some time before The 02 Arena will recover from being rocked to the core. The Writing is on the Wall folks, Alter Bridge has hit the big time and they are here to stay. 
Alter Bridge played: The Writing on the Wall, Come to Life, Addicted to Pain, Ghost of Days Gone By, Cry of Achilles, The Other Side, Farther Than the Sun ,Ties That Bind, Waters Rising, Crows on a Wire, Watch Over You, Isolation, Blackbird, Metalingus, Open Your Eyes, Show Me a Leader, Rise Today.