Last year we gave you our first Bloodstock-Open-Air coverage. We loved it so much, we went back!
This year was just as awesome – if not better than 2015. Before you get the in depth review in the next issue of RAMzine (out early September) here is some of the highlights of the UK's biggest metal festival. Keep checking back for podcasts  and interviews featuring the likes of Phil Campbell, Anthrax, DragonForce, Diamond Head, Evil Scarecrow, Paradise Lost, Acid Reign and MANY … MANY …more!
Thursday

Many seasoned festival-goers know that the action doesn't always start on the Friday, and there's always amazing entertainment on the Thursday evening. Bloodstock 2016 is no different. A line up of of some of the brightest rising stars in metal such as Sublime Eyes and Sumer,all the way to Irish thrashers Psykosis who all get the happy campers in the mood for the following weekend of chaos and carnage. Although they prove themselves worthy of the now iconic Sophie Lancaster Stage – this is nothing compared to the first real headliner. The act in question is guitar hero Phil Campbell and his new band The Bastard Sons.
To put this in to perspective: this man played in Motorhead for over 30 years. Wow. Currently in a band with his three sons, Campbell treats us to a collection of his favourite songs including ZZ Top's 'Sharpe Dressed Man' and Black Sabbath's 'Sweet Leaf' which are executed phenomenally by the Welsh legend. Of course we get all the Motorhead classics and even the original track 'Big Mouth'. Twisted Sister vocalist Dee Snider joins Phil and the boyos on stage for a rendition of 'Born To Raise Hell' with a little help from COC's Pepper Keenan. Campbell pays his respects to his dear friend Lemmy along with 'all the friends we have lost in the past 12 months' with a hard-hitting cover of David Bowie's 'Heroes' and finally finishing with another tribute to Mr Kilminster with Hawkwind's 'Silver Machine'. A really fitting tribute to the rock god. In all, Lemmy embodied what Bloodstock was all about: heavy metal and having a good time.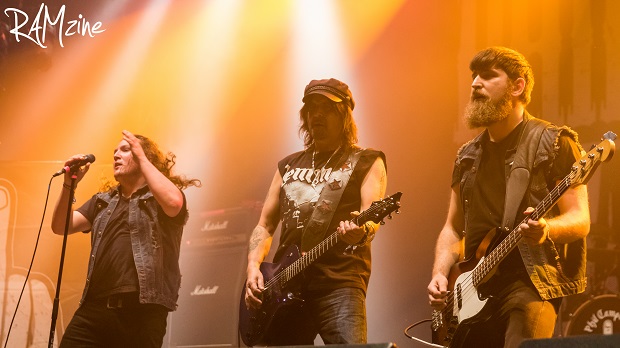 Friday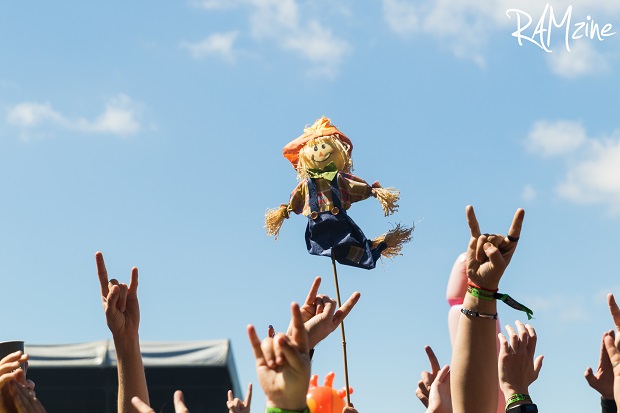 On to the first full day of the festival and the main stage gathers many early-risers (midday is early here, believe me) for Anglo-Swiss power metal mob GloryHammer, whose vocalist – Angus McFife, Crown Prince of Dundee, Heir to the Kingdom of Fife…. real name Thomas Winkler – is dressed in green armour. This is a metal fest but that's just taking the mick! God knows if GloryHammer actually serious or not but they are seriously fun. (4/5)
Speaking of fun, next are self-proclaimed 'Bloodstock house band' Evil Scarecrow take to the stage. On Space-hoppers. Not wasting anytime –  the Nottingham monster-metallers dive right in with 'Robototron' and 'Hurricanado' accompanied by their own unique dance routines. No-one is complaining about the silliness though. in fact, most of the crowd are dancing, dressed as mascots,  or sometimmes carrying an inflatable crab. These guys and girls have more characters on stage than Iron Maiden ever had, and it's brilliant to see on the main stage. Helmet's off to the Scarecrows! (5/5)
Fellow masked-men Anti Clone bring the arena nu-metal experience to the Sophie stage complete with band members getting in to the circle pit as well as front-man Mr Clone commanding the first 'wall of death' of the weekend. Playing early tracks along with tunes from their album 'The Root Of Man' capturing the late 90s/early 00s feel of Slipknot, Mushroomhead and Korn in their prime. The Lincolnshire lads do have a bright future ahead, maybe main stage next year? BRING OUT YA DEAD! (4/5)
From nu-metal revival to one of the bands that laid the foundations for the genre – Stuck Mojo. As you can expect guitarist Rich Ward is on fire as always. As are the rest of the band, and although their new vocalist Robby J is putting his heart and soul in to the performance, there's something missing. If original vocalist Bonz was on stage maybe it would have been a different story.(3/5)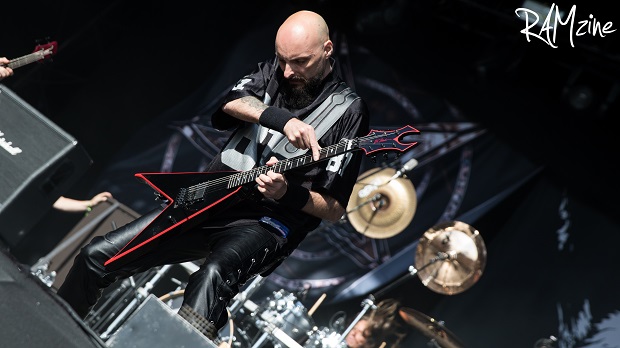 As the sun goes down – the devil's creatures come out to play. including black metal pioneers Venom, fronted by original vocalist Cronos bringing his Geordie demonic howl back to Bloodstock. Performing tracks from their award winning 2015 'From The Very Depths' and classics 'Black Metal' and 'Welcome To Hell'. Showing all the pretenders how it's done with world-ending tracks like 'Hammerhead' and 'Grinding Teeth'. Cronos even comments how he is surprised he hasn't melted in the hot August weather. He is from the North East so he has possibly never seen the sun (4/5)
How do you follow band so in league with Satan? well play modern classic 'The Satanist', good thing Behemoth is here to do that. Bringing a vision of hell to the Ronnie James Dio hell are the Polish blackened death metal legends totally blow the whole festival away with this performance. such showmanship. (4/5) Nothing can surely top that….although…wait…
Let's be honest, the reason this is the biggest Bloodstock on record isn't really for anyone else other than Twisted Sister (well, maybe) who will be performing for the last time in the UK tonight. Such a shame as the glam-metal legends prove why they have sustained a 40 year career. You may know the hits, yet tracks like 'Burn In Hell' and 'Like a Knife In The Back' show why Dee Snider and 'The Iron Men Of Rock N Roll' deserve headline status on the country's biggest metal festival. "Fuck Download!" exclaims the iconic front-man , who constantly thanks the crowd for all the support ranging from getting them in the top 20 with 'I Am (I'm Me)' to seeing them tonight. 'Forty and Fuck It!' as the backdrop says.
"We would  have more pyro but Behemoth used it all" adds Dee. Seguing in to the anthem 'I Wanna Rock' makes tonight the highlight of the weekend. These guys haven't lost it either. All original members, minus late drummer AJ Perro, haven't changed since the days Dee wore blusher, lipstick and pink shoulder pads on Top Of The Pops. Finishing the main section of their set with a crowd-interactive version of the Stones' 'It's Only Rock N Roll' complete with 'death metal' style chants of "I like it". Snider and guitarist Jay Jay French's razor sharp banter is another thing we will miss. Here's to hoping they might play one or two reunion shows before they say goodbye for good. The encore featuring signature tune 'Come Out And Play' appeals to the hardcore TS fans as well as re-acquainting some younger Bloodstockers.  (5/5)
That's not all. Diamond Head still have time to shine on the Sophie stage. Talk about a masterclass, original guitarist Brian Tatler still killing it live. Like Twisted Sister, it's easy to see why Diamond Head have stood the test of time and inspired some of the biggest names in metal. A good end to great day at BOA. (4/5)
The first two days of this monumental festal have been somewhat monumental. Highlights from Saturday and Sunday are coming soon as well as many amazing interviews from the biggest Bloodstock ever. This is only highlights so a lot more happened here.You can check that out in a few weeks on the release of RAMzine #10!  Keep it metal!
Check back tomorrow for highlights of Saturday featuring Mastodon, Gojira, Acid Reign and many more.
Full review in issue #10 of RAMzine coming September!
All photography by Ash Crowson, check out his stuff on his Facebook page