It's funny to think by Saturday morning you are halfway through a festival. The fun keeps coming as the sun keeps on shining over Catton Park for the remaining two days of the most epic Bloodstock ever…
This is part 2 of out Bloodstock-Open-Air 2016 highlights, with the full review featuring in issue 10 of RAMzine (due early September). If you want to read our best bits of Thursday and Friday click here!
Saturday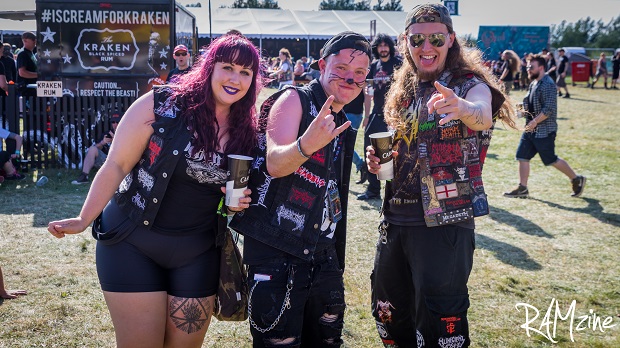 As Bon Jovi once sand 'Whoaaaaa, we're half way there!' which is true but there's no Bon Jovi fans here (well openly at least). With a plethora of heavy-as-hell bands to choose from it's like an all-you-can-eat for metal heads.  So where do we start?
Good place would be groove-metal comeback kings Kill II This who deliver on a great set but seem slightly out of place at such a 'metal' festival. Not a bad thing as the wild cards are always great to see at Bloodstock. Some could say that about tonight's headliner too, but we shall come to that in good time. (3/5)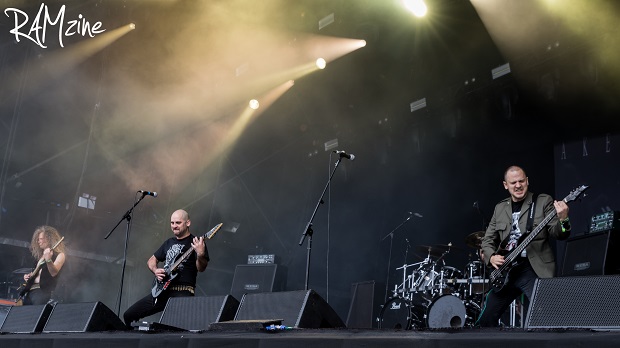 The afternoon goes on and many fans gather for another return – this time for fusion/ tech metallists Ackercocke who are oddly without their trademark suits. Even so it's a fantastic display by original vocalist Jason Mendonca and his original band of brothers. This should be the foundation of what tech-metal should be built on. (4/5)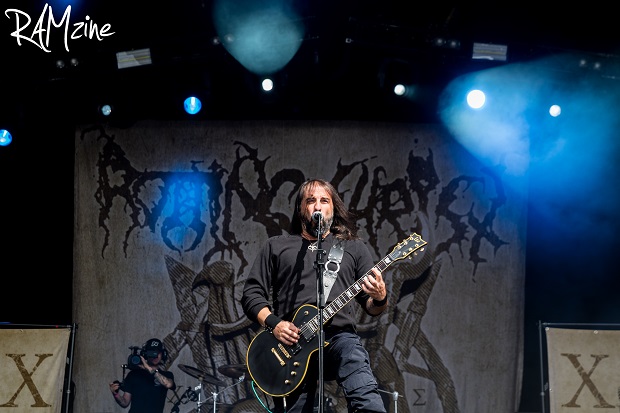 Greek gods of extreme metal Rotting Christ are next on the bill, raising enough hell to eclipse the sun. This is like a slightly scaled down Behemoth but certainly worthy of the main stage. (3/5)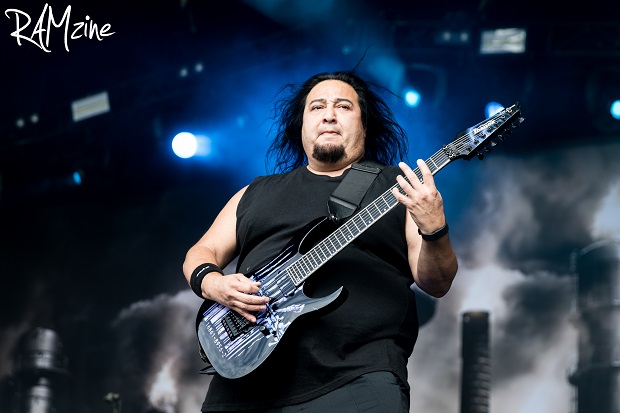 The names keep getting bigger and better, proven by industrial legends Fear Factory who sound phenomenal in the sunshine.  Burton C Bell might not be as awake as we are (mainly) but who cares? It's all part of the well-oiled machine chugging along for the Bloodstock crowd. 'Pisschrist' is possibly the highlight of the day. Not just for the awesome performance but the timing of a punter dressed as Jesus crowd surfing at the reprise of the lyrics 'Where is you saviour now?' pointing and smiling. Either way, a fantastic set with some classics to boot.(4/5)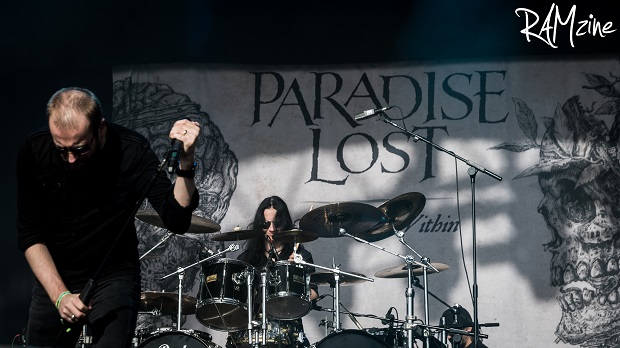 Paradise Lost usher the sun down with their own brand of deep, dark, Gothic Metal. Mixing really early, heavier material, with lighter stuff and new material, its a mixed bag. Looks like Saturday is the day of the 'wildcard'. Slightly drab but a great show from the Yorkshiremen, especially for huge fans. (3/5)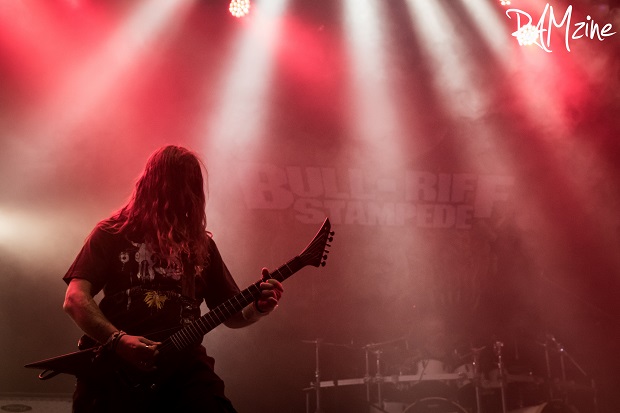 Over on the Sophie stage are the midway point between death and thrash metal – Bull Riff Stampede – and no that's not a name made up by Alan Partridge (I've officially used that joke twice – in two separate reviews now). This band is literally what BOA is all about, something original, exciting, and most excitingly – heavy. It's a shame they weren't on the main stage, then again there's so many huge names on there it would be hard to fit them on there. (4/5)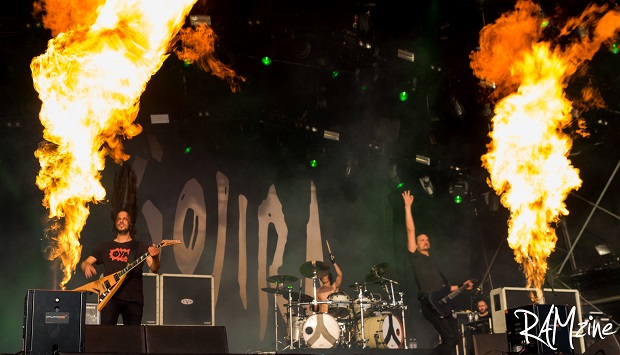 Today's penultimate band are French prog/tech heroes Gojira who draw the biggest crowd of the day. There's a feel a lot of the crowd are here out of curiosity and the rest are already hooked on Joe Duplantier and co's structural stylings. Complexed and well thought – Gojira make the earth move with tracks from 'Magma' such as the anthemic 'Stranded', peppered with earlier tracks like 'Wisdom Comes'. This is almost feels like a headliner. Band of the day for sure. (5/5)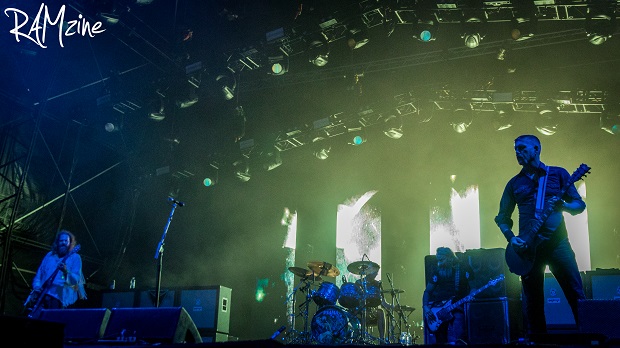 Speaking of which the actual Saturday headliner Mastodon, who is possibly the most stand out name on the bill. Not to say the stoner/prog metallers aren't as part of this  festival as the rest of the line-up but with so many huge names playing this weekend: one wonders why they are headlining. I can't image anyone came just for Mastodon, compared to fellow headliners Twisted Sister and Slayer. The Atlanta four-piece show up, play, and leave. Of course the playing is superb and technically second-to-none but there isn't much soul it. Especially compared to the blow-away headline set from Twisted Sister on Friday.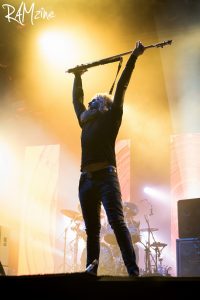 It's a shame as Mastodon come recommended by their dedicated following. Highlights include the crossover hit 'The Motherload' with drummer Bran Dailor taking vocal duties. Mastodon are also playing Reading/ Leeds festivals this summer. On the third stage. Although it's a different crowd it's easy to see why. This band have a particular fan-base but my instincts say Gojira or even Fear Factory could have taken their place and had more of a 'headliner' feel. Great effort lads, but this set has moved me in the wrong sort of way. To the Sophie Stage…(3/5)
Some may say the true headliners of Saturday are on the Sophie Lancaster stage tonight. This would be the returning UK thrashers Acid Reign who haven't so much 'reformed' but have been 'rebooted' with a fresh line-up. Even so Howard 'H' Smith is still the power pack he was in the late 80s, climbing the speakers in a bright pink top-hat and tail. 'H' even jokes "Thanks to our support act tonight, Mastodon" Which feels pretty true "I see a future for those boys" he adds. Another Sophie stage closer that deserve to be on the main stage. Alas, this is the perfect environment for the cult heroes. UK thrash is an unrelated sub genre that really needs a revival. For those who want an idea of this style – think Vyvian from The Young Ones, what would he listen to? Either way this has been a memorable finish to a 'mixed bag' of a Saturday. (4/5)
That's it for Saturday. Check back later this week for out last highlights review of Sunday featuring Slayer, Anthrax, Dragonforce and many more. You can read the full review of Bloodstock 2016 in issue 10 of RAMzine – watch this space!
All photos by Ashley Crowson. Check his stuff out on his official Facebook page