If you have ever been to Bloodstock Open Air, you know its like no other festival in the country… or even the world. The fans are extra passionate, the bands are extra loud, the costumes more elaborate, the beer is extra refreshing, everything is better at Bloodstock.
Last year saw one of the biggest Bloodstocks ever with metal titans Ghost and Megadeth heading the bill and everyone was asking the same question – how could you top that? The festival organisers heard this and answered with 2018's epic bill including Judas Priest, Gojira, Nightwish, Cannibal Corpse, At The Gates and Doro. 2017 saw the Bloodstock net being caster wider by including bands that aren't strictly classed as extreme metal, this sentiment also influenced the booking of bands like Mr Big, Fozzy and to some extent the likes of Wednesday 13 and Combichrist.
Fans really did not know what to expect this year. Several social media campaigns getting the most hardened of metalheads to wear a Hawaiian shirt all weekend as well as bring an inflatable whale.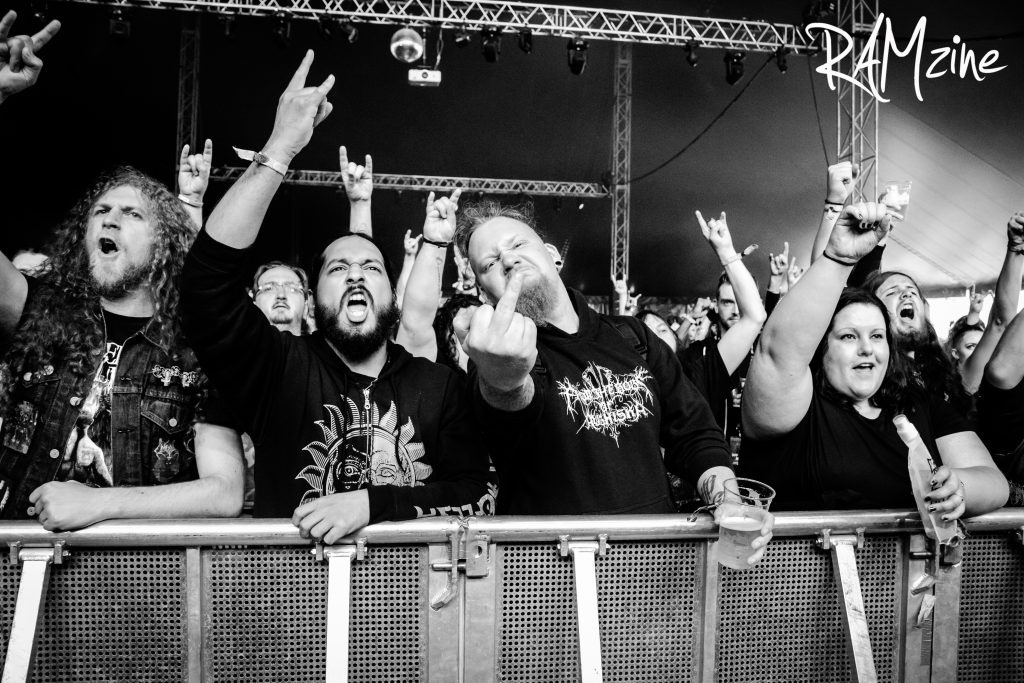 So what went down? This is the highlights of Bloodstock Open Air 2018, day by day, who was great and who was grim and everything else that happened at Catton Park.
Friday
The clouds don't look too friendly and it's not as warm as usual, but that doesn't dampen the spirits of the loyal Bloodstockers who want to enjoy this from beginning to end. Kent hardcore crew Feed The Rhino are on first and are a totally different kind of opener.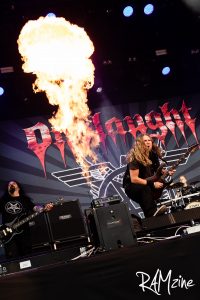 Bristol thrash legends Onslaught follow with a very loud air raid siren, getting everyone out their tents for metal chaos. Unlike say Feed The Rhino, this is a band that really feels like they belong at Bloodstock. Despite the technical hiccups, Onslaught shows us they still have it. And wow! Pyro at midday? Too early for that? This is Bloodstock, nothing is too early. We are even treated to a brand new track 'A Perfect Day To Die'. The rain does get heavier, let's hope the bands do too.
Something a little different next, but still very Bloodstock – Wednesday 13. He has been called 'horror punk' and 'horror-core' before but this isn't a bad thing. Variety at Bloodstock is welcome, as long as it's awesome – Wednesday is just that. I feel this is the show Mr 13 has wanted to do all his life, the stage is huge and so is his show. Starting with 'What The Night Brings' with a The Shining themed set and 'twin' dancers. It doesn't take long for me to wonder why an act like Wednesday 13 is on so early. He is clearly popular enough and has enough great material to go on later. By the time we get to 'Serpent Society', Wednesday has had various costume changes, as have the dancers. Like his biggest inspiration, Alice Cooper, we get the feeling this isn't just a 'solo act' but Wednesday 13 as a band. And like Alice Cooper he is a great showman, putting as much into the visuals as he does the sound.
In fact, he may well be the greatest showman of Bloodstock. Forget Hugh Jackman (apologies for the horrid joke). Other than the great tracks from his latest record 'Condolences', Wednesday recognises his 'older' fans and whips out 'I Walked With A Zombie' from his first album and just as the sun pops up – we go back to his days in Frankenstein Drag Queens From Planet 13 days in the form of 'I Love To Say Fuck'. Sadly Weds' umbrella is useless now. Oh well.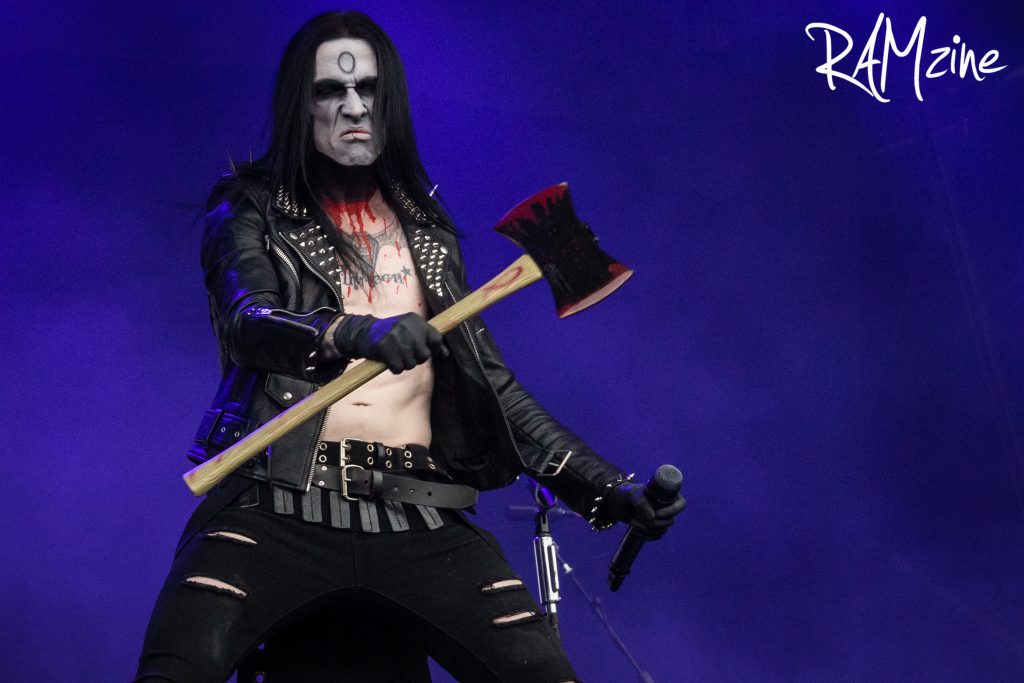 Due to travel issues, Suicidal Tendencies will have to go on later so taking their spot are Japanese power-metal ladies Lovebites. Only their second UK gig and they have been promoted to the main stage at Bloodstock. Wow. These girls really know how to play, imagine a cross between Dragonforce, Iron Maiden, and Nightwish and you're almost there. It's a bit last minute so there isn't much time for many tracks, but I feel Lovebites have reached more fans than they imagined. Forget Babymetal, Lovebites are the women to bring Japanese metal to the West. It's also mentioning Asami's heavy metal scream which a certain Mr Halford is probably proud of.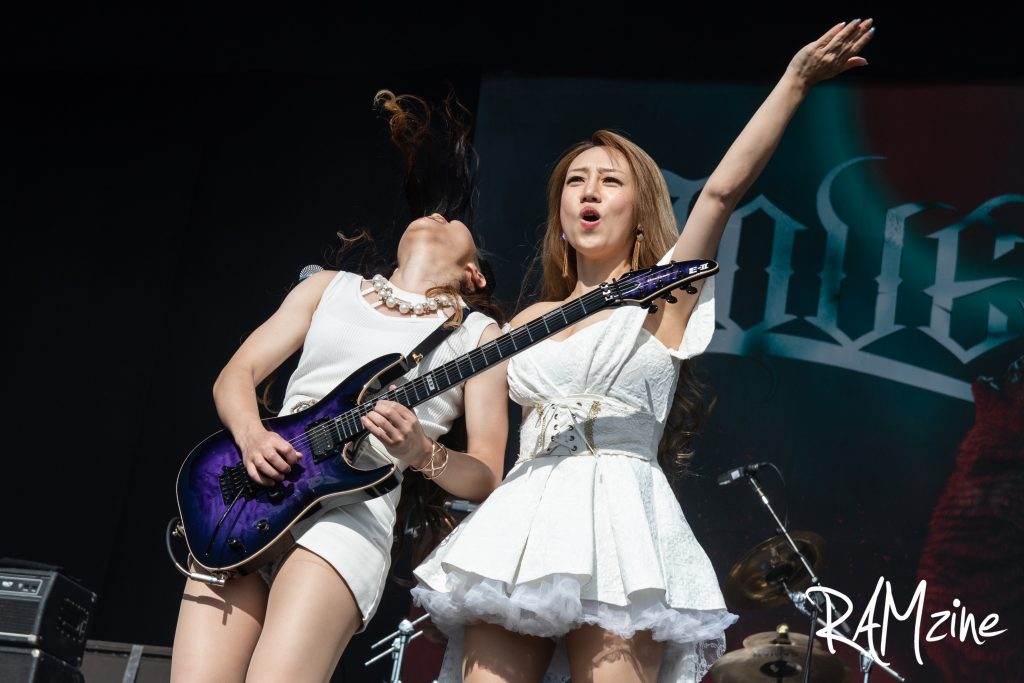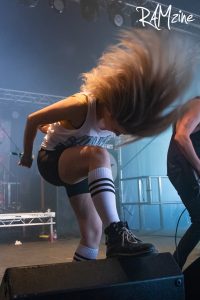 Let's take a walk to one of Bloodstock's biggest attraction – the Hobgoblin New Blood Stage. In my opinion, this is the BEST part of Bloodstock. This is where those who rise to the top of their respected rock/metal scene to play to the hungry fans of this hallowed ground. Today's stand out band has to be the Lincolnshire winners Sertraline. Straddling both modern rock and metal and leading it into the right direction which will appeal to the guys in the Machine Head battle jacket, as well as the kid in the Slipknot hoody. They don't sound a bit like those bands  (well a bit) but you get my drift. Imagine if Halestorm attempted going in the same direction as Bring Me The Horizon with a few sprinkles of Nirvana and even the likes of Linkin Park. This band are just a pleasure to hear and see. Similarly to Lovebites, its great to see so many female musicians being represented at the UK's biggest metal festival.
Back to the Ronnie James Dio (main) stage, Kamelot is about to take centre stage. Kamelot with a K, you know.  This band, unfortunately, have had a lot of criticism due to one of their fans on YouTube becoming meme-worthy. That, however, has nothing to do with the band. It's true Kamelot are great at what they do, textbook power metal.
Yet that is where their fault lies also. Although these guys have been around before some bands were even born, they haven't really done anything different for a while so the DragonForce's and GloryHammer's of the world have taken the lead in that sub-genre by a country mile. Entertaining for sure but also forgettable.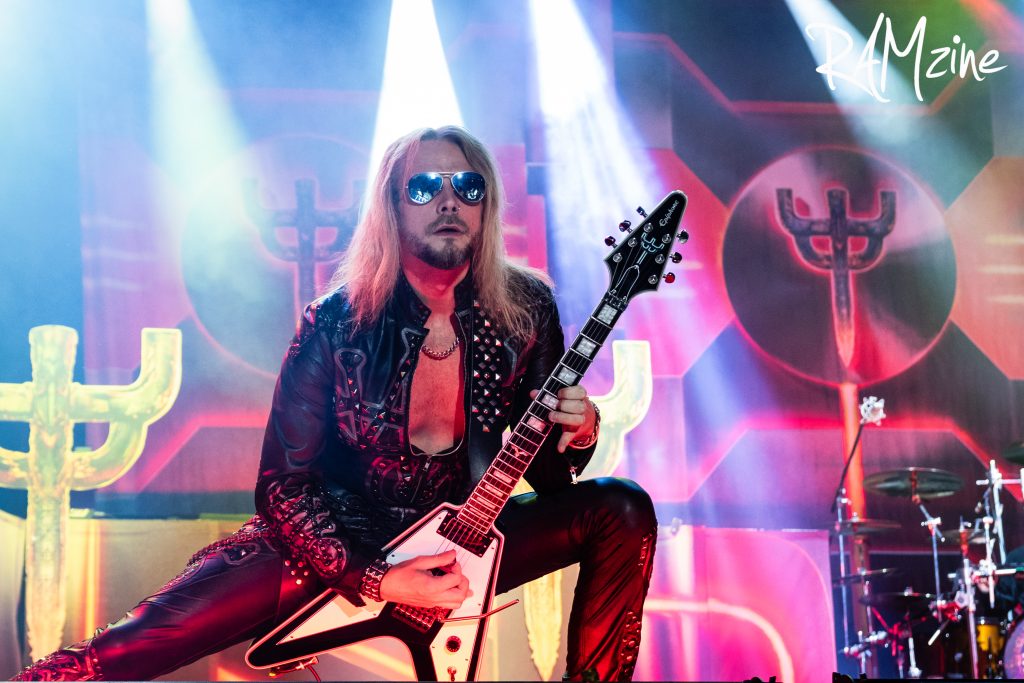 The slightly odd thing about this year is that the 'biggest' band (music fan speak for 'most well known') is headlining the first night. Some may disagree and say Nightwish, Gojira, or even a band like At The Gates represent Bloodstock much more, but for the wider metal audience, the band to see this weekend is Judas Priest. Reminding us of the Midlands' metal history by coming out to Black Sabbath, Priest is acknowledged as being just as important to the genre. The legends start off with tracks from their latest album 'Firepower', leading some to think it's 'one of those gigs' but we soon find out this is pretty much the ultimate Priest set. Going way back to 'Sinner' and 'The Ripper' which was first performed over 40 years ago. It's crazy to think that there could be grandparents with grandchildren who have their own eras of Judas Priest. This is most apparent in a sing-song to 'Turbo Lover'.
Vocalist Rob Halford is still a formidable frontman after all these years. He still has a bit of a dance, still rides his Harley Davidson on stage mid-set and at some point – produces a light sabre out of nowhere. Unlike some rock and metal singers, his vocal is untarnished and can still hit the high notes. There's a reason everyone wants to work with him still. Speaking of the classic line-up Ian Hill has been in the band since day one and is still rockin' the bass. Glen Tipton even makes an appearance in the encore, playing Priest's most recognisable tracks 'Breaking The Law', 'Living After Midnight' as well as 'No Surrender' from their latest album.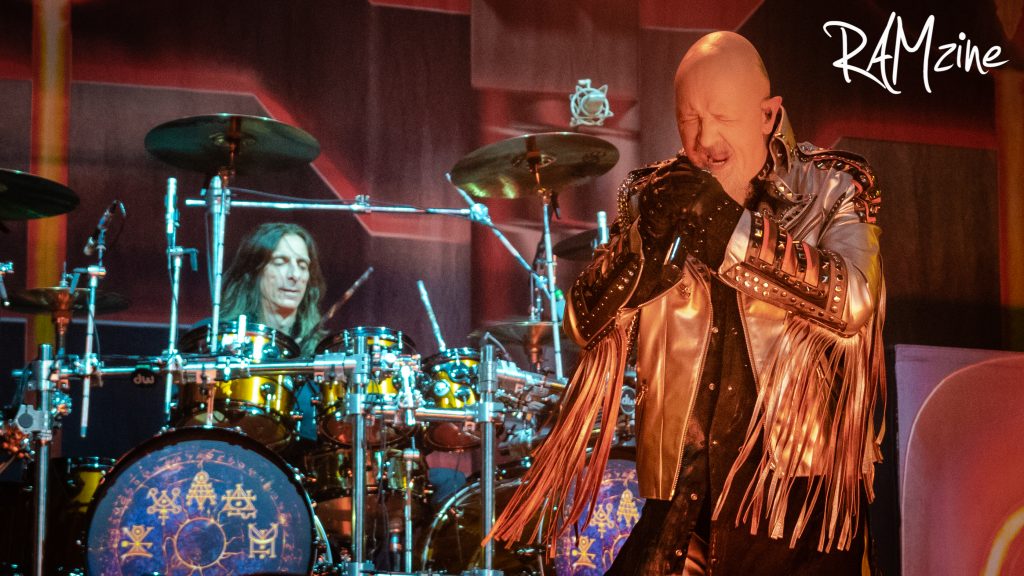 A visual and aural delight for the now rather chilly Bloodstock crowd. While the fireworks burst in the night sky this is kind of the peak of Bloodstock. Midlands metal icons playing (arguably) the best metal festival in, not just in the Midlands, but in the world. In my eyes, this should have been the climax of the whole festival but alas we have that to look forward to still. Judging by this reception and the mixed ages of the fans I doubt Priest will ever die, and neither will metal.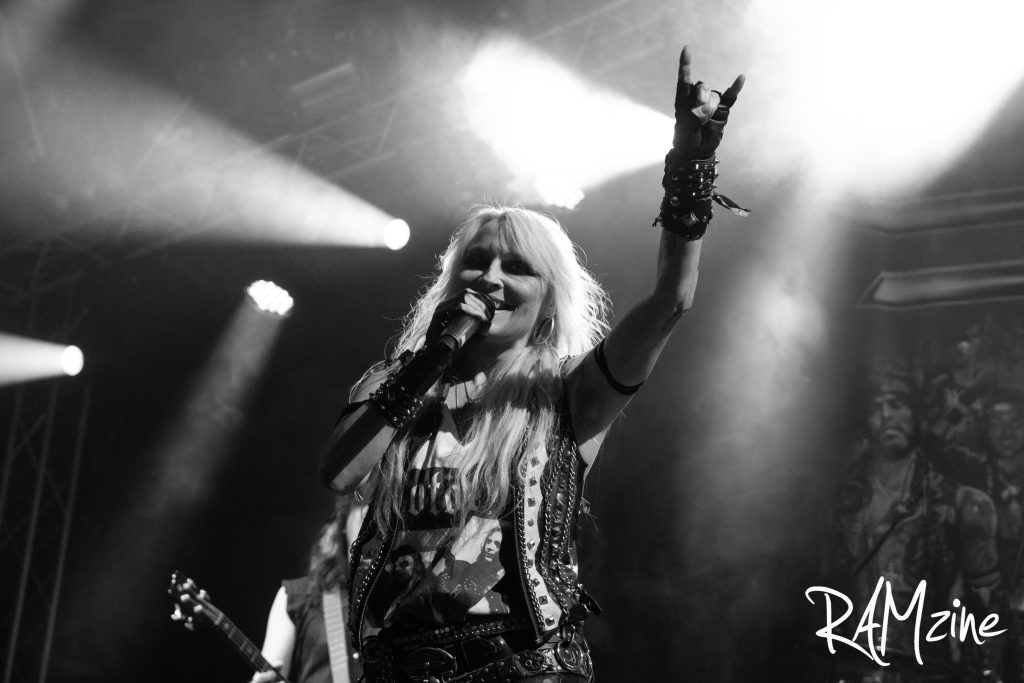 Not forgetting the actual closer of the Friday line-up. We're talking the 'Queen Of Metal' herself, Doro. She might be on the Sophie Lancaster stage, but that doesn't mean she gets a smaller reception. Although it's a fairly short set, she demonstrates her dominance in the metal world, mainly performing Warlock tracks. Leading a lot of people to think there might be a reunion on the horizon. That doesn't matter though, Doro still rocks with her current band. I also find this a bit odd since she has just released a great double album. Highlights come from newer tracks like 'All For Metal' and 'Raise Your Fist In The Air'. Doro Pesch herself seems to love being on stage and performing. Always full of life. Begs the question: Why wasn't she on the main stage?
Saturday
After an extremely enjoyable day with weather that can be described as 'cloudy' at best, Friday was a great way to kick off Bloodstock 2018. Saturday is no brighter but we still have a long, colourful, day ahead of us.
First on the itinerary is our New Blood Stage pick of the day. Newcastle winners Kilonova. Although they are on at the tender time of 11:15, the thrash-inspired Geordies party like its the end of the night. I'm sure they will be back, but 2018 seems to be the best band to have at least one female member in your band. If you haven't heard of them, do check them out.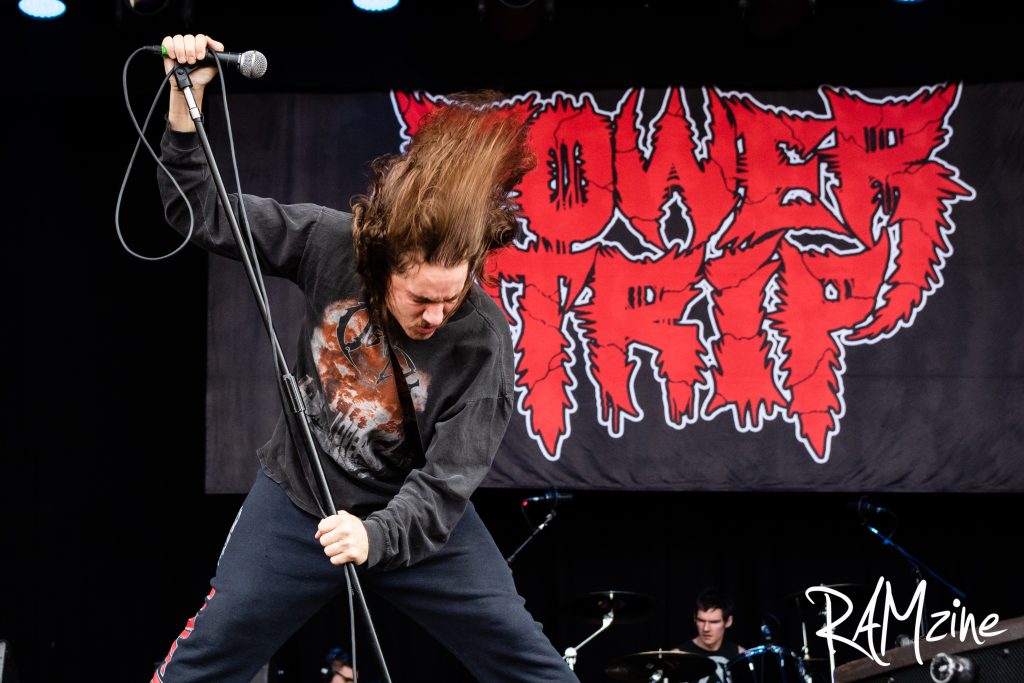 Wander over to the main stage and you are greeted with Power Trip and it's not even lunchtime! It's clear to see this band heavily take from the 80s and early 90s thrash metal, their fashions as well as sound. Because of its inclusion in WWE, Power Trip's most celebrated track is 'Executioners Tax' which immediately gets a great pop from the crowd. Vocalist Riley Gale tells the crowd "We're not saying you should do a wall of death, but you can if you want," subtle, mate. I'm very sure they will climb the bill in the coming years, they are still young.
Speaking of walls of death, or in this case 'Wall Of Chaos' – Dead Label take the Sophie stage after a brief absence from the scene. What's a 'wall of chaos' you ask? same as a wall of death, except it's while Dead Label plays 'Chaos'. The band even attempted to break the world record for the biggest one. Not sure if they did, but still a huge reception for a band who started as M2TM winners a few years back. Great on them, won't be long until they are back, even on the main stage.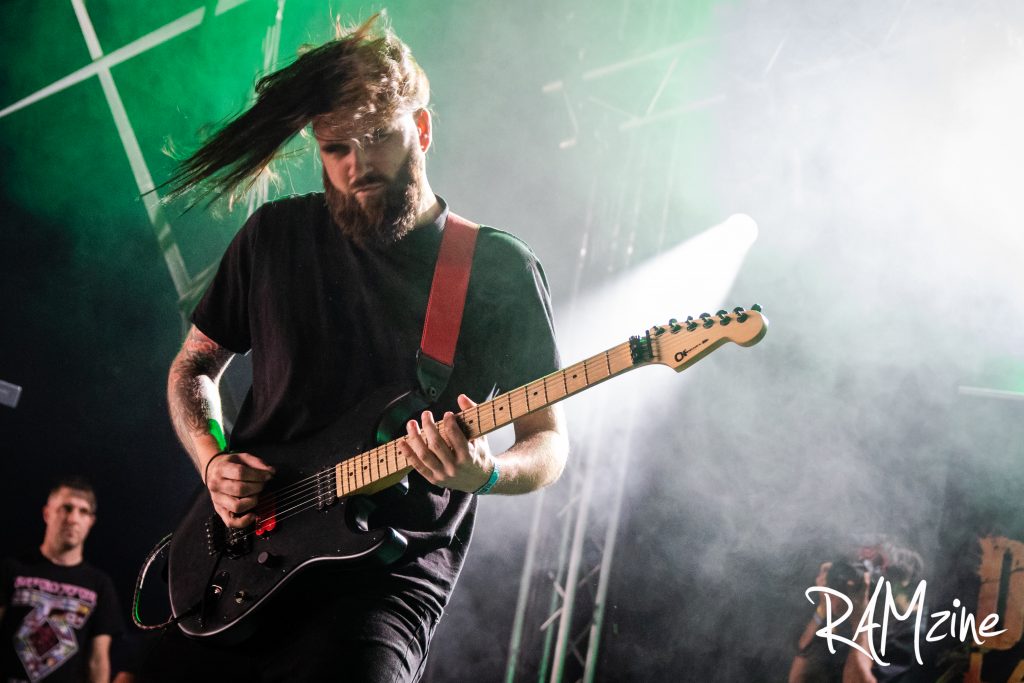 Back to the Dio main stage and we are in the presence of metal legends and the second Geordie band of the day, Venom, Inc. For those who don't know this band is Venom, as in the original members (Mantas and Antton) and their singer from the late 80s Tony 'Demolition Man' Dolan. For most fans, this IS Venom. Performing a couple tracks from their 2017 album 'Ave' mixed with classics like 'Black Metal' and 'Witching Hour' this is a perfect set. With Demolition Man's gravelly vocal and no-holds-barred bass playing, they are channelling the spirit of Lemmy at his most metal. It's an extremely impressive set when considering guitarist Mantas has had heart surgery only 10 weeks ago. For me, and a lot of Venom fans, this is the BEST version of the band. Sorry, Cronos.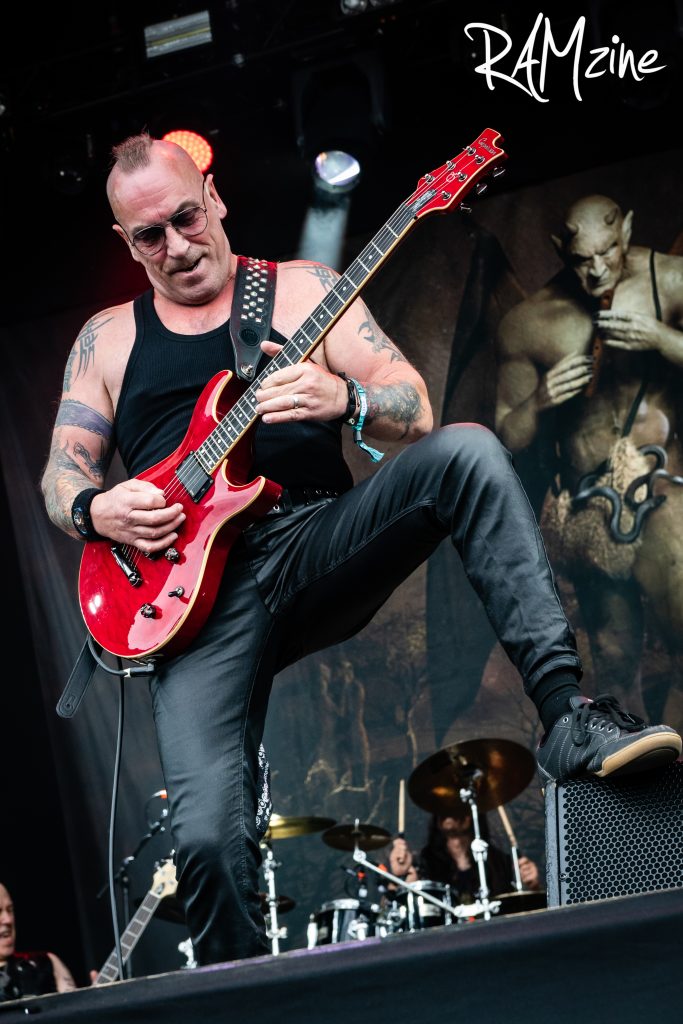 Next on the main stage is a strangely controversial choice. Some purist metal fans feel events like Bloodstock should be strictly extreme metal and nothing in between. Combichrist is a bonafide industrial metal band that started as a techno project. This is their chance to prove these metal purists wrong. Taking from their biggest inspirations Marilyn Manson and Rammstein, they put on one hell of a show; two drummers tossing sticks at each other while the pyro dries the audience a bit.
They also look the part and it makes sense that they supported Wednesday 13 on tour, they know how to turn heads. The biggest reaction comes from 'Maggots at The Party' before Elliot Berlin destroys his keyboard on stage in true rock n roll style. A surprise hit of the day, a lot of fun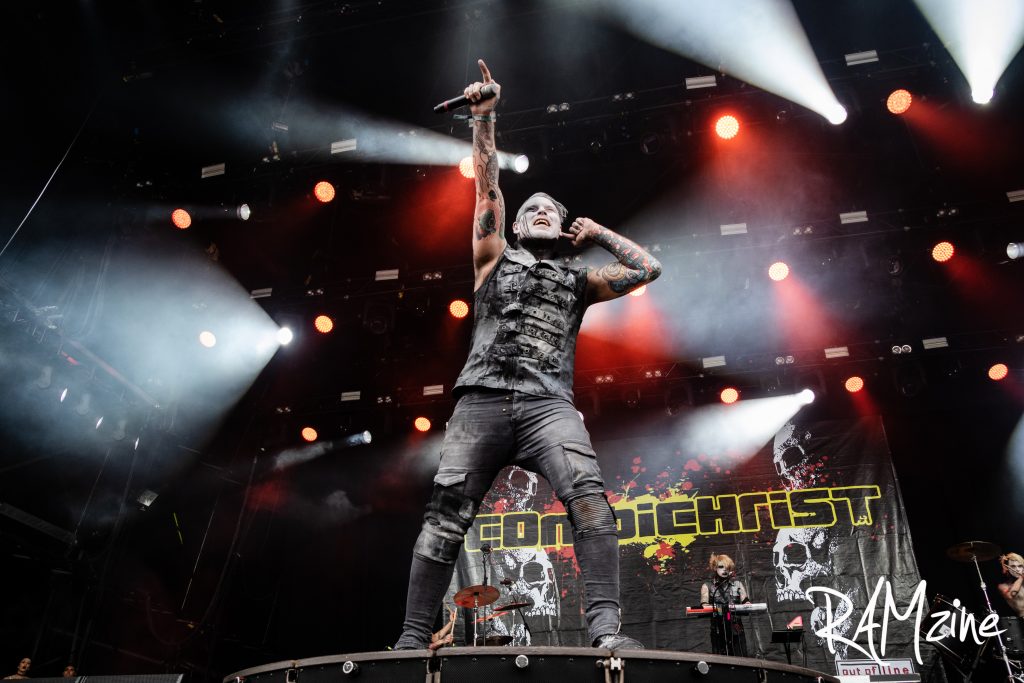 Speaking of fun, anyone at the festival this year will have noticed the abundance of inflatables being carried and not just whales. I don't think a lot of us got the memo on that one. Alestorm is next on the main stage. If you rewind a decade or two ago and a comedy band would have been booed off the stage. Case and point, Bad News at Monsters Of Rock '86.  Yet in 2018, Alestorm are being met with great fanfare. Many people in Alestorm tee shirts, large inflatables are blown up and carried tot he arena just for this set. It's incredible what fans will do at Bloodstock.
The multi-national band have been christened a 'party' band. Okay, I can see that. To be fair it's something different and entertaining, their songs aren't funny each time like, say Steel Panther or Tenacious D, but they have a strong fan base and put a smile on the faces of the now damp crowd. I still don't see how they can get away with their hypeman drinking on stage for about 15 minutes. Finishing with 'Fucked With An Anchor' this is a set we won't forget in a hurry. 'Mr Blobby' playing out after kind of feels like it's making a mockery of the festival.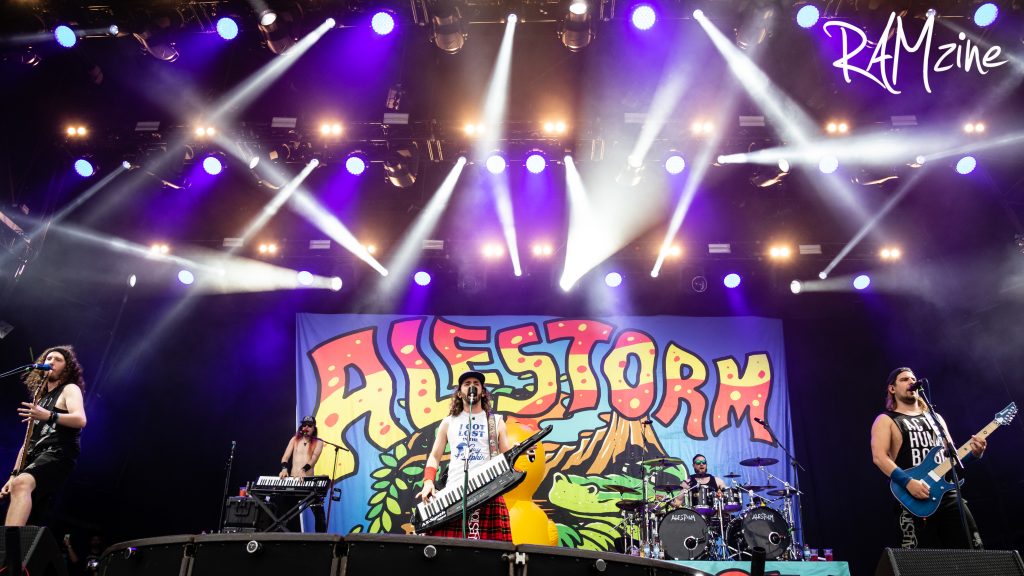 Following this is an equally fun and bizarre affair. Not because of their music, but the social media campaign surrounding their set. What comes to mind when you think of Cannibal Corpse? Brutal death metal? Some extreme lyrics? How about Ace Ventura? Fair enough, Corpse caught a lot of peoples ears and eyes in the 1994 Jim Carrey movie, but almost three decades on I don't know if they thought they would see a pit full of Hawaiian shirts. Yes, an event was created on Facebook this year to encourage all bloodstockers to don a jazzy shirt and dance like Carrey's titular character for the set. This was a huge success. Everyone from the organisers to security and food vendors – everyone is wearing a summery shirt. Thanks for the effort Alestorm, but this is the real 'party band' of the day.
Despite the rain and mud, this is the most fun fans have all weekend, starting crazy pits and crowd surfing like it's the end of the world. Corpsegrinder and co. pull out all the stops with tracks like 'A Skull Full Of Maggots' and 'I Cum Blood'. He even gives us a Ric Flair 'wooo!' showing the band are loving this reception. Finishing with 'Hammer Smashed Face' CC is everything we wanted and more. What a day this has been so far!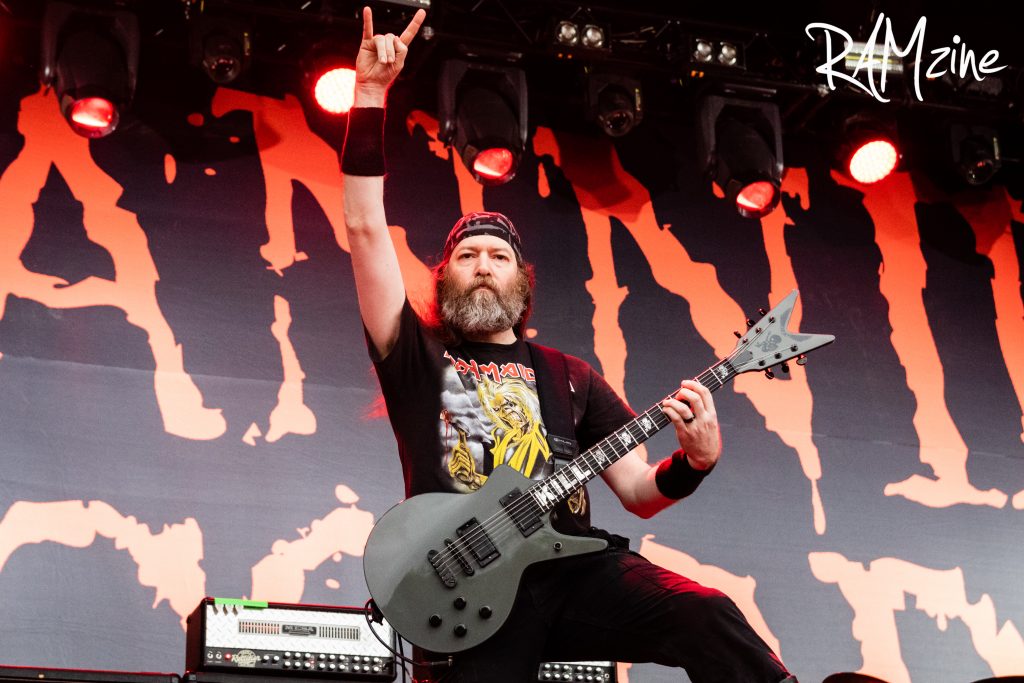 Wouldn't be surprised if everyone needed to retire back to their tents after that. Or maybe it's time for a drink. And at the Jagermeister stage are returning brit-rockers Voodoo Sioux. This band has had an underground following for over 20 years now and it's easy to see why. Vocalist Nikki Flaherty is in full native American inspired garb and guitarist JB is wearing a permanent grin, these guys love entertaining fans. Not exactly a Bloodstock-ish band but a great hour at the Jager stage.
Metal fans usually measure Bloodstock as the start of the end of the year and a dark sky for tonight's headliner is certainly a sign of this. Yet it creates a great backdrop for Gojira who are welcomed back with open arms at Catton Park. There has been a bit of controversy for having a band like Gojira headline. Why? A few reasons, they aren't as well known as Priest or Nightwish, Acts like CC and Doro take a backseat, Gojira can be an acquired taste for metal fans. Let's be honest though, I don't think Bloodstock are bothered about that in the grand scheme of things. Gojira tore the place a new one in 2016 and they look to do the same here.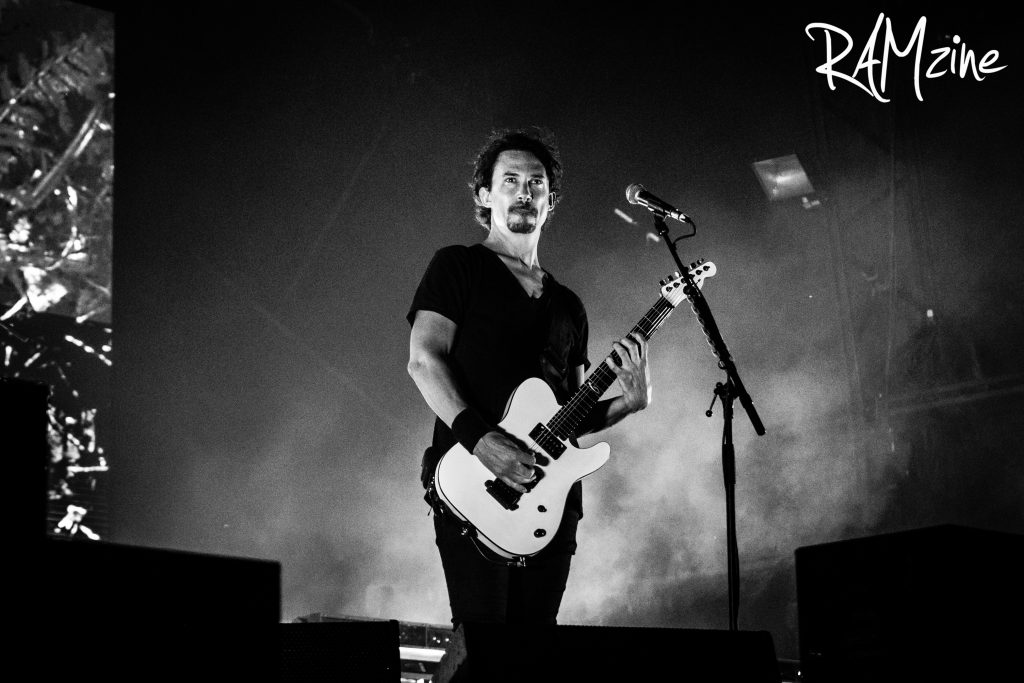 The French tech/groove/alternative metal four-piece don't have any 'hits' as such but their stand out track 'Stranded' is played early on followed by 'Flying Whales'. And the inflatables are already bouncing about. Another thing to note about Gojira is their elaborate stage show incorporating video screens, confetti and pyro. Possibly their biggest gig to date. This will surely silence the doubters.
So Saturday was well and truly the 'party day' of 2018 with highlights coming from Venom, Inc., CC and the headline set from Gojira. Surely Sunday can't top that…
Sunday
Friday was the day of legends, Saturday was the party night and today looks jam-packed with metal. Despite the rain and last night's craziness, the crowds are out in full.
Swedish melodic metallers Amaranthe are having a few technical issues but their bassist Johan entertains the fans. Doing his best 'bad guy wrestler' style jabs at the UK. When all is sorted the rest of the band arrive starting with 'Maximize'. As you can guess the set was cut slightly short. Even so, many fans were very happy with Amarnthe's mix of mainstream pop with contemporary metal. Something a lot of bands try and fail at. Elize's soulful singing mixed with Nils' cleaner 'rock' vocals, going into Henrik's metal screams is a great blend and appeals to pretty much everyone. No sign of their latest single '365' but maybe that's too pop. Something different but still very 'Bloodstock'.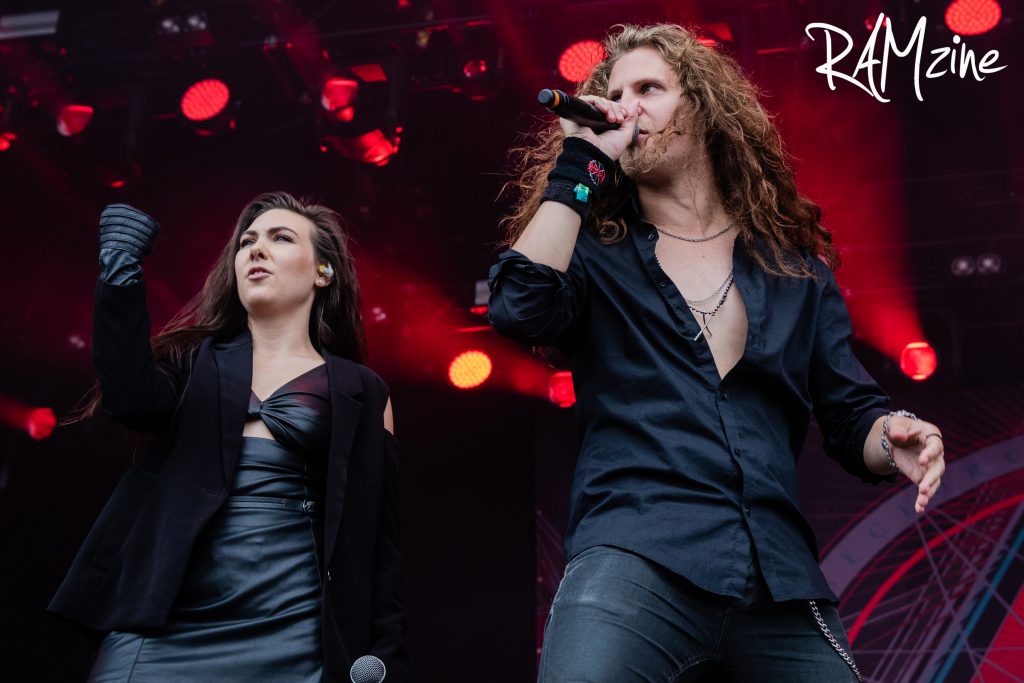 Following are another band that isn't the heaviest in the world but still know how to rock the crowd and can draw an audience. This is Canadian hard rockers Fozzy. Not many bands can say their lead singer has fought The Rock, Stone Cold Steve Austin, and Kenny Omega, yet Chris Jericho gets around (he's a wrestler by the way, not a random maniac picking fights with people). Jericho models himself on a cross between Jon Bon Jovi, David Lee Roth and even a little bit of Rob Halford in there too. It's apparent he borrows a lot of stuff from his in-ring career too by taking it to the crowd, climbing on the scaffolding and even hijacking the video camera. Jericho and co. start with 'Judas', which is almost like blowing your load early as this is probably their biggest 'hit' to date. The rest of the set is awesome, but it doesn't feel it's leading to anything. However, Rich Ward's guitars are spot-on he even starts playing the theremin at one point – in a total metal way! (Google what a theremin is if you don't know what it is). That's the essence of this gig, this might be the lighter side of rock 'n' roll, but done in a METAL way. Great show, wouldn't expect less from Fozzy.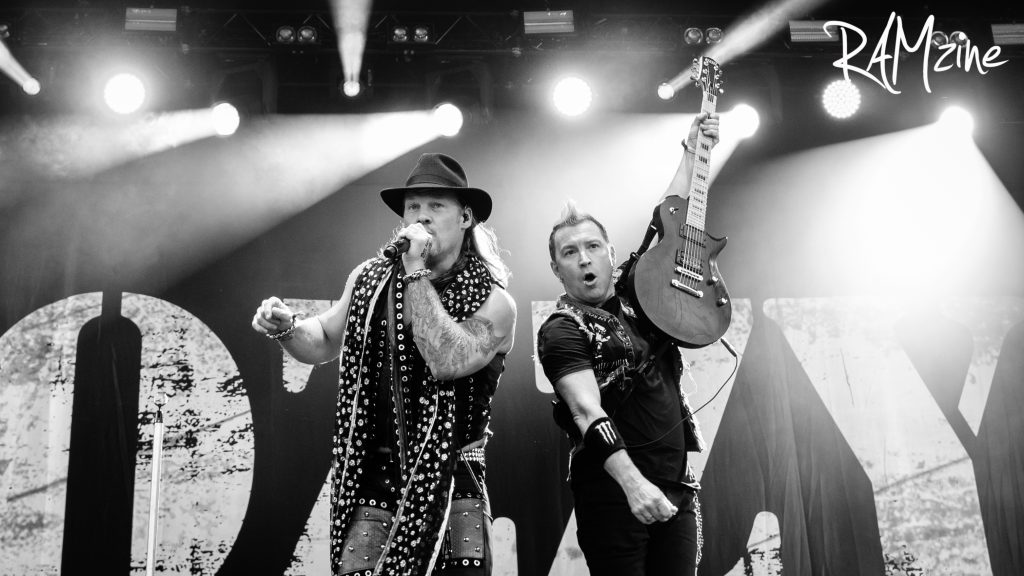 Following is something completely different, Jasta and friends. Which sounds like a cartoon, alas it is the Hatebreed frontman and a few famous acquaintances. When he said friends I wasn't expecting Howard Jones (ex-Killswitch, Light The Torch), Kirk Windstein (Crowbar, Down) and Dino Cazares (Fear Factory). Talk about a supergroup! And wouldn't you know it, they performed tracks by each respective band. The party didn't stop after they went on stage because this 'metal rat pack' were seen on the dodgems later that evening.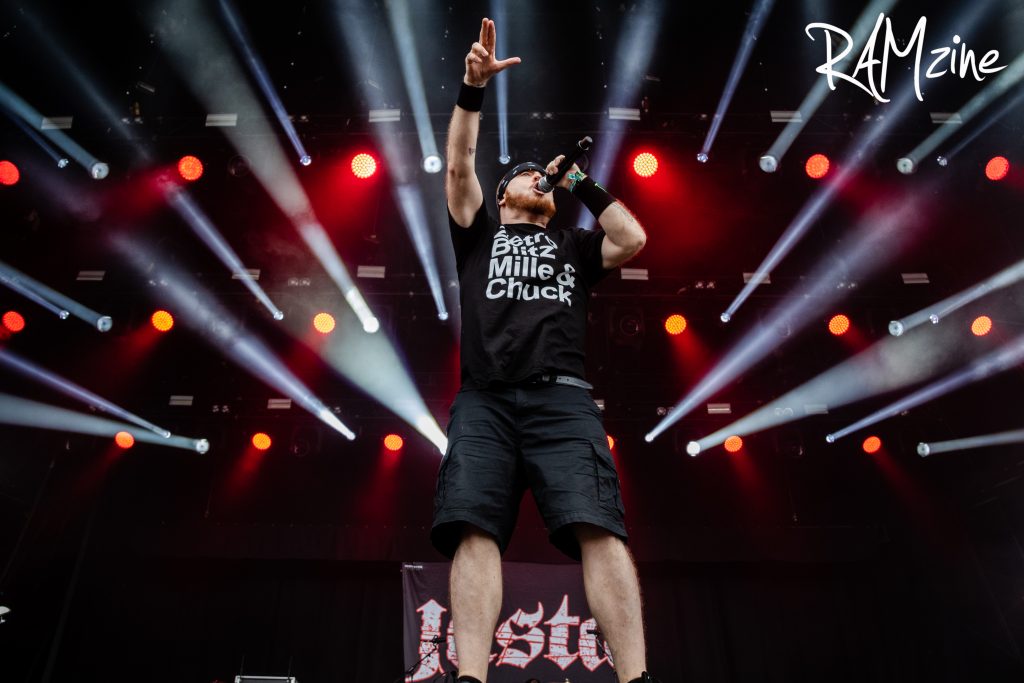 Again, something completely different. When you were predicting the line-up for the UK's biggest extreme metal festival, did you think Mr.Big would be announced? Not the British band Mr.Big, the ones who had an acoustic hit in the early 90s. Yes, them. Those who remember them at the time must have really loved them, the turn out here is a mixed people over 35, curious younger fans and people who are that drunk they can't move. Anything can happen during this set. And boy, Mr.Big come out swingin'. Starting with 'Daddy, Brother, Lover, Little Boy' which is known as 'The Electric Drill Song' for good reason: Paul Gilbert and Billy Sheehan are playing their guitars with modified drills. The spectacle alone is worth seeing this set. Hats off to them, they do a heavier set than expected. What stands out is how they can make acoustic songs sound even more epic. Their cover of 'Wild World', described as 'not the most metal song you will hear all weekend' by front-man Eric Martin, is actually very refreshing. Doesn't matter how 'metal' you are – you can't argue with good musicianship.  The second acoustic song is the famous 'To Be With You' people can't decide if they like this song or not. Overall a surprisingly great set. Today is full of those. 'the surprisingly great day' hmm…
Back to the metal. Or is it? Devildriver's last record was an outlaw country covers album and was also a surprise hit. So will this be awash with covers? Funnily enough, it isn't. Dez Fafara and the Santa Barbra crew are their gritty groove metal selves. Also promoting the reissues of their previous albums, DD remind us how many great tracks are in their back catalogue. What's even better is how the band are loving this too.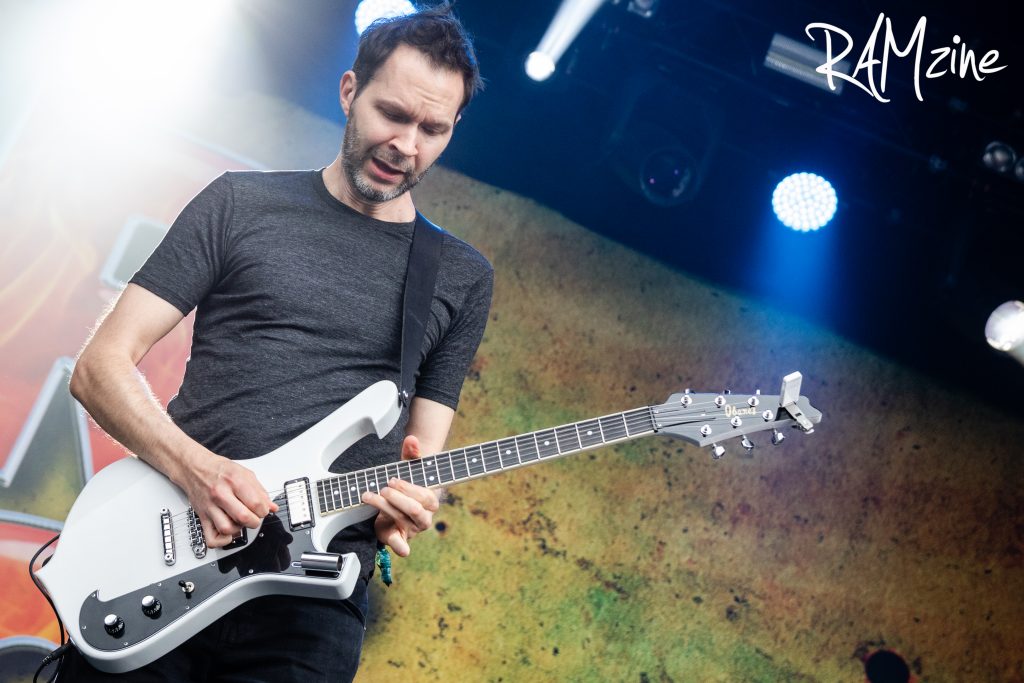 Dez is grinning like a Cheshire cat, while still being the volatile and visceral frontman we have followed since his days in Coal Chamber. Speaking of which, I was expecting a little tip of the cap to this, but no dice. Finishing with 'The Mountain', this is the DevilDriver we needed. Every band mentioned has been great, but this is Bloodstock. We need 'proper' metal. Granted a live version of 'Ghost Riders …' would have been great but that's not the DevilDriver who is releasing their back catalogue on vinyl and planning a new album already. (If you want to read my interview with Dez Fafara click here). A fantastic set from a fantastic band. It's taken them long enough but they could be future headliners in the next few years.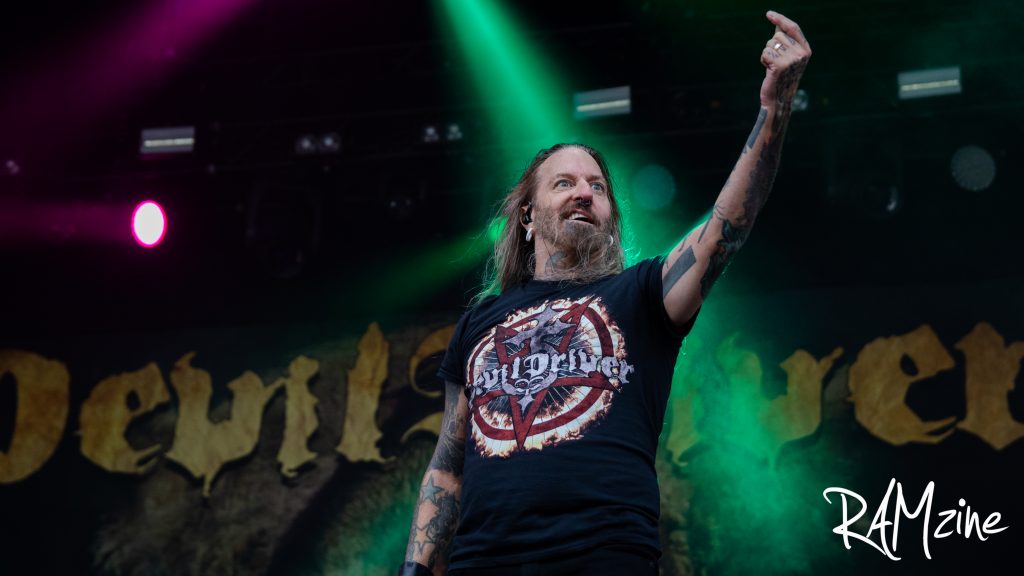 On to the final headliner of the weekend, Nightwish. Like Gojira and last year's headliner Ghost, Nightwish has been met with a lot of nay-sayers who think they shouldn't headline. It's understandable as they are very 'soft' compared to a lot of bands on the line-up and Judas Priest is a bigger deal. Yet the Finnish symphonic metallers are a big draw, not just in the UK,  but the rest of Europe (yeah I said it Brexiters). True to expectations, there is a huge crowd to the closing main stage act. Touring their 'Decades' compilation, we can expect material from the many eras of Nightwish. Luckily their current vocalist Floor Jansen does a fantastic job of leading the Tarja material, like 'Nemo' and even the awkward Anette years. Being a very diverse act Nightwish incorporate many instruments you don't usually see with metal bands including a recorder and accordion, yet we did see Fozzy with a theremin before so nothing we haven't seen before.
Nightwish is doing a grand job but it doesn't feel like the audience is into it. Anyone who hasn't seen or heard them before may mistake them for a Eurovision entry and not much else. Unlike other symphonic and power metal acts, Nightwish doesn't seem to strike a chord with British metalheads. Sadly, they will be known as the 'European version of Evanescence'. Which is terribly under selling Nightwish by light years. And fans of the band are secretly wishing this was the Tarja Turunen era. Thank goodness that Waitan is on the Sophie stage later for some epic theatrical black metal (read about that in the full review). It wasn't a bad set but didn't blow us away like Priest and Gojira did.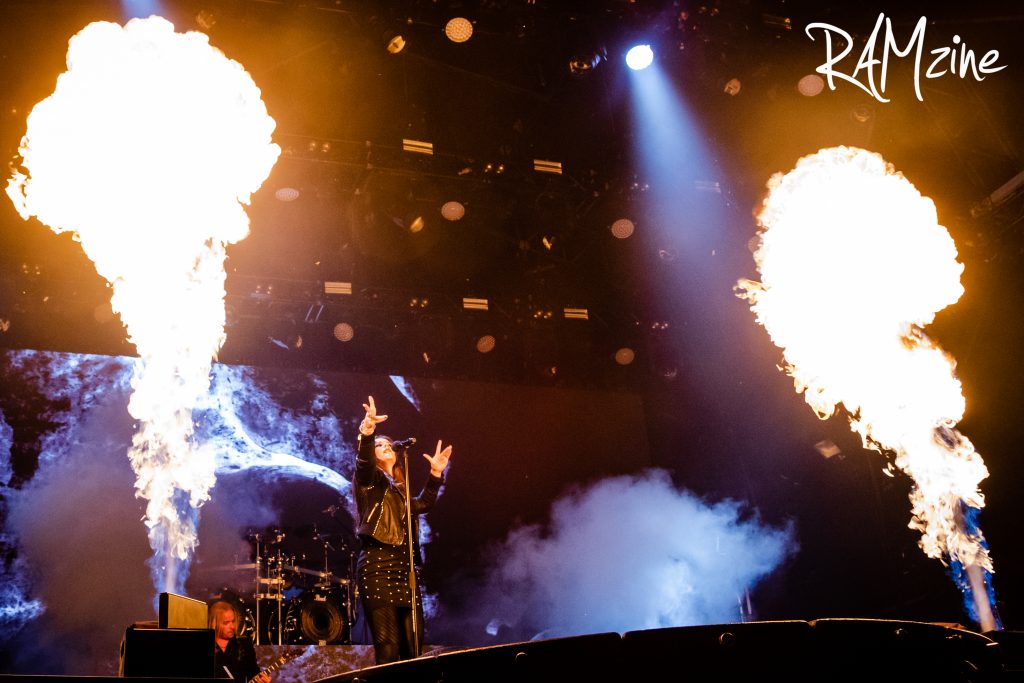 In all this was a brilliant Bloodstock. Despite the wet weather and slightly lo-fi closer, we got everything we wanted this weekend: a variety of styles in the metal family, a colourful pit and a few surprises. If you want to read the full review of the festival – check out RAmzine issue #20 released in September. This will also feature an in-depth interview with Wednesday 13.  In the meantime, thank you for making it this far!
Plus we will have interviews with Doro,  Fozzy, Combichrist, Venom,Inc.,  Amaranthe, At The Gates, Pallbearer, Voyager, Dead Label and many more on RAMzine.co.uk.
Enjoy 2018? You can get your early bird Bloodstock 2019 ticket now via this link at a special price of £125 (if you purchase before December 15th).
All Photos by Ash Crowson.