Buckcherry have recently embarked on a European tour which sees them hitting some prestigious rock 'n roll venues supported by Hoobastank. With a new album titled Warpaint ready to be released on March 8th, fans are expecting these rockers to be super pumped about tonight's show in the UK capital. It's Friday night and Shepherd's Bush is filled with rock aficionados ready to receive their dose of music adrenaline. It's not an obvious choice to combine bands like Hoobastank and Buckcherry on a tour bill but somehow it works and it's good fun.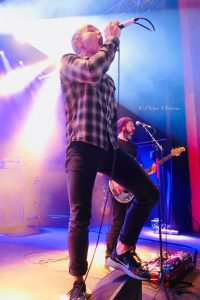 Formed in 1994, Hoobastank keep bringing their music around the world and, after a six-year wait, last May they came out with a brand new album called Push Pull. The record received mixed reviews, nevertheless this is a band who is always been used to get a fair number of critics and 'haters'. Through their career Hoobastank kinda changed music direction, going from nu metal to polished rock 'n rollers. A band should never get crucified for wanting to be more mainstream, as long as the result is good. In Push Pull it's clear how producer Matt Wallace was capable to fuse elements of an edgy Faith No More sound with a more refined Maroon 5 vibe. I was very much looking forward to hearing some of the new tracks tonight, as in all honesty I only remembered Hoobastank for their major hits 'The Reason', 'Crawling In The Dark' and 'Running Away'. From the very start the band sounds tight and precise and they seem to be truly enjoying themselves on stage. 'Out Of Control' is a great song to break the ice and the fiery mosh pit in the standing area shows appreciation too. "We are Hoobastank from California" says Douglas Robb before proceeding with the tracks 'Pieces' and 'Remember Me'. The overall execution is technically nearly impeccable and Robb is giving all he can with the band following his standards. He also does everything in his power to involve the public as much as possible at all times. "We don't come to the UK as often as we would like and I'm happy to be here" says Robb very charmingly before playing 'Never There'. When it comes to the classics it's great to see the audience reacting so positively, in fact the quartet is definitely feeling the encouragement from their fans. Ultimately that's exactly what keeps any band going and with 'The Reason' turning 16 soon, tonight's trip down memory lane certainly feels heart-warming. Finishing off with 'No Destination' and 'Crawling In The Dark' their frontman leaves Shepherd's Bush wishing this mad crowd to "have some fucking fun tonight!". Whether you like their music or not, Hoobastank don't fail in keeping an aura of honesty and positivity around them and this is showing during their performance. These guys are not there to impress anyone, they simply follow their passion and they do that in a very genuine and passionate way.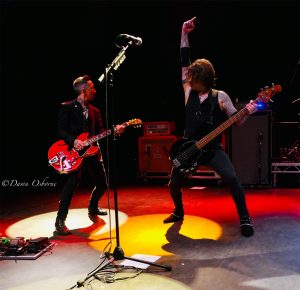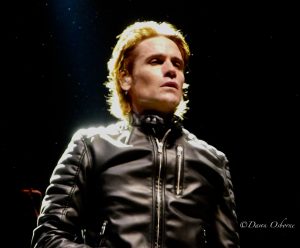 It's finally Buckcherry's time to bring this night to the next level. They open with a very energetic version of 'Head Like A Hole' which represents a great tribute to Nine Inch Nails and despite all the critics that this has received from both fans and press, I believe that the cover finds a whole new meaning when performed live. These guys are not trying to copy the original band at all, they know how to avoid making an easy mistake. Instead they manage to show their uniqueness and their effort is very convincing. I've often found myself changing opinion whenever I'm watching a live gig, there are some tracks who will always work better when heard within a different setting. As soon as these crazy rockers get on stage we sure know that 'It's A Party' which, coincidentally, is the title of the next song and the band's execution certainly gives life to its lyrics. The crowd goes absolutely insane when it's time for 'Lit Up' and they get even more fired up with 'Say Fuck It', another excellent cover of Icona Pop, which sounds undeniably better than the original if you are more of a rock fan. It's been years that this band proposes sex, drug and rock 'n roll anthems and thanks to their distinctive style and attitude it never gets boring. The new line-up seem to do the job, they all have a great scenic presence and of course their frontman Todd always knows how to work the room. He's certainly easy on the eyes and he is a pro at taking advantage of what mother nature gave him. Not to mention his audience never gets tired of his signature moves, he's a stage animal and doesn't remain still for more than two minutes. He's constantly bouncing up and down, spinning and showing off his appealing 'I don't give a damn' aplomb. Many of the fans that followed this band from their debut will most probably still feel a bit sad for the departure of Keith Nelson in particular who was not only an excellent guitarist but also an outstanding songwriter. He was behind a fair number of the band's major hits but anyhow life goes on and this line-up seems to work well together, in fact Shepherd's Bush crowd is loving every second of their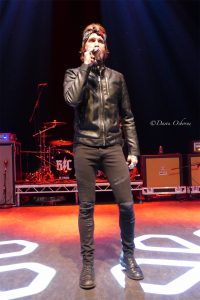 performance. The ballad 'Sorry' gives a bit of a rest to this hyperexcited audience and the way Todd delivers this tune is absolutely impeccable and truly heart-felt. Next on is 'Bent', one of the new singles from their upcoming album which is undoubtedly well received by the fans. It's obvious that this band is not always polished and Todd doesn't hit every note perfectly but we have to remember that this is a rock show and perfection is overrated and sometimes even unnecessary. About this, Todd points out that they weren't playing with backing tracks and that it was all pure rock 'n roll. Special recognition goes to guitarist Stevie D who is a terrific player and knows how to keep fans entertained thanks to his friendly and engaging way of interacting with the public. The set list so far has been quite satisfactory but as the gig is coming to an end, fans know they will be soon in for a treat. Here comes the brand new 'Bent' and the unmissable 'Gluttony' which sets the bar high for the upcoming grand finale. At this point the audience appears extremely fired up, everyone is singing along and the band is definitely receiving that extra boost from their reaction. They conclude the set with their major hit 'Crazy Bitch' and they manage to leave London with their heads up high after such an energetic show. Despite all the changes and the ups and downs Buckcherry are still going strong and without a doubt they have set Shepherd's Bush on fire tonight.