Chris Jericho really is a man with his fingers in a lot of pies lately: He is touring the world with his band Fozzy, who have a major hit album on their hands in 'Judas'. He is still one of the most talked about names in the world of wrestling and recently captured the IWGP Intercontinental Championship in Japan. He also produces a twice-weekly podcast where he interviews various names from the entertainment world, and if that wasn't enough he has a sell-out cruise organised for late October.  This is the first of it's kind combining the biggest names in wrestling with some awesome bands from around the world as well as comedians and podcasters. At Bloodstock Festival caught up with the Fozzy frontman before he sets sail on his Rock N Wrestling Rager at Sea, to ask him about the cruise, playing huge festivals, his many careers and how to make it in the business.
Firstly, how do you feel your Bloodstock set went?
Amazing! We played here about 4 years ago, this time the show was bigger and the crowd was different in vibe. I think back then Bloodstock was more of a 'thrash metal' festival, and I feel they've done a great job of building it to just an [all round rock] festival.  It was a great way to end our tour. Great show, great crowd, lots of fun. Rock N Roll with a smile!
Do you think because it has the reputation of being a metal festival you had to change your set somewhat?
No! I don't think [Bloodstock] is a thrash metal festival anymore. I mean it doesn't matter what kind of festival it is, it could be a ska festival: I just feel the vibe was different in a better way. It shows the maturity and growth of the festival. And now it's a very viable alternative to Download. So if you don't play Download…we played there last year so we won't do two years in a row… you play here. It was a lot of fun.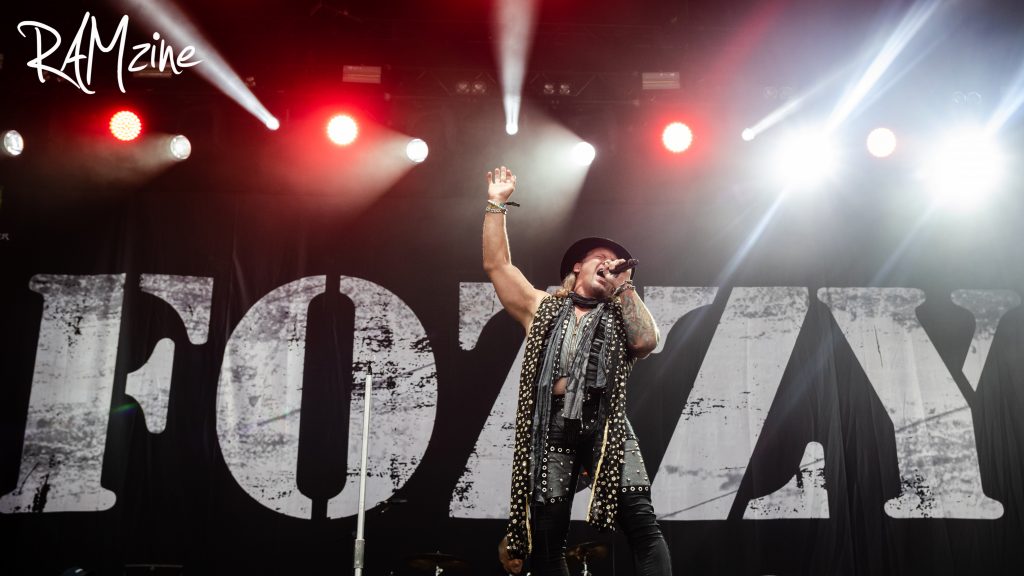 Because there's not usually much longer than two years between each Fozzy album, do you feel you are juggling your music with your wrestling career?
I don't juggle anything; Fozzy's been the priority since around 2010. When the album cycle is over I'll go back to wrestling, if it feels right, and if there's something interesting for me to do. The reason my last run in WWE was so long was that we [as a band] would take all of 2016 off. Not do anything: not do sideshows or anything. We thought it would be good to stay out of the light. It's a very 'Iron Maiden' thing to do. That worked out really well, so when we worked on 'Judas' in 2017, we thought that would be a perfect time to go back on the road.
We've had so much momentum from this, Judas was such a success for us, and it still is – it's still growing. The third single has just been released and hit the top 40 in the States. There's still a vibe and a lot of life left in this album. We don't want to wait two years in between albums because there's a lot of buzz about us right now. The plan is to work on a new record, without the two-year wait. It's a long time…but it still has to be good. Can't just put something out to get it out. So we finish this tour at the end of November, so that's when it begins.
You mentioned it was an 'Iron Maiden' thing to do, is that who you look up to as a band?
Not really in terms of style, but the way they run their organisation. We've toured with them before, and really like how they do things. We've toured with Metallica, I like how they run the whole machine. Also with KISS, they do it. Those bands are 30-40 year main event level, headlining bands for a reason. And that's where I take my tips from. In terms of theory and attitude, it's the reason they are as big as they are. Why do things the way a pub band does them when I can do it the way a stadium band does them? They are there for a reason.
Do you ever learn anything from the music business that affects your wrestling career and vice versa?
It's all show-business. As a kid I was a huge music fan, I loved the great frontmen like Paul Stanly, Bruce Dickinson, Freddie Mercury,  David Lee Roth…those guys. So when I started wrestling, I always wanted to be in a band, so I thought I would be the ultimate rock n roll frontman in the ring.  Then we started Fozzy and we took those same techniques that I had stolen from the music world and put them back into music. It's all connected. There's not a lot of bands that have the same relationship from the crowd from the first song until the end. We don't like downtime. If you can do that and you connect with the crowd, you will always have a gig. Same goes for wrestling. It's not all bodyslams and drop-kicks, it's about connecting with people, and having people believe in what you are doing. Exact same with rock n roll. It's anything: comedians, Shakespearean actors, or whatever. You have to connect get people involved, get them into it, get them committed. And that's the sign of a great rock n roll band or frontman, it's my job and that's what I do.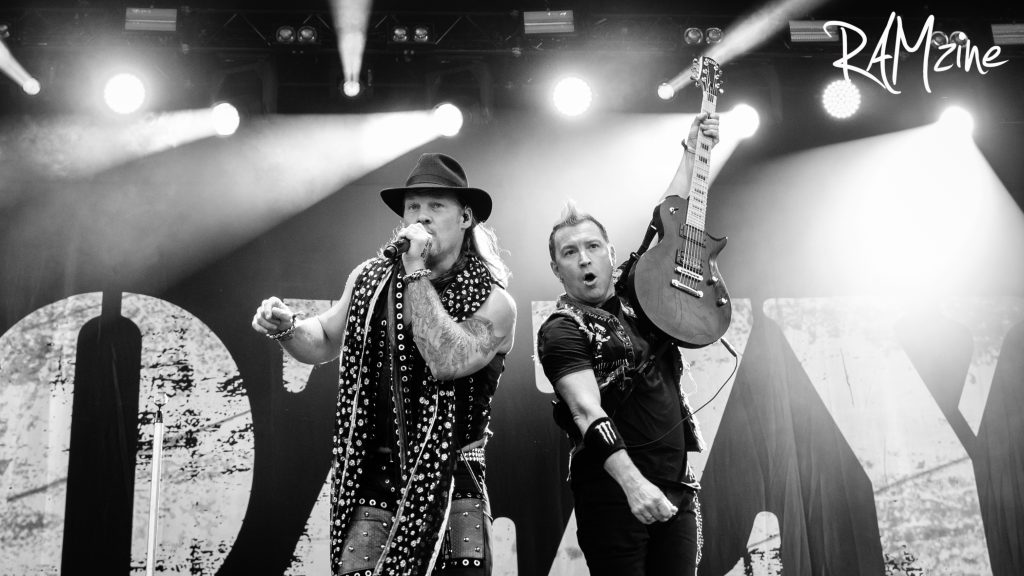 You mentioned during your performance that the UK is the place that embraced Fozzy the most, why do you think this is?
I don't know. Maybe because the UK isn't centred around radio play. I have no idea, I had the same name value as I did in the States as the UK if you are just going on me. But, for whatever reason. I remember the first show we did in the UK was Nottingham Rock City – and the place was packed. I can't remember if it was upstairs, downstairs, 300 people or 700 people, whatever – the room was jam-packed. I've never seen that many people at a Fozzy show before. It's been that way ever since they all haven't been jam-packed but It's been all upward momentum as we continue to build and grow. It's been a slow, steady climb but that's fine because that's how you build your fan-base. The last two festivals we played in the UK were the main stage, and that's where I expect us to stay. We've sold out London, Glasgow, Newcastle, Chester and all these places on our last tour. We've got some really good momentum over here, and we continue to build on it.
You do a lot of self-promotion on your podcast, Talk Is Jericho, and on social media. Is it important as ever for bands to self-promote?
Yes. It's just the way of the world these days. You build your band that way and you need to self-promote. You have to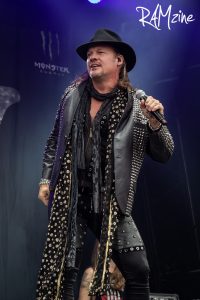 let people know what you are doing. I come from the world of KISS, the world of WWE. Perception is the reality you have to make people this that you're hot shit. When you've got a lot of great things happening, it's not hard to promote them. If you don't promote them you must be stupid. It took Axl Rose 14 years to release Chinese Democracy and I have no clue why he never did any press. To me: when you record an album, write a book, make a movie, you've gotta go hustle and do the press. They ask if 2 hours of the press is ok and I think if we didn't have time with the press, it wouldn't be ok. This is what we should be doing. It's all part of the hustle.
My dad told me years ago "you have to pick up the phone, no-ones going to call you" there are too many people out there wanting the same job or same opportunity, you gotta pick up the phone and call them. If they don't answer – call again. It's hard and it sucks but it's what you've got to do. That's been my attitude ever since. I don't assume people know who Chris Jericho is, wrestling, music or whatever. I have to explain or show you what we can do first.
You have your Rock N Wrestling Rager at Sea in October, which combines your love of music with your wrestling career…on a cruise! Where did you get this idea from?
Stole it from KISS (laughs) we did the KISS Kruise in 2015, such a blast professionally and from a fan stand-point. So convenient you play the gig then go to your room and have a drink, you don't have to do anything else. It was great. Then I thought I want to do my own cruise, a rock n roll and wrestling cruise, it took me two years to get it up and running. It wasn't easy, loads of ups and downs, but here we are 3 months away ready to make it happen. We're almost sold out, my idea is to make this an annual destination vacation much like the KISS Kruise. Make it something people want to go to each year. It was always rock AND wrestling. No one else has the same reputation for doing what I do. I just had to make it happen.
As you know Bloodstock has the New Blood stage for new and unsigned bands, what advice would you give to these musicians?
Just don't give up, make it happen, let everyone know about you. Don't let people put you in a box. Let people know you have a goal, you have focus, and you have passion. And if you can show that, people will always get behind you. We've had to work twice as hard to get people's respect at times,  but now that we have – we have it for life.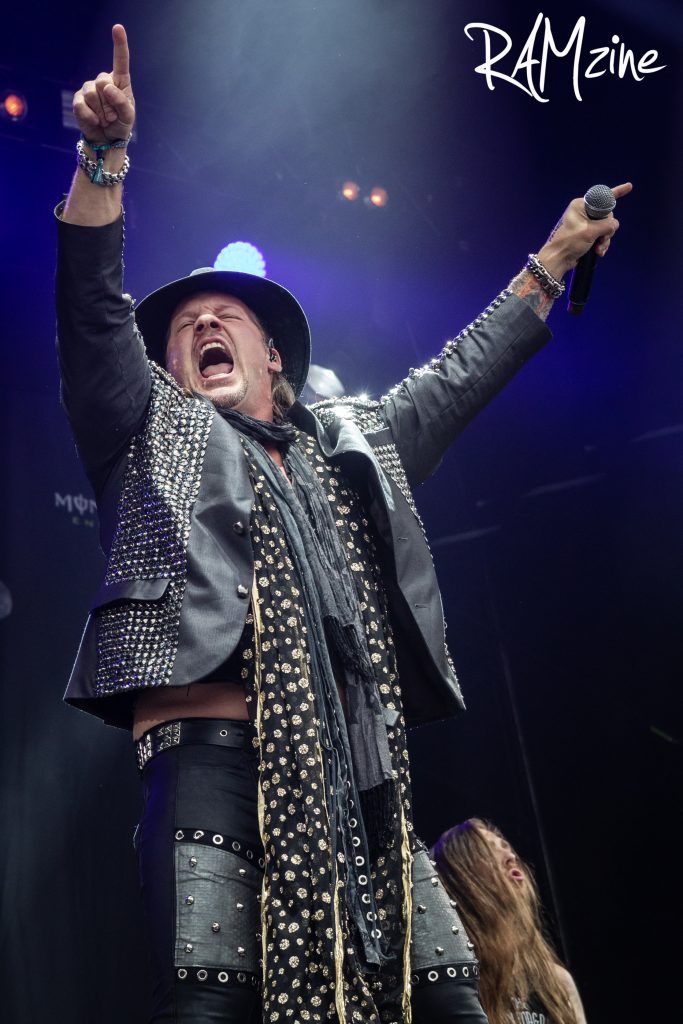 Check out what we thought of Fozzy at Bloodstock in the new issue of RAMzine available now by clicking here, which also features an interview with Wednesday 13.
Fozzy, Corey Taylor, Phil Cambell and The Bastard Sons and more will be on Chris Jericho's Rock N Wrestling Rager at Sea which takes place on October 27th to 31st.  This is now sold out.
You can download the podcast Talk Is Jericho on iTunes and various other platforms.
All photography by Ash Crowson.