Vauxhall 5* Holiday Park In Great Yarmouth
How quickly twelve months passes when you're having fun. Once again, Elaine and Eddie Yates have worked like Trojans to bring thirty-eight bands to the table for the annual LoR Originals music feast here in Great Yarmouth. A little down on band numbers this year and later start times, but some awesome sounds in store nevertheless!
And so, despite the totally inclement weather, to the action. Possibly the hardest, unenviable even, task fell to Norwich alt-rockers BLIND TIGER, charged, as they were, with opening the whole event on the big stage in the V-Arena. Nonetheless, cool vocals from singer Charlie and a solid, enthusiastic set warmed up the growing Friday afternoon crowd nicely and firmly set the weekends standard! Another band from Norwich, WICKED FAITH, had the job of opening in the V-Lounge. I felt from the first song that this band would be up there as one of my top five of the festival. Jade Murrays stunning hard-rock vocals were right on the money as the guys gave us a quality set of "all their own songs", to quote Jade. Many fans favourites JUPITER FALLS really lit up the Arena with a kick-ass set of high calibre hard rock. This band really impressed me last year, but seemed to have cranked things up a whole series of notches since then.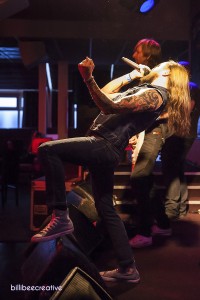 In the V-Lounge, MASSIVE WAGONS gave us, as ever, a stonking set of honest, in your face hard rock riffages that confirmed their reputation as one of the best live bands currently on the circuit. Fans of Whitesnake, Judas Priest, Heavy Metal Kids and Pallas must have thought it was birthday time as classic rockers RAW GLORY ignited the Arena stage. Les Binks stand-out stick work just oozed class in a band of outstanding pedigree. THE PECKHAM COWBOYS played their first of two sets this week-end in the V-Lounge and really made the crowd sit up and take notice with some cracking bluesy R&R. Scottish trio THE AMORETTES brought a totally female touch to the arena. Their music was classy, with a raw edge, had plenty of meat on the bones, and drew much appreciation from the gathered music fans. Lowestoft hard-rock band SCREAM SERENITY had to compete somewhat for bodies with the AMORETTES still playing by the time they hit the Lounge stage. Hmmm. A close call, I think. A highlight of the festival for many was no doubt the appearance of Tamworth's most famous, WOLFSBANE. It's always special when larger than life front man Blaze Bayley and the boys lead their army of HMS's ( Howling Mad Sh*theads)as they belt out a selection of anthemic sing-alongs from the extensive WOLFSBANE repertoire. With Blaze and the band now enjoying some well-earned liquid refreshment, it was time to bring on the drum kit. You know…… THE drum kit. For it was the legendary CARL PALMER and his ELP LEGACY coming to the Arena stage next. Although perhaps not everyone's cup of tea, as a massive ELP fan I was looking forward to this moment. It's fair to say that Mr Palmer can still handle those sticks and I'll wager there were a few, like me, trying desperately to recall just how some of his classic ELP sounds went, using hands on table! Their interpretation of the epic Tarkus was particularly enjoyable. There was just time to catch Sheffield band DARKE HORSE in the Lounge before the Friday headliners NAZARETH. Playing music which has been described as "ballsy rock/funk" the lads threw in a bit of Lizzy, mixed it all up and the result was reflected in the fully deserved, massive ovation the crowd gave them.
Back in the Arena the closing act for the day was to be seemingly ageless Scottish rockers NAZARETH. Although appearing a little later than listed, it was most surely worth the wait. Haven't seen these boys in a very long time and was very impressed by just how fresh they sound. My appetite has been well and truly whetted for their Bilston gig in December.
[huge_it_gallery id="21″]
Well, a great end to day one and for those with any energy left it was time to go party with ALI CLINTON AND FRIENDS, NAZARETH included, for a large helping of musical jam!
After a few hours much needed sleep it was pencil sharpened, batteries charged and off we go again! Saturday in the V-Arena was brought to life by a favourite band of mine SPIRAL DIVE. It was good to see the Kettering boys on the main stage this year and, in my opinion, fully deserved. Although first band of the day, there was a half decent crowd present to appreciate the guy's fully-loaded, heavy rock tunes in yet another great performance. In the V-Lounge, rock band 3-SIXTY, a five-piece from Worcester, got the afternoon off to an absolute flyer with people up and dancing from the off.
THE PECKHAM COWBOYS made their second appearance of the festival, this time in the Arena and entertained us with yet another top-drawer set. If you like early FACES stuff then this is the band for you. Great band. London's BLACK WHISKEY is a band very much in the classic rock mould and their free-flowing, fresh melodic style certainly had the Lounge crowd hooked and well happy, whilst the Arena was playing host to psychedelic rockers PEARL HANDLED REVOLVER. I thought that this year this band had become a tad rockier than I remember, but if anything it added to the great sound they already had.
With the catchy riff and hook laden sounds of THE BURNING CROWS still pecking away at my ears, I made my way from Lounge to Arena for an appearance of the exciting duo that is THE GRAVELTONES. There was a disappointingly small gathering for Mikey Surbello and Jimmy O, but that didn't prevent them from giving a highly polished performance of their distinctive and highly rated rock 'n' roll. My legs then carried me to catch BLACK STATE HIGHWAY back in the Lounge for what can only be described as a vocal performance of immense effort and quality by Liva Steinberga, given that she was heavily burdened by a swine of a head-cold. Looking forward to seeing BSH again at Hard Rock Hell in a couple of weeks for sure!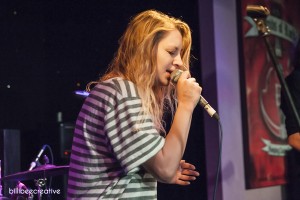 There was an atmosphere of intense anticipation as the house music faded and gave way to the intro fanfare for those heavy-weight metal men (and woman) from Nottingham, EVIL SCARECROW. For many in the Arena crowd this was surely a festival highlight. I was blown away with them at Download earlier in the year, and although the show was scaled down a touch from then, the infusion of theatre and drama into the thudding "come and join our band of warriors" gritty metal guaranteed an unforgettable show and leaving people wanting much, much more. Stafford band PISTON drew the short straw of competing with EVIL SCARECROW for crowd numbers, but still had a reasonable turn out. A solid set was marred a little during Rob Angelico's solo by a major technical problem with his guitar which meant he had to sing most of the song acapello style – much cudos to Rob for that. Penultimate V-Arena band WALKWAY, a rock outfit form nearby Diss, and a recent tour support slot with STATUS QUO under their belts , entertained the masses with a well tidy set of songs with Chris Ready's vocals particularly vibrant. The evening ended with seasoned performers STRAY, led by long-time original member Del Bronham, dishing up the perfect finale to yet another great day's music. Unless of course you wanted still more! Many did and they made the brave decision to join the after show party in the Lounge where Barceloningham's adopted Spanish trio StOp sToP! were the hosts into the early hours.
[huge_it_gallery id="22″]
So two days down and one to go and still the rain came down! What better way to start the last day than with the amazing Cambridge based rock masters SOULWEAVER.  One of my highlight bands from last year's event, husband and wife Mark and Emma Goodjohn have now been joined by ex-Dragonforce stick ace Dave Mackintosh. This is now one serious kick-ass band whose only major influence is themselves. An outstanding set put them easily in my top five for the weekend.  A quick dash to the V-Lounge now to catch opening band CAIRO SON. For me these guys were the heaviest sounding of the festival so far, dishing up a skilful blend of stoner, blues and rock. They look the part too! A late announcement of a no-show by Welsh AOR specialists SERPENTINE for personal reasons clearly disappointed many in the Arena crowd. The awesome ALI CLINTON and his band stepped in to fill the gap and although not the largest of crowds, ALI and his trusty Gibson were, as ever, note perfect in a sublime display. The Loungers, meanwhile were being rocked by Dorset boys WESTERN SAND with their exciting brand of classic and hard rock which has earned them such a great reputation and fan base.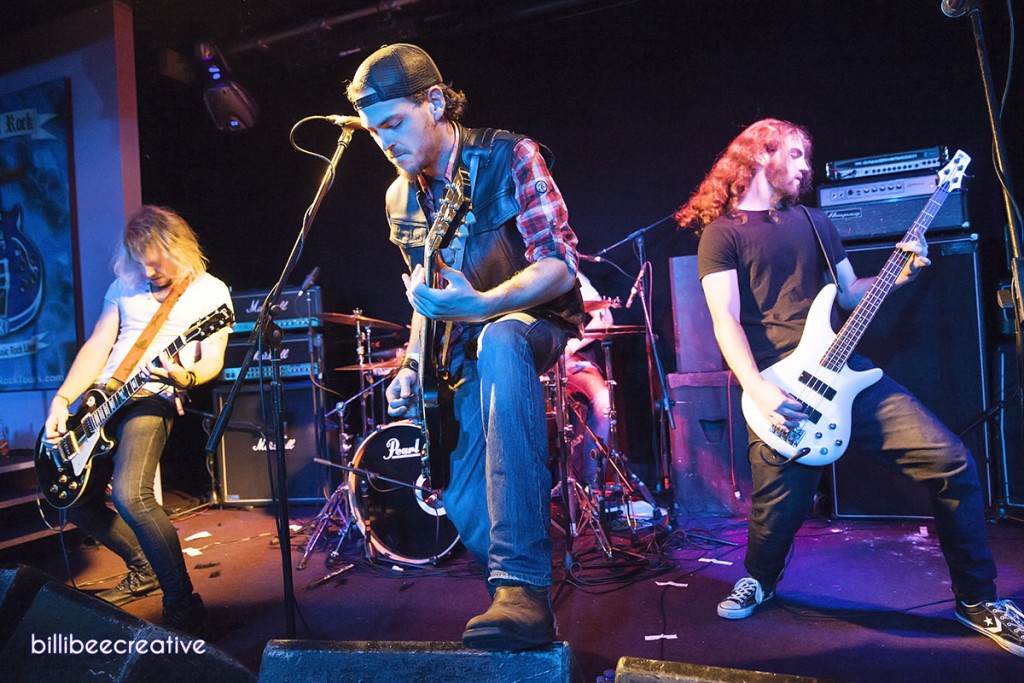 Norwich based BAD TOUCH really impressed me when they played the V-Lounge last year with their swagger and presence. Good to see them elevated to main stage this year and although frontman Stevie's clothing was a little more conservative this time, the music wasn't as the band produced a pulsating set that had many LoR partygoers shaking their hips (amongst other things!). Due to V-Lounge band withdrawal todays timings were not as originally listed and bands were given longer slots. With CITY OF THIEVES really nailing things in front of a rammed Lounge, frontman Jamie Lailey was moved to ask if "there was anyone left in the Arena?"  Sadly for NWOBHM purveyors MORE (MORE2012) there was but a handful of people to see them start their set. Thankfully the numbers grew, but lots of people missed a real treat as MORE treated us to some fine rock music played with style.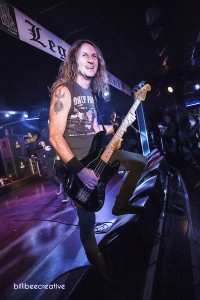 Next band in the Arena was VOODOO SIX. Absent from last year, apart from one member, there was much excitement and anticipation in the room ahead of the bands appearance. Mixing classic and modern heavy rock styles, VOODOO SIX blasted it out of both barrels and leaving their mark well and truly on the weekend!  Glaswegian band THE TOI were bringing the V-lounge proceedings to a close with a fine helping of pop-rock and some tasty tight vocals had the v-loungers showing enthusiastic approval. Drawing ever nearer  to the close for this year, THE ELECTRIC BOYS from Sweden had a date with the Arena as penultimate band of the festival. I enjoyed a great set of music full of riff-laden, groove-heavy rock that had subtle funk interweaves. The crowd loved them too, although the way the guys left the stage with little or nothing in the way of a goodbye (unless my tired eyes and ears missed it) was a little disappointing. But after such a great set I'm probably nit-picking.
Sadly, it was time for our final band of this year's event; how quickly three days (four for some) have passed! The honour this year fell to the legendary ULI JON ROTH and his special guest ALI CLINTON. ULI can seemingly call on any number of excellent musicians to make up his band, with tonight being no exception. ALI has been a regular and highly regarded member of this band and I think there are few better sights on stage than these two guys playing in tandem. Tonight the master was in fine form and demonstrated all manner of playing styles. Whether it was hauntingly beautiful, caressed sounds or full on string chopping it was just a total pleasure to see and hear. The festival goers were really rocking and in full party mood as a vintage UJR performance brought Originals 2015 to a conclusion.
Or did he? There was, of course, still the after show party to get through with Midlands outfit METAL FATIGUE hosting the festivities and jam sessions.
With the curtain now well and truly down on both stages for this year, Elaine and Eddie Yates can look back and be well pleased that their hard work paid off (do these guys ever take a day off by the way?) and fully deserved the plaudits handed out to them. MC Andy Howard of Platinum Rock Radio handled the band intros with panache, the man heard, but not oft seen, Rokjok Garry Lewis of Hells Bells Rock Disco, played all the right, great sounds to maintain the party atmosphere before, after and between bands and, of course Vauxhall Holiday Park and its super staff were great hosts. So thanks to all concerned. And like James Bond…..Classic Rock Tours, Legends of Rock – The Originals will return!
[huge_it_gallery id="23″]
Words by Rob Billingham