When Derrick Green entered the turbulent world of Sepultura back in 1998, the shit splatter from the fan was still very much pungent in the air. Earning it's place up there as one of metal's worst feuds that nigh on equals that of the Dave Mustaine Metallica bootin' incident of '83, the departure of Max Cavalera was not only a crippling blow to the Brazilian thrashers but to the world of metal itself.
After the release of the ground-breaking jungle of horrors Roots back in 1996, the same year as Cavalera's exit, Sepultura were only a breath away from being the biggest metal band on the planet since Metallica. Even before the Ohioan native joined, Green knew this was going to be an uphill struggle and nothing would come easy. Even pitted against the likes of Testament's Chuck Billy and Machine Head guitarist Phil Demmel at the auditions, Green stood firm like the six-foot-gillion tall man he is. Getting the gig was one thing, but there was no denying that the band would never be the same again and would take a metric fuck-ton to get the fans on his side.
20 years and 8 albums later, he's more than earned his place in the hearts and minds of the even the most stubborn of followers. Don't believe us? Look up their 2012 Wacken Open Air performance from 2012… yeah, you're welcome! A year after releasing the band's 14th studio album Machine Messiah, we got chatting to the man himself about entering his second decade fronting one of the most enduring bands in all of metaldom at this year's Hammerfest.
RAMzine: Hey there Derrick, how's it going there my man? Thanks for taking the time to have a little chat with us today.
Derrick Green: Doing fantastic, thank you for having me.
RAMzine: 20 years of Sepultura, that is an incredible feat. Back in 1998, did you ever think you'd last this long?
DG: To be honest, I don't think I was really thinking so far ahead. I was really focused about what was happening at the moment. It was so exciting and there was so much going on that I could only really get my head around the fact of what I had to do and accomplish, like working with new people in a different country, experiencing a different culture, there were many other things that were factoring in way above thinking about so far ahead in the future.
RAMzine: Seeing your name getting chanted at The Fleece the other night was an awesome sight to see. Does that give you some form of validation?
DG: Absolutely. I mean, over the years those fans have always been there. A lot of people grew up listening to Sepultura before I entered the band. Now, it's been 20 years, they had time to grow up. It definitely feels great to see so many fans who've been there and stayed there for such a long time and even seeing old fans who've turned around and accepted the fact that there's been change; that's just a part of life. It's a great feeling of accomplishment and I feel like we have so much more to do which is a wonderful feeling as well.
RAMzine: With Machine Messiah being so creatively diverse, what was the approach you guys took with the album?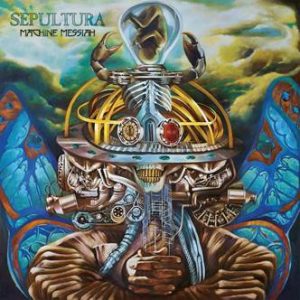 DG: I think it just happened really naturally. That course was set so long ago with Sepultura, even before I was in the band. Each album sounds different and I think all these things around us have had an impact on the flow of how Sepultura works until today. It's just natural that we don't want to be repeating ourselves. Machine Messiah was just that. It was the feeling of wanting to do something different from the previous album. We recorded with a different producer in a different country and adding more of our personality into the music more so than ever.
RAMzine: It's quite an ambitious record. Did you feel that you were taking a risk when you were making it?
DG:  Oh definitely, I think it's exciting to do that and I also think it's necessary to test your boundaries or actually not have boundaries at all. That way you can actually go where you want to go and be the best at doing that. We wanted to write an album that you can listen to from the beginning to the end. We knew there was a lot of material and different things going on, but that was the thing, people could go back and listen to it again finding something new within it and never really get bored. That's the beauty of it when we were really getting into it.
RAMzine: What I got from MM is the overall theme of man vs machine. Kind of getting the gist that you may not be all that big of a fan of tech? Is that accurate to say? Will we have to flush our iPhones down the toilet?
DG: Ha, ha! We've had many conversations, Andreas and I, with him being a little down on technology – well very down on it – but I'm the complete opposite. There's something that we definitely agree with that there needs to be some type of balance between humanity and technology. My point was it's very necessary to have technology and a lot of things that we're living with today they're fantastic to have. At the same time, there's a lot of technological things that are separating us and we're losing that humanity and being entrapped by the messiah on their phone, just looking into it for all the answers and believing that and it's a pity. But at the same time, I believe humanity can create better technology to help improve humanity. It doesn't have to be destructive or has to be killing us or killing other people or destroying the planet.
The greed factor that's behind it is something that people have to change and really talk about before flying to the moon or spending tons of money on technology that's not really helping anyone. It's the little details that make us human that we can't forget about which help us connect and dig further into ourselves, figuring out this empathy we can have for animals, each other and the planet. We need to stop creating such destructive things and really idiotic things that are there, but I truly believe technology can really elevate humanity.
RAMzine: Do you think this power has come far too quickly or has advanced far too quickly for humanity to really control responsibly?
DG: I wouldn't say it was too fast; I was thinking it could go much quicker ha, ha!
RAMzine: Agreed, because the internet here is terrible!
DG: I just think if education was put first in society then we would be much further ahead. I think we're kind of slow in a lot of things, just in the fact we're creating and spending so much time on bullshit technology when it can be spending that time on something a hell of a lot better.
RAMzine: Sorry, this is all a bit heavy for a lovely sunny afternoon in North Wales!
DG: Haha, that's quite alright!
RAMzine: If you weren't in Sepultura, what would you see yourself doing? What does Derrick Green like doing in his downtime?
DG: Oh man, a lot of stuff. I like photography and I actually write for scripts as a ghost writer. Definitely working on a series for TV for veganism; I'm a vegan.
RAMzine: It's become the new rock 'n roll zeitgeist. Lots of bands are taking a stand and asserting themselves as being alcohol free, drug free and animal rights, now more than ever.
DG: I think they also think about their longevity. People are very serious about what they do and they take care of themselves. There're people who are just realising that it's not really cool to die young and it's not cool to have diabetes or heart disease or any health problems at an early age. It's not very rock 'n roll at all. It's great to have that energy on stage and preform and give back that energy. Some people think it's a trend, but I defiantly think there's a realisation that certain things can't go on the same way – it's inevitable. People are really starting step out and think for themselves. there's a lot of alternatives that are available now more than ever, which gives people the opportunity to experiment with different things, especially with veganism.
RAMzine: I think this album has opened a lot of doors again for the band. What's the future have in store?
DG: I think we feel the same way, almost like a new phase of the band and so we really want to flow with that and follow that. We've already started flowing a few ideas roughly already for the next album. We're really excited because we're in such a good state. It's really exciting to think about the next album and the prospects of what can happen.
Machine Messiah is out now via Nuclear Blast.