Axel Rudi Pell or ARP, as I will call him to save my fingers, has been on the scene for over for over thirty years. His first band, Steeler, released four albums between 1984 and 1988. He then went solo and including live albums and compilations, has over thirty albums bearing the ARP name. All of them have been firmly rooted in the heavy rock/melodic rock genres. His latest release, Knights Call, is no exception. Backed by journeyman drummer Bobby Rondinelli, vocalist Johnny Gioeli, Ferdy Doernberg on keys and Volker Krawczak on bass, ARP has put together another solid addition to his already impressive back catalogue.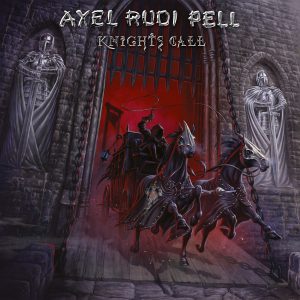 If you aren't aware, this is a guitarist who openly acknowledges his influences in his music. Blackmore has been a key inspiration in his playing, although he is no clone. Dio, Free and Uriah Heep are also amongst his preferences. Put these great bands together and you come to close what he is all about. This will lead to inevitable "this sounds like.." and yet for all of that ARP manages to stamp his authority and personality on every track.
On the latest release, Knights Call, the first 'track' is the sub-two-minute 'Medieval Overture' which is a bit of a throwaway as it adds nothing to the first slab of proper rock. 'The Wild And The Young' is a heavy, melodic song and has no bearing on the overture.
'Wildest Dreams' has a Black Night-a-like start and builds into a very likeable, keyboard-driven shuffle topped off with a really good guitar solo. 'Long Live Rock' is obviously written for future audience participation and bounces along nicely. 'The Crusaders of Doom' begins with some subtle phrasing on the guitar and quickly constructs an epic on the scale we used to get with Dio era Sabbath.
'Truth and Lies' is an instrumental that illustrates how good ARP is… this man can play and, mercifully, never gets too widdly! This also gives the rest of the band a chance to show their abilities – bass and keyboard solos included. The ballad arrives with 'Beyond the Light' and a surprise awaits… Pamela Falcon contributes some effective vocal backing to assist Gioeli play the emotional card. The real highlight, however, has to be nigh on ten minutes 'Tower of Babylon'. No prizes for guessing the inspiration for this. But ARP takes the middle-eastern themes of past Rainbow classics and turns them into something of his own. How can you not like a Stargazer reborn and re-imagined? This track also illustrates how he has ensured quality with his choice of band members; they all play well and don't intrude unless they are supposed to. ARP puts in a superb solo too, which sounds like…ARP.
This is a good album and pays off with repeated listens. OK, it may sound like the follow up to Blackmore's Stranger In Us All album and that is meant as a compliment. After all, bearing in mind where he went after that, this can only be seen as a good thing?