Dokkum is a magic place, where you don't need to close your eyes to travel many centuries ago, elegant style, typical Netherlanders landscapes from chaotic Amsterdam to this pacific town, perfect if you are interested in really good beers; and the metal festival is the best excuse to visit it, a tiny festival, with 300 volunteers giving all they have to share with the metal masses. For the last two years this festival didn't run, so this is the twelfth edition, and they´re doing really well.
Officially the festival starts on Friday, but we have a little gift on Thursday, with "Monsters of rock´em" featuring tribute bands of Iron Maiden, Metallica and Guns´n´Roses: THE TROOPERS, DAMAGED JUSTICE and THE ULTIMATE GUNS´N´ROSES. It's a free day for people that had their ticket, and 10 euros just for that night. Really good bands, great sound and lights, ideal to get the motors hot as on the second stage 'Party Stage', you can see everything ready to start and enjoy. T-shirts, CD´s and many other stands are around and the main attraction is the medieval fights (for me it´s incredible, as a Argentinian traveler, this is one of the best things of the festival, beside the music), it was very funny and fit the mood. There were fights for women, men and mixed teams, it was entertainment of the highest level. There was a big beer garden, nice food, and the camping area just near the festival arena. We´re talking about 5,000 fans from mostly Netherlands and Europe (and me), people around are very kind, smiling and joking all the time (and drinking, of course).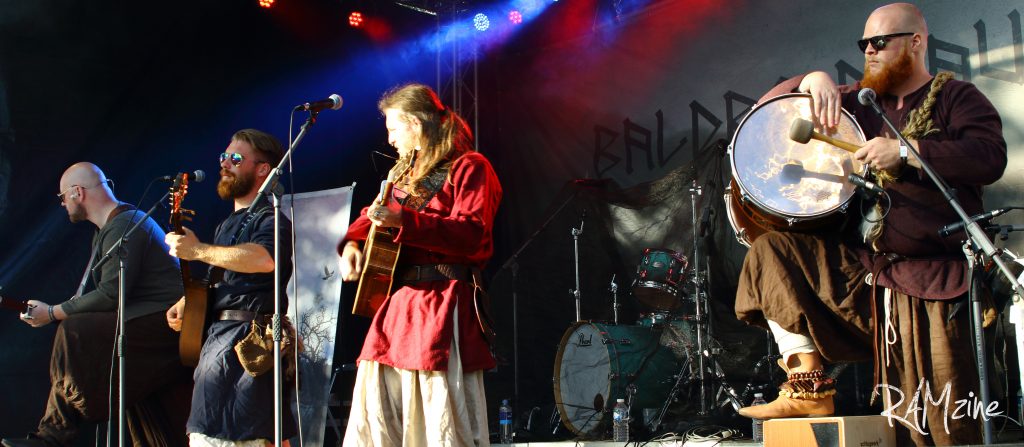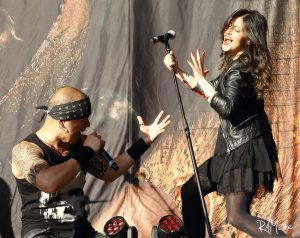 Dokk´em Open Air starts at June Friday 28th June, there're not many known bands for the wider public, but there're many great Netherlands bands, and some visitors, like the Swedish ENFORCER, who went on at the main stage presenting their last album Zenith. After four years of silence, they're together and strong, with their classic heavy-metal 'Die For The Devil' which is one the jewelry of the new album, Another Swedish band starts after Enforcer, DARKANE who come back with their masterpiece 'Rusted Angel', now celebrating the twentieth anniversary of the original edition, they sounds powerful and gave us everything they have on the stage, the pit starts to move. After the Swedish invasion, beers it's time to go to the Party Stage, and enjoy the acoustic special set from BALDRS DRAUMAR, with their folk-viking metal they are amazing musicians, wearing the perfect clothes for their performance, creating a singular atmosphere, very peaceful and melodic. They were a good appetizer for some local legends, MAYAN, they´re five singers and five musicians, including some exDelain, like recently soloist Merel Bechtold on guitars and Ariën van Weesenbeek on drums (also exEpica), it´s an almost Netherlanders all-star band. So many different kind of voices, they sound like one voice for each moment of every song, amazing compositions and executing with precision, this mix of brutality and classic makes their own trademark, a band that you MUST to hear and see.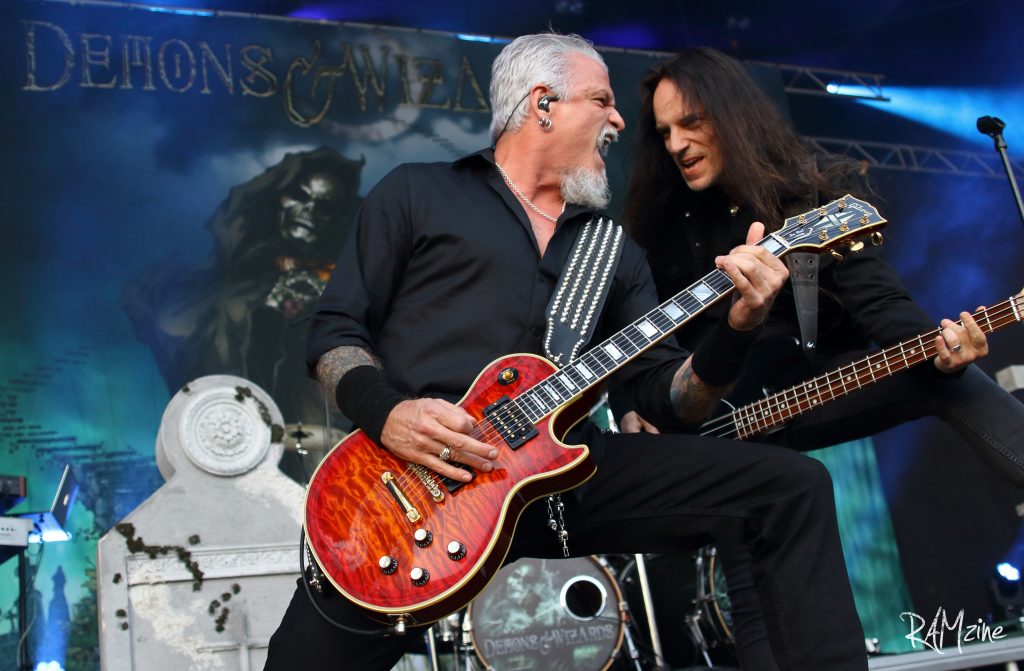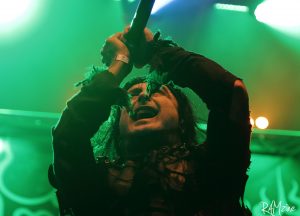 Waiting for Demons & Wizards, we head to the Party stage and check out VORTEX, who are celebrating their forty-stage anniversary, they're getting the fun going for sure, and playing some classic songs as 'Open The Gate', in front of many nostalgic beer-drinkers. Now we´re ready for this mega band, DEMONS & WIZARDS, they´re a side project of Jon Schaffer, the leader of Iced Earth and Hansi Kürsch (Singer of Blind Guardian). They're in great form and touring again after almost two decades, and this time their mates are some members of both bands. It's time to see and hear tracks from Demons & Wizards (year 2000) and Touched By The Crimson King (year 2005). This tour is also to show three new songs from the album that see's light at the beginning of next year, we ought to say it's great to see them alive and kicking with so much energy from the stage, it's contagious and epic, trough the classics and the new melodies 'Rites To Passage' to 'Fiddler On The Green'. They even play some covers from their main bands, like 'Burning Times' (Iced Earth) and 'Welcome To Dying' (Blind Guardian), of course a brilliant moment was 'Crimson King', and after an hour of power metal, it's time to take a little breath to introduce the last band this night. CRADLE OF FILTH played entire Cruelty and The Beast album, their classic from 1998, just like the record was original edited, starts with 'Once Upon Atrocity', 'Thirteen Autumns and a Widow' and 'Cruelty Brought Thee Orchids', all the way through to 'Bathory Aria' and to close this first part of the show with 'Portrait of the Dead Countess' and 'Lustmord and Wargasm (The Lick of Carnivorous Winds)'. They then stop to come back with the strongest and best songs of Dani's band, 'Heartbreak and Seanse', 'Nymphetamine', 'Saffron's Curse' and 'Her Ghost in The Fog' are perfect in this first official metal night.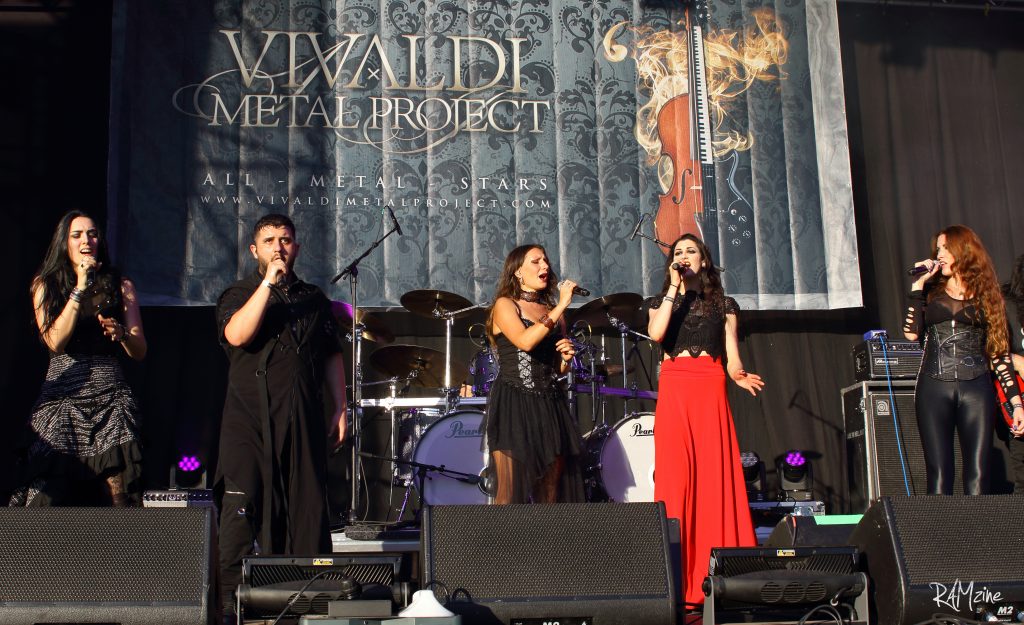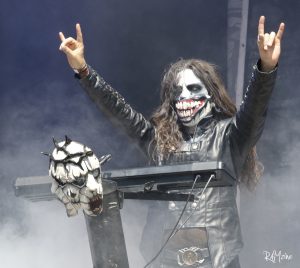 Saturday was a strange start, while we were getting breakfast we heard some drums, and sounds very known. Time to stop for a coffee and look up and it was what I supposed, King Diamond were sound checking, the band played a few songs, every single detail was checked, and when they finish with this, the festival opens their doors to the crowd. The medieval fights starts under the bright sun, very interesting entertainment. After lunch it was time for us to see CARACH ANGREN, who put on an awesome show with darkness and blood. It would be better by night but we enjoyed anyway, some symphonic black metal, sometimes looks like Dimmu Borgir. Locals death metal old-school band PESTILENCE, still presenting their last record Hadeon, they played every single classic of the band. Time for more local bands, DOOL next, who mix songs between the Here Now, There Then and Oweynagat albums. They're a fast growing band who play great music with great diversity; from gothic-pop to psychodelic-metal in a creative way, brilliant guitars riffs. They even including a cover of Killing Joke 'Love Like Blood', the band sounds very clean. Now it's time for a particular show of a singular band, the first show in Netherlands of VIVALDI METAL PROJECT, a band formed with many Italians, and some other nationalities, like a global all-star-band. This combination of classic Italian music with strong metal sounds is an original proposal for metal fans. The fascinating variety of voices needs to get our attention, in a journey of classic-metal, just ready for the kings of the circle-pit death metalers of CANNIBAL CORPSE. A brutal show as always, showing the old fans and convincing the new ones, George Fisher gave us everything, and that incredible headbanging, with the rhythm of Death, made us participate actively in the mosh-pit.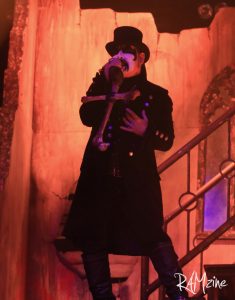 Almost tired it's time for a beer and everything is prepared for the main attraction, the great KING DIAMOND and his only show in Netherlands, a dark ambiance is the preview of this metal-trip we are about to embark. Many track from Abigail are played as well as some surprises, like 'Behind These Walls' and'Halloween' which hypnotized us. On this tour there is also some space for a new song 'Masquerade of Madness', from the next album that they will call The Institute. King said, he doesn't yet know when it'll be on sale. They are still on the course of playing Abigail, so fans are not disappointed. Andy LaRocque told us before the show, King did a great job with vocals as all the band did. 'Welcome Home' then 'The Invisible Guest', 'Sleepless Nights', 'The Lake' (played for first time in almost 35) and 'Burn', are some of the highlights of this memorable powerful show. It´s a brilliant end of this magic festival.